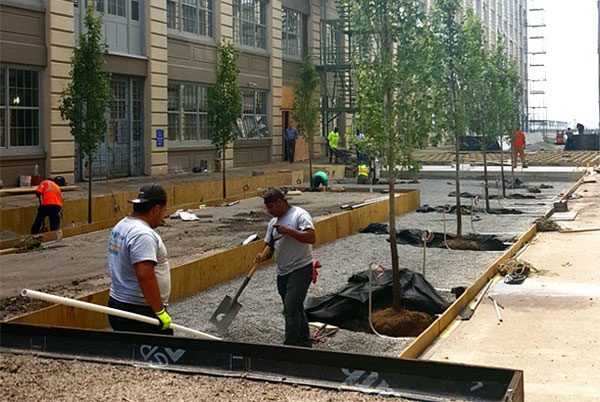 Industry City courtyard development (photo: Industry City on Instagram)
---
Sunset Park is at a crossroads. With one of the city's few remaining industrial waterfronts in a heavily, working-class Latino-Asian neighborhood, its development looms large in shaping the future of New York City and, dare I say, the city's soul.
Since the March announcement of a $1 billion investment by Industry City's owners – a consortium of commercial real estate titans - the most dramatic changes along the waterfront have not been the building upgrades, bicycle racks, summer dance parties, or high-end artisanal purveyors. Rather, it is the stupefying number of speculative sales of industrial real estate.
Jamestown Properties is working hard to rebrand Industry City as a site for cutting edge, modern manufacturers in technology, media, design, and high-value added fashion and food production. The developer is working to placate community concerns that the Williamsburg experience of massive displacement and gentrification will not be repeated.
To this end, Jamestown Properties announced the establishment of an "Innovation Lab" in collaboration with CUNY; Southwest Brooklyn Industrial Development Corporation, which manages Sunset Park's Industrial Business Zone; and several community non-profit social service and workforce organizations. Largely funded by public dollars, the Innovation Lab seeks to connect the neighborhood's immigrant, non-English speaking labor force with low levels of formal education to the innovation economy.
While Andrew Kimball's success at the Brooklyn Navy Yard should reassure us that his expertise is preserving and promoting industrial jobs and small businesses, Mr. Kimball's employer is no longer a non-profit organization that manages city-owned properties.
The redevelopment of Industry City is not about modern manufacturing. Industry City is a commercial real estate venture and its rezoning proposal will make that crystal clear. Most of Industry City's 16-building complex is in a heavy manufacturing M3-1 zone which prohibits retailers and hotels (unlike light manufacturing M1-1 zones). Industry City's "unprecedented" development proposal entails designating a "special innovation zoning district" to permit a hotel, university facility (some say dormitory), conference center, and retailers.
Industry City's consortium of owners has hired Fox Rothschild LLP to prepare its rezoning proposal. A website search of Fox Rothschild LLP's recent projects lists one for New York City – Ian Schrager's ultra-luxury, condo-hotel at 215 Chrystie Street on the Lower East Side.
Referencing the area's industrial past, Schrager describes his 28-story, Public Hotel project as "refined gritty" and "tough luxe." While one journalist described this branding as "enough to make you lunge for the barf bag," the transparent and cavalier manner in which the lives, experiences, and neighborhood spaces of an everyday public, made up of working-class people and communities of color, are erased and then commodified for a new "public" elite is astounding.
Fox Rothschild LLP secured the necessary permits and zoning changes for its client's "refined gritty" condo-hotel project on a former urban renewal site.
Mr. Kimball's participation in numerous real estate conferences, including the Commercial Observer's recent "Brooklyn's Renaissance" event held at Industry City, has helped fan real estate speculation and small business displacement in industrial Sunset Park.
A late September Crain's New York Business article announced the sale of two Sunset Park warehouses by New Jersey-based Hampshire Companies. Approximately two years ago, Hampshire Companies purchased the pair of buildings from Brooklyn Commercial Realty Corporation and Commercial Associates LLC for $18.5 million dollars.
At the time of the sale in June 2013, based on my research of the New York State Department of Labor's database of registered apparel contractors and manufacturers, there were 35 garment shops located at 341 39 Street employing hundreds of workers. These small businesses included Sew Wonderful US Inc., NYC Fashionwear Inc., and MM Pleating & Sewing Inc. Today, Hampshire Companies is selling the "warehouses" for $50 million dollars having made no physical improvements or changes except for the displacement of numerous small business tenants and their employees.
The Hampshire Companies is marketing the pair of industrial buildings, which are located a few blocks away from Industry City, "as conversions to hip, creative office space or residential units." In addition to Industry City, there are now several new property owners in Sunset Park's industrial waterfront anticipating a rezoning to commercial and possibly, residential uses. Sunset Park's working waterfront is being eviscerated by real estate speculators who see great profits in branding the industrial infrastructure as part of an innovation economy district.
In this hyped real estate context, Mr. Kimball will go to extremes to portray Industry City as a site of modern manufacturing. For example, the Brooklyn Flea and Smorgasburg are great additions to Industry City because, according to Mr. Kimball, they have long-served as "a platform for Brooklyn's makers."
Sunset Park is at a crossroads and its future depends on Mayor Bill de Blasio and Deputy Mayor Alicia Glen recognizing that protecting industrial and maritime-related jobs and land uses are as critical as affordable housing in sustaining the vibrant, diverse neighborhoods that have always made New York City a place of possibilities for working-class families.
While "Brooklyn players (were) mingling and gnoshing on a lucrative breakfast spread" at the Brooklyn Renaissance event at Industry City, UPROSE and Protect the Working Waterfront Alliance were organizing to save Sunset Park because there is nothing innovative about displacement.
***
Tarry Hum is a professor at the City University of New York and author of Making a Global Immigrant Neighborhood: Brooklyn's Sunset Park.
***
Have an op-ed idea or submission for Gotham Gazette? E-mail editor Ben Max: This email address is being protected from spambots. You need JavaScript enabled to view it.