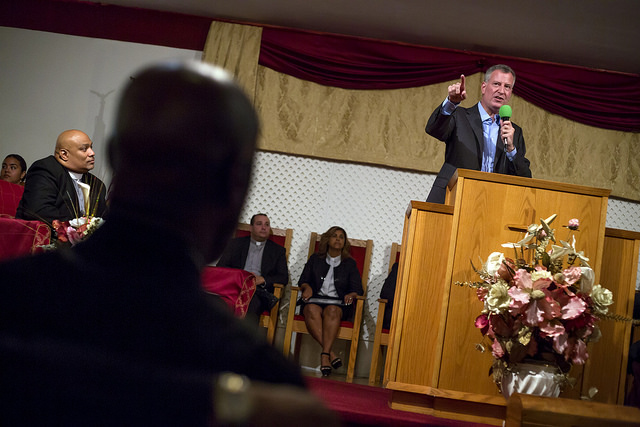 Mayor de Blasio (Ed Reed/Mayoral Photography Office)
---
Last week, the New York City Independent Budget Office published a fiscal brief -Albany Shifts the Burden: As the Cost for Sheltering the Homeless Rises, Federal & City Funds Are Increasingly Tapped- detailing the financing of city homeless shelters from 2007 to 2014. The brief sheds light on the imminent need for reform of the single adult homeless services system. It also provides a roadmap that the City and State should follow to address the issue in a cost-effective manner.
In particular, the IBO report illuminates the rising costs of sheltering single homeless adults. From 2007 to 2014, city shelter costs for the population more than doubled, rising from $196 million to $343 million (75 percent increase). Aghast to think, the financial cost of single adult homelessness in New York City is actually above $343 million, though.
As IBO acknowledges, $343 million is merely the cost to shelter those associated with the Department of Homeless Services. There is also the cost to shelter domestic violence victims, persons with HIV/AIDS, and runaway youth through the Human Resources Administration and Department of Youth and Community Development. In addition, there is the cost of outreach programs, drop-in centers, and respite beds ($35 million in 2014) to bring homeless individuals inside. There are also the public institutional costs of street homelessness: $40,000 per individual per year, as of 2012, according to former Housing and Urban Development Secretary Shaun Donovan.
The IBO brief also reveals the increasing financial share that New York City pays to shelter single homeless adults. State changes in funding rules have shifted single adult shelter costs from the State towards the City. In 2007, the City funded 53 percent ($104 million) of the single adult shelter cost. However, in 2014, the City funded 73 percent ($252 million).
The IBO brief recommends that since the City largely goes it alone in funding single adult shelters, it should focus on reducing the single adult census. As a nonprofit that has worked for forty years to provide this population a way home, Urban Pathways encourages the City and State to focus on the following.
Paramount is the City and State funding effective exit options. First and most important is a new supportive housing agreement, a NY/NY IV. The first three agreements were extremely successful in stably housing homeless adults. More than 86 percent of NY/ NY III tenants remained housed after one year. More than three-quarters of homeless individuals remained housed after two years. Supportive housing is also cost-effective. It costs significantly less per day than shelter ($55, as opposed to $78).
The second exit option is a more long-term and jointly-financed Living in Communities (LINC) rental subsidy program for homeless adults. Admirably, the City initiated, and is solely funding, several rental subsidies. It is unrealistic for the City to sustain this investment in the long term without a commitment of matching funds from the State and Federal governments.
Additionally, a more long-term, State- and City-financed rental subsidy may also appease currently resistant landlords, freeing up needed apartments. Right now, it is difficult to get landlords to accept the LINC voucher. They can get higher rents from other tenants, and they harbor concerns from the demise of the Work Advantage program.
Also important is that the City and State governments reassess the single adult homeless services system. Currently, it is chiefly a one-size-fits-all model of large shelters. However, just as LINC vouchers are tailored to specific populations, the single adult system should be tailored to its populations. For example, for the chronically homeless that often choose the streets over shelter, the City should divert dollars from shelters to alternatives to shelters such as drop-in centers and safe havens. In conjunction, for single adults at risk of homelessness, the City should divert dollars from shelter to Homebase prevention to provide housing mediation, short-term financial assistance and anti-eviction programs.
***
Nicole Bramstedt is Policy Analyst at Urban Pathways, a nonprofit social services and supportive housing organization. On Twitter at @UrbanPathwaysNY
***
Have an op-ed idea or submission? E-mail editor Ben Max: This email address is being protected from spambots. You need JavaScript enabled to view it.