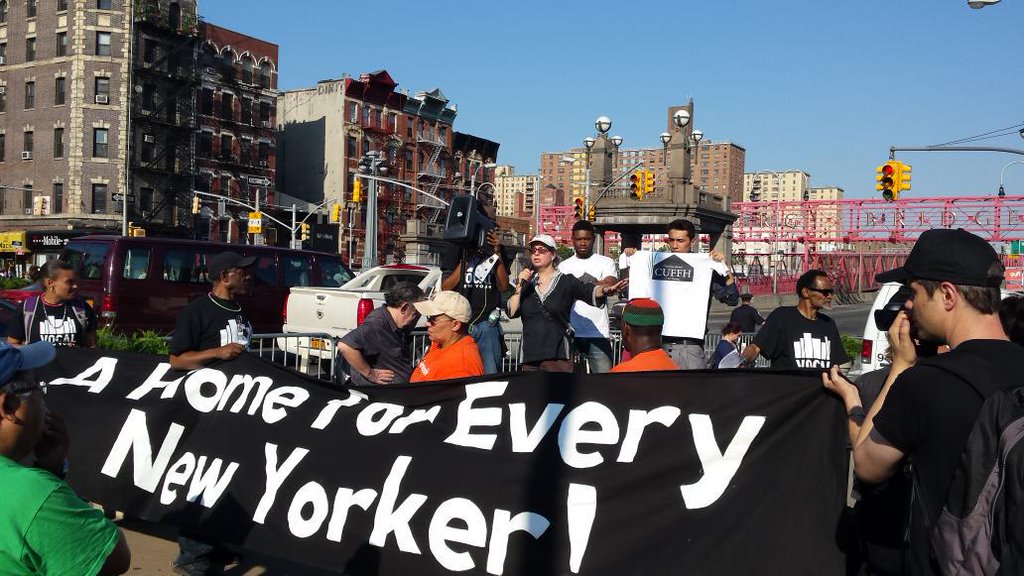 ---
Back in June, sixty people went to jail after demonstrating in front of Governor Cuomo's office, demanding stronger rent laws. We were among them. Despite the governor's claim that he made the "strongest improvements to rent laws ever," he failed, at that critical moment, to strengthen tenants' rights, choosing instead to stand with the landlords and the real estate industry. It was a devastating blow to the 2.5 million rent-regulated tenants in this city, and to the broader fight for preservation of affordable housing and protecting communities from destruction by gentrification and displacement.
For tenants and their allies, it is about acting on the belief that housing is a basic human right of all people. That is why we went to jail, and why we would do it again.
The 57,000-plus New Yorkers currently languishing in our city's shelters, and on city streets, should all have homes. The governor's failure to deliver better rent laws will inevitably exacerbate the homelessness problem, as more low-income tenants live one rent increase away from losing their apartments.
The rent burden is steadily increasing on New Yorkers across the five boroughs, and Cuomo's unwillingness to reform and strengthen our broken rent laws will hasten the loss of thousands of rent-regulated apartments.
The only way to address our city's homelessness crisis is through the creation of real affordable housing for the homeless. That requires, in part, a proactive affordable housing preservation strategy, including stronger laws to preserve existing affordable housing.
To make that happen, we need action by both Governor Cuomo and Mayor de Blasio.
The mayor must include the homeless in his ambitious affordable housing agenda, and the governor must fix the rent laws to repeal vacancy deregulation and end the eviction bonus.
The mayor and the governor must work together to create desperately needed supportive housing, as well as rental assistance programs to move people out of shelters into permanent affordable housing. The mayor has made some effort on the latter, but needs to significantly increase that work.
It's long past time for Cuomo and de Blasio to jointly address our city's homelessness epidemic and work toward ensuring that every New Yorker has access to a decent, safe, and affordable home.
There is a growing movement of tenants and homeless New Yorkers standing together to demand that the governor and mayor address the collective housing needs of the most vulnerable New Yorkers.
Tenant organizing, stronger rent laws, and the preservation of existing affordable housing are crucial elements of the broader effort to end homelessness in our time.
Indeed, the fight for affordable housing is part of the larger fight for a truly equitable city and state where no one, regardless of income, background, or circumstance, is denied access to a livable and affordable home.
The moment for real leadership from Governor Cuomo and Mayor de Blasio has arrived.
***
Katie Goldstein is Executive Director of Tenants & Neighbors. Ava Farkas is Executive Director of Met Council on Housing.