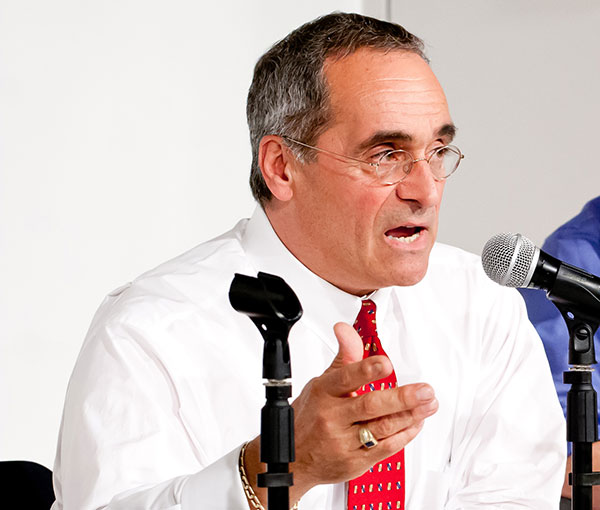 Ralph da Costa Nunez, the author
---
The first two years of the de Blasio administration have been marked by a continued rise in the number of homeless children and adults, along with the resignation of both the deputy mayor for health and human services and the commissioner of the Department of Homeless Services. The Mayor's announcement of a comprehensive operational review of the city's homeless programs may be labeled by some as a sign of a system in crisis. However, the administration may actually be poised to seize this opportunity and radically overhaul the ineffective policies and practices of the past. The key question is: to what end?
Homeless children and their parents make up 70 percent of all the homeless individuals in the system. Tonight over 17,000 homeless parents with almost 24,000 children will call a shelter or a welfare hotel home. The sensational aspects of their problems routinely make headlines and overwhelm politicians, civic leaders, and taxpayers alike. It is time for those responsible for delivering the city's homeless services to face the facts about families—the majority of the city's homeless—who presently spend an average of 15 months living in shelter.
After serving 140,000 individuals over the past 30 years, most of whom were children, we at Homes for the Homeless have faced the facts. We've learned a thing or two about who homeless families are and what it takes to move them permanently into stable housing. The central lesson, contrary to popular belief, is that simply doling out government rental assistance or housing vouchers will not solve homelessness for most families. Our policymakers have to stop pretending that putting a roof over a family's head for a few months or even a year 'ends homelessness.' It doesn't. Over 60 percent of the families rehoused by the city have returned to shelter.
Truly solving homelessness will require we move from an emergency response to a triage response.
There are essentially three types of homeless families: (1) those parents over 25 who have work, tenancy, and life experience; (2) those parents under 25 who want to complete their education, start a work life, and get help with parenting; and (3) those parents who are first and foremost confronting severe challenges such as domestic violence, child welfare and neglect, substance abuse, and mental health issues. For the past 30 years, every administration's policies to combat family homelessness have been based on a 'one size fits all' rehousing strategy. The untainted truth is that homeless families are not all alike, their challenges and opportunities are not the same.
Anyone who has worked on the front lines in family shelters will tell you that the current system does not work and never will.
Providing housing to families not prepared to obtain, maintain, and retain their housing or their job results in repeated returns to the shelter system, which is both disruptive to the family and costly to the taxpayer.
The entire shelter system must be triaged into a network of specialized facilities that meet the needs of the three types of homeless families: (1) short-stay shelters to rapidly rehouse families who have work and tenancy experience and the highest probability of a successful transition; (2) intermediate-stay sites would provide mandatory literacy and job training to improve job readiness and retention, as well as job placement; and (3) highly specialized facilities would be equipped to tackle the severe chronic social issues plaguing the most vulnerable homeless families who find themselves homeless over and over again.
The efficiencies to be gained by such a reorganization would be enormous: the demand for shelter, the length of stay in shelter, the rate of return to shelter, and the cost of shelter would all decline.
So while the truth about homeless families is a bit more complicated than one would like, reorganizing the existing system to meet their actual needs is ground in common sense. Redirecting a misguided system requires strong political will and bold leadership. The time for a new and sensible approach is here.
***
Ralph da Costa Nunez is president and CEO of Homes for the Homeless, a social services provider that serves about 430 homeless families each night in the Bronx and Queens. Ralph is also president and CEO of the Institute for Children, Poverty, and Homelessness, a nonprofit that studies the impact of public policies on homeless families, particularly children.