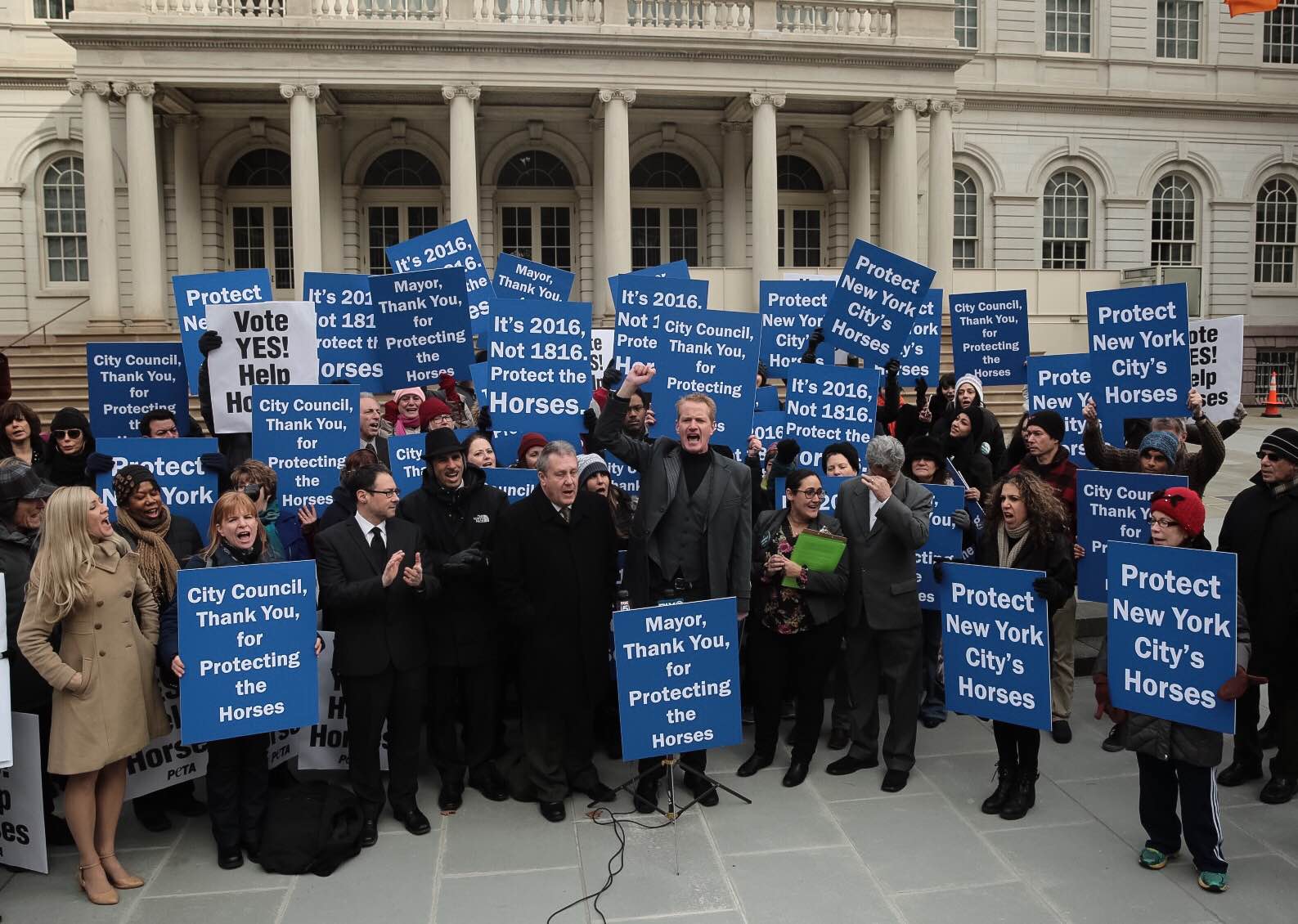 photo via NYCLASS
---
***Editor's note: this op-ed column was published in anticipation of a vote on legislation that did not occur when a deal fell apart at the last minute on Thursday, Feb. 4, 2015 ***
The The New York City Council has the opportunity this week to take carriage horses out of dangerous city traffic and create new protections that will help these horses lead happier, safer lives.
They should jump at the opportunity.
For all of the political back and forth, this is a smart, sensible plan – especially if your goal is to protect horses. Consider the details of the plan:
First, it reduces the number of carriage horses by nearly half and protects them from being sold into slaughter when they are done working. NYCLASS has publicly stated that we are willing to pay – without the use of a single dime of taxpayer funds – for these retired horses to be sent to a sanctuary. So ignore any false rhetoric about these retired horses being sold to slaughter - it's just not true.
Second, the plan requires that the remaining carriage horses live and work in Central Park, not in dangerous city traffic. New York City streets are loud and congested with honking taxis, ambulance sirens, and double-decker buses. That's a reality that horses should not be forced to manage. Under this plan, they won't have to.
Third, it nearly doubles the stall size for each horse to 100 square feet and provides daily time and space for horses to roam – essential elements for protecting the horses' mental and physical well-being.
Some have falsely claimed that having half the number of horses will mean that the remaining horses will be worked twice as much. This is simply not true. The legislation limits the horses to working only one shift per day and there are clear penalties for overworking any horse.
None of these protections exist today and everyone who loves horses should support them.
Of course, there are some opponents now pushing the City Council to follow the "delay to death" strategy – dragging this process out even further. Enough is enough. We have debated and discussed this for years. Heck, the City Council passed – and the editorial boards of both the New York Times and the New York Daily News supported – legislation to move the horses into the Park in 1988! The time for debate is over. The Council needs to do what is right and pass this legislation.
What's more, delaying the process isn't a solution; it only allows opponents to continue to spread misinformation, particularly regarding bizarre real estate conspiracy theories. Let's set the record straight – again – on this: the stables are privately-owned property; the owners can do whatever they want with them. No one at NYCLASS, including our founder Steve Nislick, has or will have anything to do with the West Side stables. Period.
Strangely enough, some are surprised that NYCLASS and other animal rights organizations have so strongly supported the new compromise. They shouldn't be. Our number one priority is and always has been to protect the horses in the best and most practical way we know how. This plan does that.
The same can't be said for those supporting the status quo. These individuals claim that the horses are well cared for. This couldn't be further from the truth. Carriage horses are forced to live their entire non-working lives in small, confined stalls without access to open pastures. They travel to work through dangerous city traffic, forced to dodge enormous trucks, speeding cars, and bicycles, often spooking, and in too many cases, they are struck and injured. Are these proper conditions for beloved animals? We certainly don't think so. That's why numerous animal protection organizations such as the ASPCA and the Humane Society of the United States support this plan too.
Other opponents claim that the compromise doesn't go far enough. They want a complete ban on horse carriages. While we are sympathetic to these passionate voices, we believe that New Yorkers should support the proposed legislation because it helps achieve our number one priority: protecting and improving the lives of carriage horses. This compromise is a real-world solution to a problem that should have been eradicated decades ago.
It is time for us all to come together on the most important point: horses – as all animals – should be treated humanely and with care.
This new compromise is our opportunity to do just that. Because protecting our city's precious animals is not a choice, it's an imperative.
***
Allie Feldman is the Executive Director of NYCLASS. On Twitter @NYCLASS.
***
Have an op-ed idea or submission for Gotham Gazette? Email This email address is being protected from spambots. You need JavaScript enabled to view it.