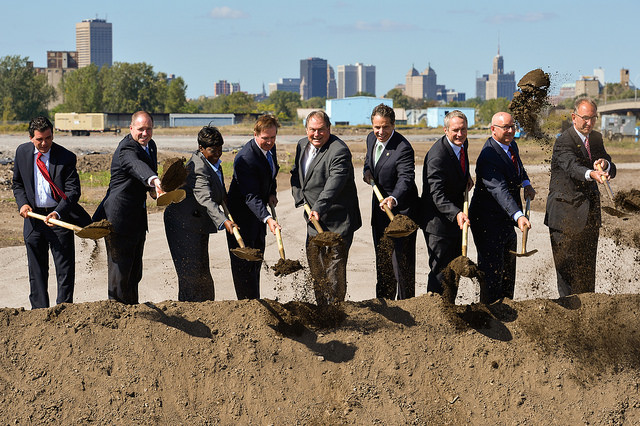 photo: a groundbreaking, via the Governor's Office
---
As the Legislature moves ahead with its 2016 session in Albany, a top priority must be creating and maintaining affordable housing across the state. We cannot be content with fellow New Yorkers sleeping in three-quarter houses, with too many to a room, because it's the only alternative. It is only so long until the next severely rent burdened tenant - spending more than 50 percent of their earnings on rent - ends up homeless because they cannot afford their apartment.
Governor Cuomo's State of the State agenda – including 20,000 units of supportive housing over 15 years and 100,000 units of permanent affordable housing - is a welcome first step. Now, there are steps the Legislature should take to spur the development and protection of affordable housing. As President Obama's call to end chronic homelessness among veterans displays, when government acts and we mobilize on that action, we can address long-term, entrenched issues and ensure individuals have a safe and affordable place to live.
A high priority for Albany should be a new 421-a property tax credit for real estate developers who build affordable housing.
After developers and labor were unable to come to an agreement on construction wages by January 15, the 421-a tax credit expired. Still, Albany can seize the opportunity and craft a new program that maximizes the cost-effective development of truly affordable housing. For example, a new 421-a credit should not include a tax break for condo development. Approximately two-thirds of New York City's households are renters. Moreover, the median household income of renters in New York City - about $41,000 annually according to the Furman Center's 2014 State of New York City's Housing & Neighborhoods - is unlikely enough to afford a co-op or condo.
The Legislature must also adequately fund the 20,000 units of supportive housing announced by Cuomo. In particular, Albany must ensure state contracts with supportive housing providers promote the long-term viability of the units. A consistent challenge that we at Urban Pathways face in operating scattered-site supportive housing - apartments in various private buildings throughout communities - is that the service contracts lack rent escalations. As scattered-site units are in market-rate apartments, they are subject to rent increases, making rent escalation provisions critical to their preservation.
Lastly, after March of this year, the state will receive National Housing Trust Fund dollars. New York will be obligated to spend these funds - potentially $20 million - predominantly on rental housing for extremely low-income (ELI) households. ELI households are those with incomes at or below 30 percent of the area median income (ranging from about $18,150 for a one-person household to $29,500 for a four-person household in New York City). This is another opportunity for the state to invest in adequate exit options for homeless individuals throughout the state.
***
Nicole Bramstedt is the Director of Policy at Urban Pathways, a nonprofit social services and supportive housing organization. On Twitter at @UrbanPathwaysNY
***
Have an op-ed idea or submission for Gotham Gazette? Email This email address is being protected from spambots. You need JavaScript enabled to view it.