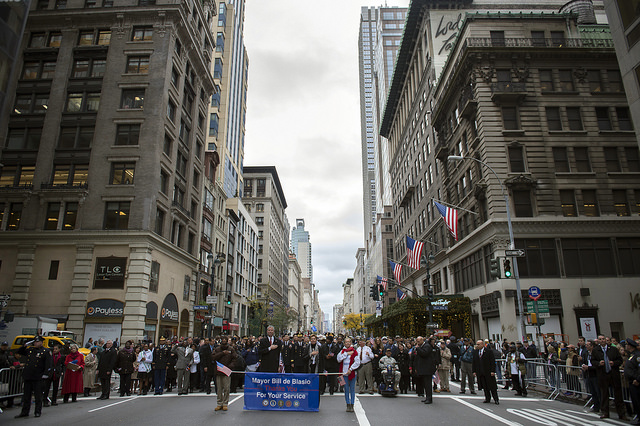 (photo: Ed Reed/Mayoral Photography Office)
---
I just can't take the mice and the mold anymore.
For years, I have lived in a Staten Island apartment in desperate need of repair. I live there with my daughter, and we've constantly struggled to get our landlord to fix the problems that make our home an unhealthy place to live.
Over the past six years, we've frequently gone without heat and hot water, faced endless mold growing in our cabinets, and suffered rodent infestations that simply won't go away.
We've asked the landlord time and time again to make the repairs to the apartment that we need, but, when he finally does something, he only applies quick fixes. For instance, after we pushed hard for him to replace our moldy cabinets, he finally gave in—but the leak that caused the mold is still there, and it will soon grow again.
Ours is the story of thousands of New York families who suffer dangerous and unhealthy living conditions because of landlords who put profit above people. In my case, the conditions caused by the landlord's failure to make the necessary repairs have made my asthma worse; last week, I had to go to the hospital because of a respiratory infection. And, like any mother, I worry constantly about how our unhealthy apartment is affecting my daughter.
This type of problem afflicts tenants across the city. That's why it's so important that the New York City Council pass an important bill this year, Intro. 543, that addresses the underlying conditions that bad landlords like mine so often fail to address.
Here's what Intro. 543, introduced by lead sponsor Council Member Ritchie Torres, does: in the case that a landlord refuses to address the underlying condition causing a housing violation (for instance, a leak that produces mold), the bill would empower tenants like me to take our claims to housing court.
This is important because, all too often, when landlords finally act to address housing violations, they fail to deal with the physical defect or failure in the building system that causes the violation. An example with which many New Yorkers will be familiar: the landlord who patches the dripping ceiling or paints over mold, but fails to fix the leaky pipe that's producing the problem.
Currently, the city's housing agency (HPD) is only able to investigate up to 50 cases per year related to underlying conditions. The department does not currently have the capacity to fully take on all the cases that exist, which is why tenants like me need the legal recourses provided by this bill.
It's time for landlords to accept responsibility for ensuring that tenants like my family are living in apartments that are safe and healthy.
But landlords who profit enormously off of unhealthy apartments won't act alone. We have to make them, and that takes a change in the law. We need the City Council to pass Intro. 543 as soon as possible. If they don't, too many New Yorkers like me won't have the tools to ensure that our landlords make the repairs we need to make the mice and the mold go away.
***
Dulce María Rivera is a member of Make the Road New York, the largest grassroots community organization in New York offering services and organizing the immigrant community. On Twitter: @maketheroadny.
***
Have an op-ed idea or submission for Gotham Gazette? Email This email address is being protected from spambots. You need JavaScript enabled to view it.