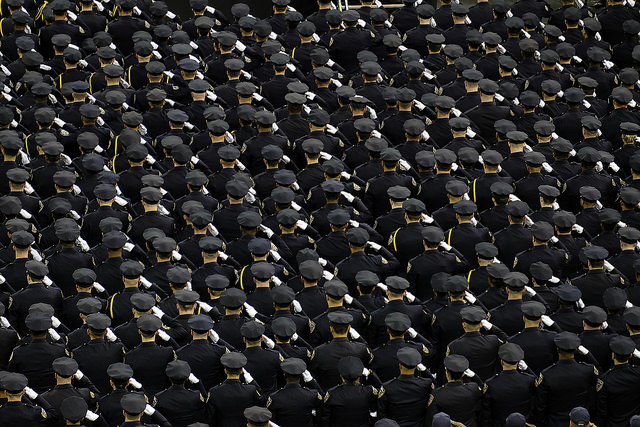 (Diana Robinson/Mayoral Photography Office)
---
Rookie New York Police Department Officer Peter Liang was on patrol in an East New York housing project in November 2014 when a bullet from his gun ricocheted off a wall and killed 28-year-old Akai Gurley, a black man. The uproar over Gurley's death culminated in Liang's conviction of second-degree manslaughter this month, provoking an unusually strong but misguided reaction from the Asian American community.
The anger boils down to the notion that Liang was the subject of selective prosecution. In other words, he did not go through the same judicial process as the white officers who have gotten away with killing young black men. Framing Liang's conviction in this context is not only insincere but misleading. If we were to follow this trend of unaccountability, we would essentially call for Liang's freedom—something that would run counter to the concept of justice and, more importantly, devalue Gurley's life.
We need to consider whether this incident actually illustrates discrimination against Asian Americans or reinforces the reality that white police officers are not being held responsible for the loss of black lives. If the goal of the recent rallies across the nation is to indeed raise awareness of the latter problem, then opponents of Liang's conviction should have organized long before his trial. Demonstrating now, as New York Times Magazine contributor Jay Caspian Kang succinctly puts it, "deforms the stated intentions." It also comes across as self-serving rather than a righteous stand against injustice.
I say this in light of the more evident challenges that Asian Americans face. We are unfairly pitted against our black and Latino peers as the "model minority" and perceived as perpetual foreigners. The list of such bigoted behavior against Asian Americans is well-documented. Sadly, however, it has also prompted an unnecessary victim mentality—one that now suggests that Liang is an example of how Asian Americans, like black people, suffer from a miscarriage of justice.
Our status as a minority does not automatically give us the right to share in the experience of others who are more heavily affected, as Asia Times contributor George Koo would have us believe. The truth is that Asian Americans, as a whole, are far less likely than blacks to be targeted by law enforcement or incarcerated. We cannot liken the severity of Liang's conviction to the death of Eric Garner or Michael Brown, whose passings sparked serious conversations on our country's execution of criminal justice. We cannot say that Liang and Gurley are both victims. Liang killed a black male; Gurley was a black male who was killed.
When I think of incidents in which our system has actually betrayed Asians and Asian Americans, I am immediately reminded of Vincent Chin, whose deadly beating in 1982 by white auto worker Ronald Ebens and his stepson resulted in just a penalty of three years of probation and a fine.
I think of Cau Bich Tran, whose shooting by Officer Chad Marshall in 2003 failed to lead to an indictment. I remember the death of Fong Lee, whose family burst into tears after Officer Jason Andersen was acquitted of using excessive force back in 2006. These are explicit instances in which I question whether Asian lives matter too.
To somehow portray Liang as the unfair target of what was ultimately a standard legal procedure is a disservice to Gurley, Garner, Brown, Chin, Tran, and Lee. We cannot choose to suddenly designate ourselves as a marginalized minority when the merit of the facts in Liang's case clearly outweigh the connection we have to him as Asian Americans. Liang and I are of the same community, but his particular crusade is not mine.
***
Justin Chan is an editorial production associate at The New Yorker. He most recently served as a columnist at Mic, where he explored the media's emasculation of Asian American men and the rise in spending among Asian American youth. You can follow him on Twitter @jchan1109.
***
Have an op-ed idea or submission for Gotham Gazette? Email This email address is being protected from spambots. You need JavaScript enabled to view it.