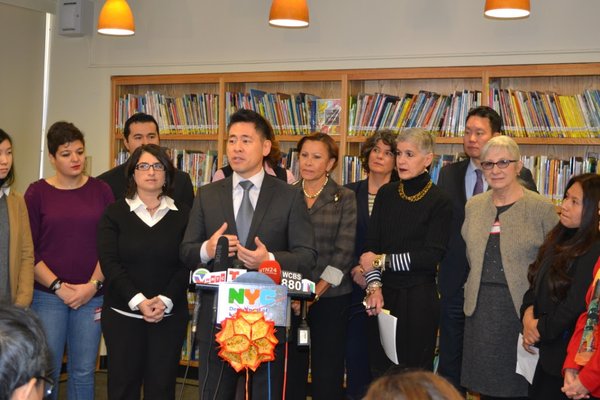 Steven Choi, the author (photo via NYC DOE)
---
New York prides itself on being a gateway of opportunity, a place where people from across the world come to build their businesses, send their children to school, and provide for their families. With more than four million immigrants in New York, these newcomers make tremendous, vital economic, social, and cultural contributions to the Empire State.
And yet there is an enormous amount that our state - led by our elected officials - can do to support our newest New Yorkers move up the economic ladder. That's why on Thursday, March 10, the New York Immigration Coalition is holding a statewide advocacy day, all the way from Buffalo to Brentwood, to commit to NYIC's 2016 "Immigrant Blueprint for New York" – the framework for a comprehensive, long-term plan for the state to improve outcomes for immigrant communities and help be a national leader in immigration.
On Thursday, we'll meet with 38 legislators across New York - in Buffalo, Rochester, the Hudson Valley, New York City, and Long Island - to emphasize the needs of their communities.
Our "Blueprint" includes five major pillars for how to achieve immigrant prosperity:
Strengthen integration efforts for New Americans by providing adult education programming for immigrants that need them, and ensuring that limited-English-proficient speakers are able to access government services;
Address the persistent achievement gap for immigrant students and English Language Learners by ensuring tuition equity on the college level, creating multiple pathways to a high school diploma, reducing the required number of Regents exams, and investing in career and technical education;
Provide access to healthcare for immigrants who are excluded from coverage by federal law, and improving access, coverage, and care for immigrants who are eligible to participate in New York's health exchange;
Advance immigrant justice and uphold due process through ensuring access to affordable and reliable legal services, as well as limiting intrusive and unlawful collaboration between local and state law enforcement and immigration officials to improve trust between communities and law enforcement;
Protect workers' rights for New York's most vulnerable, including farmworkers and other low-wage workers exploited by unscrupulous employers, and by meeting basic needs such as including access to driver's licenses for undocumented immigrants who play critical roles in our economy yet lack tremendous barriers around transportation access.
These strategic steps are not pie-in-the-sky. They are concrete and achievable, and will do wonders for New York's economic growth - catapulting New York even further as a leader in successful immigrant integration. This March 10, our message is simple: By supporting immigrant communities, we are investing in New York - and we call on our elected officials to use this blueprint to make sure we secure New York's present and future as the greatest state in the union.
***
Steven Choi is the executive director of the New York Immigration Coalition. On Twitter @SteveChoiNYIC & @thenyic.
***
Have an op-ed idea or submission for Gotham Gazette? Email This email address is being protected from spambots. You need JavaScript enabled to view it.