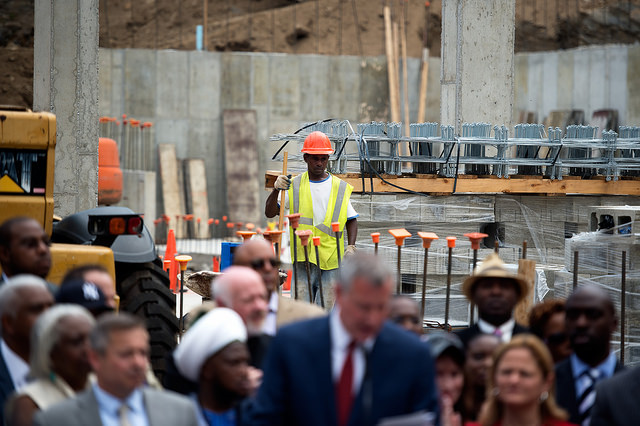 (photo: Demetrius Freeman/Mayor's Office)
---
The New York City Housing Authority is the nation's largest residential landlord, providing permanently affordable housing to more than 400,000 low-income New Yorkers, many of whom would be homeless without public housing.
Like many public housing authorities around the country, NYCHA has its critics. Stories of poor living conditions, safety concerns, and health hazards often grab headlines, and rightly so. That's why housing authority leaders must respond with real, innovative solutions to maintain a decent standard of living.
That's exactly what the housing authority is doing on Earth Day with the release of the NextGeneration NYCHA Sustainability Agenda. It's high time that NYCHA take full advantage of—and residents benefit from—the cost savings, health improvements and climate change protections associated with sustainable buildings. This is a bold plan to make that happen.
It comes at a pivotal time for New Yorkers who live in public housing. Years of federal and state funding cuts have left the housing authority with a backlog of needed repairs totaling more than $17 billion. NYCHA is continually forced to stretch its limited resources across a vast and aging portfolio, struggling to make even the most essential repairs in 2,550 buildings throughout the five boroughs. The threat of losing apartments and whole developments to decay is real.
Making sure public housing in New York doesn't shrink or disappear as it has in other cities will require that NYCHA take advantage of every tool at its disposal. The Sustainability Agenda represents big-picture thinking on a range of new programs, from deep energy retrofits and distributed energy systems to improved staff training and resident-owned business opportunities.
We have evidence that it is possible to bring the health, environmental, and economic benefits of environmentally sustainable building to low-income communities through affordable housing.
Since 2004, Enterprise Community Partners, a national affordable housing nonprofit with a longstanding presence in New York City, has led the charge in making affordable housing environmentally sustainable, healthy, and resilient through its Enterprise Green Communities Criteria, the first national framework for creating and preserving green affordable housing.
The New York City Department of Housing Preservation and Development (HPD) requires all city-subsidized affordable housing that is either newly built or undergoing substantial rehabilitation to meet these criteria. Importantly, NYCHA's Sustainability Agenda will bring this same standard to public housing developments in New York.
As part of the Sustainability Agenda, NYCHA has taken a targeted approach to identify and incorporate the most effective strategies for creating healthy environments for its residents. For example, investments in roof repairs and modernizing ventilation will eliminate a substantial cause of mold, greatly improving resident health. Children with asthma will experience fewer attacks and missed school days, improving education outcomes and helping them graduate on time. According to new research from Enterprise and the Center for Outcomes Research and Education (CORE), healthy affordable housing also improves health care access and quality while reducing costs.
Through investments in environmentally sustainable infrastructure, NYCHA will also help protect residents from the impacts of climate change. By 2025, it anticipates a 27 percent reduction in greenhouse gas emissions from its buildings. And all of this will come with an eye toward creating quality green jobs for residents, while helping the city achieve its overall climate goals at the same time.
To be sure, achieving these goals will require additional funding upfront, though analysis of the Enterprise Green Communities Criteria has shown that sustainable buildings save money in the long run, both in building operating costs and in health improvements for residents.
The Sustainability Agenda will bring an entirely new set of private resources and community-based partnerships to the Housing Authority, but will also require support from all levels of government. Repairing the well-known decay in our public housing properties could be financed with help from New York State. That's why a group of affordable housing and tenant advocates have called on Albany lawmakers to step up to the plate. Public housing should also be a major topic in the presidential election.
The benefits of the Sustainability Agenda—to the housing authority, its residents and the city as a whole—far outweigh the costs. As a part of the larger NextGeneration NYCHA plan, it will help preserve public housing, set the authority on the path to financial solvency and improve NYCHA's ability to be an effective landlord.
Public housing in New York must be preserved. Although positive change in public housing doesn't get as much attention as its struggles, NYCHA is making great strides to ensure that children who live in public housing have a safe, healthy place to grow up and the opportunity to thrive.
***
Judi Kende is vice president and New York market leader at Enterprise Community Partners, Inc., a national organization that creates, preserves and advocates for affordable housing linked to good schools, jobs, transit and health care. On Twitter @JudiKende and @Enterprise_NYC.
***
Have an op-ed idea or submission for Gotham Gazette? Email This email address is being protected from spambots. You need JavaScript enabled to view it.