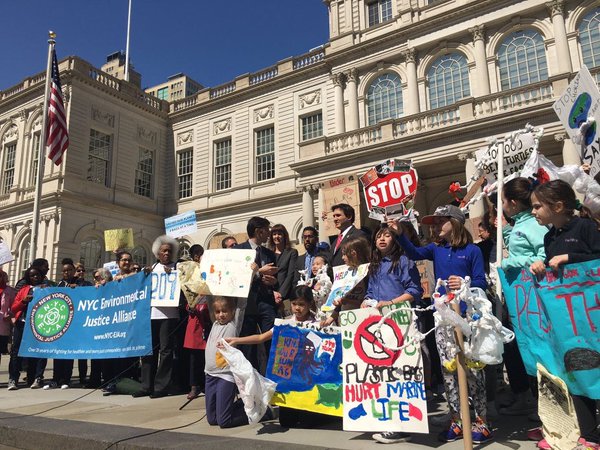 A rally for the plastic bag fee bill (photo via @bradlander)
---
It's a fact: people who live in America's most polluted environments are most commonly people of color and poor. New York City is no exception; thanks to decades of unfair policies, over 75 percent of the city's entire solid waste stream is now processed in a handful of low-income neighborhoods and communities of color in the outer boroughs. Consequently, these communities bear the disproportionate burden of high truck traffic, diesel fuel emissions, unsanitary conditions, and noise pollution.
Spearheaded by communities of color living in environmentally overburdened areas, the Environmental Justice Movement emerged to collectively protect the places where we live, work, and play. Now, we're voicing our support, from Brooklyn to the Bronx, for legislation to drastically reduce the number of plastic bags in our waste stream by attaching a 5 cent charge.
What do "free" plastic bags have to do with environmental justice? The bag that many of us were given today is just one of 9.37 billion plastic bags that make their way into the city's waste stream every year – assuming it doesn't end up polluting our waterways. A whopping 91,000 tons of plastic bags are hauled on diesel trucks for processing at transfer facilities clustered in industrial waterfront neighborhoods, including North Brooklyn, Sunset Park, and the South Bronx. Our communities, more than all others in New York, suffer the noxious fumes and noise pollution, the traffic congestion and unsafe streets, the high rates of asthma and respiratory problems, and the general neighborhood blight caused in part by our city's love affair with this icon of disposable convenience.
Faced daily with these burdens, low-income New Yorkers of color already know the high cost of "free" plastic bags.
The legislation pending before the City Council, Intro. 209, is an integral part of the city's larger zero waste goal to divert 90 percent of our waste stream from landfills by 2030. Meeting this ambitious target would improve quality of life for thousands of New Yorkers living in environmental justice communities near waste facilities. The City Council worked alongside advocates to draft a bill that addresses the concerns of low-income New Yorkers.
The bill provides exemptions for customers using SNAP, WIC benefits, and other transactions at emergency food providers. It also includes provisions for community outreach and the distribution of free reusable bags in low-income communities.
Grassroots, community-based environmental justice advocates have a long history of finding innovative solutions to proactively address the inequitable environmental burdens that we face. Int. 209 is not a cure-all for our solid waste problems – we have a long way to go to achieve a truly equitable solid waste system. But a law on the books showing the city working to meet its waste reduction goal is no doubt a big step in the right direction. By reducing the amount of single-use bags in our communities, the city can help lessen the burden of unnecessary waste and trucks in our environment, and improve the neighborhoods of low-income communities and communities of color.
***
Eddie Bautista is the executive director of the New York City Environmental Justice Alliance, where Priya Mulgaonkar serves as policy organizer. Mark Winston Griffith is the executive director of the Brooklyn Movement Center, a community organizing body in Bedford-Stuyvesant, Crown Heights and the surrounding area.
***
Have an op-ed idea or submission for Gotham Gazette? Email This email address is being protected from spambots. You need JavaScript enabled to view it.