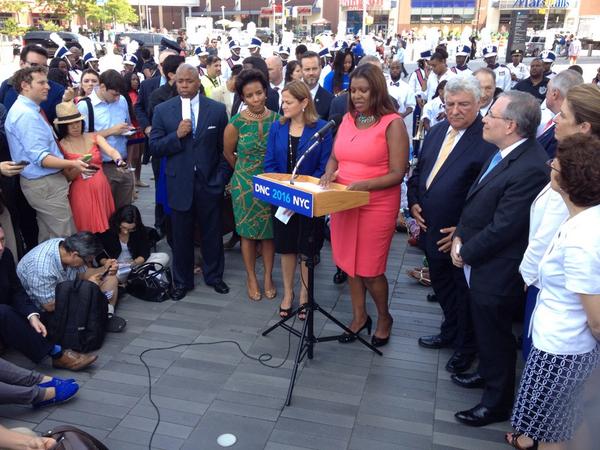 James (at podium) & Cumbo (in green) at Barclays Center (photo: Azi Paybarah)
---
When Public Advocate Letitia (Tish) James served as City Council Member for the 35th District in Brooklyn, from 2003 through 2013, she was a vocal, high-profile opponent of the Atlantic Yards megaproject, as reflected in the 2011 documentary Battle for Brooklyn.
James was a plaintiff in two lawsuits challenging the willingness of government authorities to relax deals with developer Forest City Ratner, and promoted another lawsuit filed by Brooklynites who went through a coveted pre-apprenticeship training program, run by a Forest City community partner, but didn't get expected union cards and jobs.
In her successful 2013 campaign for citywide office, James even criticized mayoral candidate Bill de Blasio, generally an ally, regarding his support for the project, which includes the Barclays Center and 16 towers (of which four are now rising), set to house 6,430 apartments, of which 2,250 are "affordable."
Since becoming public advocate, James, understandably, has paid far less attention to the project, which in 2014 was renamed Pacific Park Brooklyn after Chinese developer Greenland Holdings bought a majority stake, excepting the arena and one tower. James also joined local officials calling for the 2016 Democratic National Convention to come to the Barclays Center.
Still, it was surprising to learn, from New York Daily News Sports I-Team reporter Michael O'Keeffe, the main contributor to a four-part series on Atlantic Yards/Pacific Park that began April 11, that James would talk up the project at the behest of a developer she's long criticized.
As O'Keeffe told it, at about 43 minutes into a podcast, published April 22, in which we both appeared, months earlier, as he began looking into Atlantic Yards,, he reached out to James, but was eventually told she didn't want to comment.
As his publication date approached, and after the developer likely knew there was critical coverage coming about issues like sexual harassment by construction workers, low pay for arena staff, and neighborhood disturbances, O'Keeffe "got a call out of the blue" from James.
While James told him she's not in touch with the grassroots, she said, as O'Keeffe put it, that "she doesn't really hear a lot of complaints from residents, what she hears is a lot of excitement about the possibility of affordable housing."
O'Keeffe asked her if the developer - whose local face remains Forest City Ratner - asked her to call, and she said yes.
James apparently did not know the specifics of O'Keeffe's coverage, such as the harassment by construction workers and arena attendees toward a 23-year-old African-American woman. (James is the first woman of color to hold citywide office in New York.)
On the podcast, I speculated that James was thinking about a 2021 mayoral run, as Atlantic Yards/Pacific Park criticism has less weight, and friendly relations with powerful developers can be helpful.
But her posture - perhaps a lapse or poor political judgment - still seems strange. (She declined comment, in response to my queries.) Had James looked on my blog or sources like Atlantic Yards Watch or Instagram (see the #bciza tag), problems faced by arena neighbors have been amply documented.
It's precisely her responsibility, as Public Advocate, to serve as a watchdog over the city agencies that have failed to curb, say, illegal parking or construction activities that spill out blocks from the project.
While James understandably supports "affordable housing," the devil's in the details. James was critical of some of that housing, for example, challenging the developer regarding the percentage of family-sized units, lower than promised, in the first tower under construction, the lottery for which just opened up.
She did appear at the December 2012 groundbreaking for that tower but was not quoted in any press release, and has stayed out of December 2014 and June 2015 press releases saluting two "100% affordable" towers. In other words, she had until recently kept her distance.
Beyond a focus on her next campaign, perhaps James has been influenced by Michelle de la Uz of the Fifth Avenue Committee, a Brooklyn nonprofit, who was de Blasio's nominee to the City Planning Commission, and remains James' representative.
De la Uz in 2014 helped negotiate a new timetable to deliver the 2,250 Atlantic Yards affordable housing units by 2025 rather than 2035. (That's faster than the previously extended timetable, of 2035, but a ten-year buildout had been touted when the project went through approvals in 2006 and then 2009.)
That was progress, but de la Uz downplayed the fact that two "100% affordable" towers that came out of that deal skewed toward middle-income households earning six figures and were less affordable - in terms of incomes served - than the developer long pledged. De la Uz and allies in the BrooklynSpeaks coalition had actually once criticized that original configuration as not affordable enough.
Today, de la Uz and allies likely have James' ear more than those bearing the brunt of Atlantic Yards impacts. But the Daily News series, as well as my coverage of a public meeting in mid-April, detailed continued frustration from neighborhood residents, as the harassment victim pointed out how state officials, in a report to an Atlantic Yards/Pacific Park advisory board, had downplayed the harassment. The developer did say it would roll out a color-coded ID system to make it easier to recognize construction workers.
Similar political calculations may be at play for James's successor on the Council, Laurie Cumbo, who in the wake of the Daily News series was curiously silent. After all, Cumbo chairs the Council's Committee on Women's Issues and has regularly spoken out about issues of sexual violence, including those affecting women and girls in Nigeria.
During her Council campaign, Cumbo did criticize Atlantic Yards, but soon adopted a wishy-washy posture; she's regularly praised the below-market housing without reference to its actual affordability. Had a less powerful constituent than the Atlantic Yards/Pacific Park developer been connected to the harassment, I have to think Cumbo would have been less cautious.
Though Cumbo did not respond to an April 18 request for comment, after she was informed that this article was in the works, she sent a statement Wednesday that, among other things, cited her work on women's issues, including "legislation that will raise awareness to prevent sexual harassment and assault." She noted that venues in the district had brought more traffic and thus quality of life issues, and that in recent weeks there has been "greater visibility on the need to address sexual harassment within our community." She said that New Yorkers face "cat calls, lewd gestures, inappropriate language and unwarranted comments about the physical characteristics of their bodies" and that "in the City of New York, these acts will not be tolerated."
Her statement, interestingly enough, didn't acknowledge the victim but indicated respect for the developer. "I want to acknowledge Ashley Cotton, SVP of External Affairs, Forest City Ratner Companies for working with the NYPD, Barclays Center, contractors, and unions to implement several measures including a color-coded identification system for its workers to improve accountability and a guest code of conduct for Islanders games to enhance public safety," Cumbo wrote. "These preliminary steps are indicative of our collective commitment to fostering a safe environment for women, the LGBTQ community, and countless others who deserve to freely commute."
Fewer than 90 minutes later, Cumbo circulated to her mailing list an announcement about the application process for 461 Dean, the first Atlantic Yards/Pacific Park affordable housing tower.
***
Brooklyn journalist Norman Oder writes the watchdog blog Atlantic Yards/Pacific Park Report.
***
Have an op-ed idea or submission for Gotham Gazette? Email This email address is being protected from spambots. You need JavaScript enabled to view it.