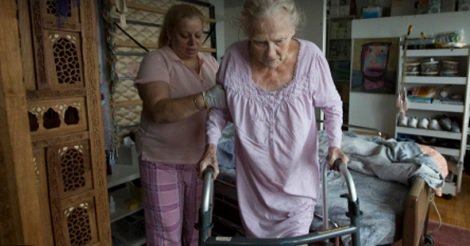 photo via PHI
---
Nearly 175,000 New York City residents go to work each day in the homes of New Yorkers who are elderly or living with disabilities. Predominantly immigrant women of color, these aides assist with personal care, medications and other health-related tasks, meals, housekeeping, and a variety of other activities. They are crucial to keeping people who are frail or suffering from chronic illnesses healthy, safe, and independent. They have become vital to system reform efforts intended to improve the health of New Yorkers while also reducing costly and unnecessary visits to emergency rooms.
Home care workers, who may be home health aides or personal care aides, comprise the single largest occupational group in New York City. Nonetheless, they have a long history of marginalization: poverty-level wages, lack of standard labor protections, part-time hours, insufficient training and support on the job. That situation is beginning to change as policymakers recognize that the city faces a potential care crisis: a rapidly growing older population that requires a stable, skilled workforce to provide home care services.
Over the past five years, a raft of new federal, state, and local regulations - Wage Parity for personal care and home health aides, Domestic Workers Bill of Rights, and expansion of Fair Labor Standards Act to include home care aides - have been put in place to raise wages and improve working conditions. In addition, home care aides are affected by the rising minimum wage and new paid leave regulations. These measures are critical to improving the quality of home care jobs and attracting new workers, but they also have created a level of complexity that makes it difficult for employers to comply and for workers to know their rights.
The Wage Parity law requires that a home care aide be paid $10 per hour during the time she is with her client. She is paid minimum wage, currently $9 an hour, for travel time between clients. If her total number of weekly hours, including travel, is 45 hours, she must be paid time-and-a-half on her base wage for the hours over 40. The employer must calculate the base wage using a formula that accounts for hours worked ($10/hour) and paid travel time ($9/hour). How is this worker able to determine if she is being paid the right amount? What if she has an overnight shift? For how many hours should she be paid, and at what wage?
Both employers and home care aides need an unbiased source of information and assistance to navigate these rules and regulations. That is why PHI supports the proposal to include a Division of Paid Care, with a public advocate devoted to supporting the home care and day care workforces, in the new city Office of Labor Standards. For New York City's home care workforce, this office could offer several crucial services:
Education: Assist home care workers and their employers in learning about labor laws and regulations. For example, the advocate could spearhead public education on rules regarding compensation and labor protections. The advocate would also be available via a toll-free number to answer any questions workers had about their rights.
Tracking and Reporting: Create a system for reporting complaints, cataloguing questions, and providing timely answers to frequently asked questions. An effective system would provide workers with a supportive environment in which to learn about their rights and file a complaint, if warranted. The advocate could track complaints and issue an annual report describing type and frequency, and propose appropriate measures to reduce violations.
Assistance and Support: Help workers access state and local services for low-wage workers - for example, connecting workers to child care or health care resources. In addition, the advocate could provide information on available training programs and their costs.
To keep up with growing demand, it is estimated that New York City will need to grow its home care workforce 45 percent - more than 72,000 workers - over the next decade. To ensure quality home care services, New York City also needs to increase retention of well-trained, experienced aides. A Division of Paid Care could help to ensure quality jobs, with fair pay and adequate support, making home care a more attractive career for thousands of workers who could easily choose fast-food or other jobs over caring for the city's most vulnerable elders.
***
Carol A. Rodat is the New York Policy Director for PHI, a national nonprofit affiliated with a New York health care system that includes Cooperative Home Care Associates, a worker-owned home care agency, and Independent Care System, a managed-care organization. On Twitter @PHInational.
***
Have an op-ed idea or submission for Gotham Gazette? Email This email address is being protected from spambots. You need JavaScript enabled to view it.