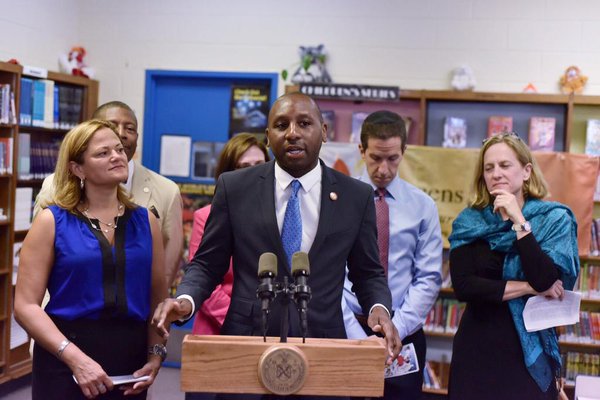 Council Member Donovan Richards, the author (photo: William Alatriste)
---
With officials in Albany about to pack up and head home, there is still some serious unfinished business.
Thanks to Albany's failure to deliver a compromise between real estate and labor interests, it's clear that we'll see no movement on one of the most critical tools we have to build affordable housing: 421-A, the tax incentive program.
What a lot of us hoped was just a six-month pause in adding to the pipeline of new rental housing is at serious risk of becoming a long-term slump—and it could not come at a worse time for our city. New York City is growing fast, and grappling with the worst affordable housing crisis in generations. Half of all households are paying more rent than they can afford.
The old 421-A program that was up for renewal last year was hardly perfect - you'd be hard-pressed to find someone today who would say developers actually need a tax exemption to build and sell luxury condos.
But for all its flaws, the program did two very important things—the lack of which we're feeling with every passing day.
One, it made it financially feasible to build rental housing, which is the housing New York actually needs right now.
And two, it was one of the only ways to secure affordable housing in some of the most expensive real estate markets in the city, places like Lower Manhattan, the Upper West Side, and Downtown Brooklyn. The reforms Mayor de Blasio pushed cut condos from the program, slashed subsidy per apartment, and strengthened affordable housing requirements citywide. But because of Albany's inaction, we've never had the benefit of those improvements.
If this political impasse in Albany continues, we'll see a city that's less affordable, and more divided. The only kinds of buildings that will go up will be City-sponsored affordable housing and luxury condos—with none of the healthy rental housing in the middle that we need for the city's growing workforce.
From Astoria to Upper Manhattan, construction sites are sitting vacant and projects are on hold. Building permits are down to levels we haven't seen since the housing market crashed triggering the Great Recession. New rental housing has reached a standstill. And that means there is more and more pressure and demand on the housing we have today. If this keeps up much longer, rents are going to rise even faster than they already have—well outside the reach of working people.
Even though the City can continue building subsidy-driven affordable housing, we'll lose the opportunity to build new affordable housing in exactly the parts of the city where it's needed the most. 421-A was one of the few tools that could entice builders to construct affordable housing in hot markets, and the stringent affordability requirements the City Council and Mayor de Blasio secured would have only deepened that potential. What we'll face if Albany doesn't act is a more segregated, less diverse city. That's not the New York we want.
New Yorkers should get angry. The City is doing everything in its power to protect neighborhoods and build a record amount of affordable housing. The proof is in the numbers: more than 43,000 affordable homes were financed in just two years – delivering enough affordable housing for more than 100,000 New Yorkers. The total is the largest number of new affordable apartments produced in nearly four decades. But, there is more that must be done, and we need Albany lawmakers to act.
This isn't a crisis we can take on with one hand tied behind our backs. It's time for the state Legislature and Governor Cuomo to work together to fix 421-A, passing the City's reformed plan before more damage is done.
***
Council Member Donovan Richards represents District 31 in Queens, which encompasses Laurelton, Rosedale, Springfield Gardens and Far Rockaway. He is the chair of the Council's Subcommittee on Zoning and Franchises. On Twitter @DRichards13.
***
Have an op-ed idea or submission for Gotham Gazette? Email This email address is being protected from spambots. You need JavaScript enabled to view it.