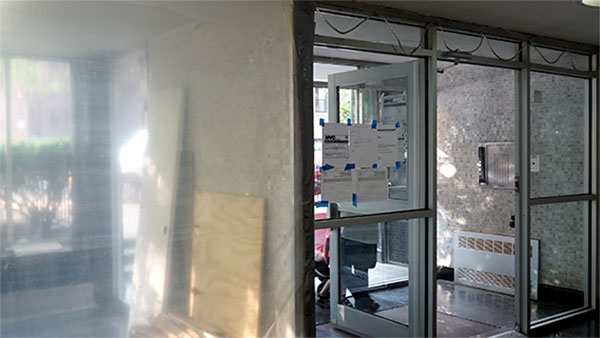 132-40 Sanford Ave in Flushing, a Treetop Development-owned rent-stabilized building

---
After more than a year of intensive community engagement, Flushing's "under the radar" rezoning study of an 11-block waterfront area dubbed Flushing West was suddenly withdrawn by the Department of City Planning (DCP). The decision was prompted by a letter from City Council Member Peter Koo, who outlined a comprehensive list of outstanding concerns including "that the numbers don't add up" for developers who perceive that the rezoning amounts to a "downzoning."
DCP's decision to pause the study elicited mixed reactions, in part because the rezoning study did spotlight the heavy infrastructural strain of Flushing's white hot real estate market and unified multiple community stakeholders to protect the neighborhood's rapidly diminishing affordable housing and advocate for equitable community development.
Mayor Bill de Blasio recently penned a Huffington Post column proposing that in the current market climate of hyper-gentrification, the city's existential identity is defined by residents of public housing and rent-stabilized apartments. As the mayor opines, "It's in protecting these people that we protect the soul of our neighborhoods." I dare say the soul of Flushing has been under attack and protecting its diverse, working-class residents is long overdue.
Like many neighborhoods of color, affordable housing in Flushing is threatened by predatory equity investment. Investors target "underperforming" and "undervalued" multi-family residential buildings in strategic markets (i.e., "up and coming" and gentrifying areas). They count on capturing unrealized market value through replacing current tenants with those that can afford to pay higher rents or reselling properties at huge profits after making nominal capital improvements. Treetop Development LLC, one of the largest real estate companies in the New York City area, has a business model based on these "multi-faceted" strategies, to the detriment of communities.
Treetop's online profile notes, "We actively acquire and transform existing rental properties in the region by modernizing living spaces, common areas and building systems before returning them to market. We are well-known for creating cutting-edge projects in neighborhoods coming up as desirable new addresses." Since its establishment in 2005, Treetop Development LLC has been one of the region's most active investors in multi-family properties including federally subsidized, project-based Section 8 developments and rent-regulated buildings.
In the past few years, Treetop has acquired and flipped numerous rent-stabilized buildings, generating huge profits. In July 2013, Treetop purchased 17-27 West 125th Street, a 50-unit rent-stabilized building in Harlem for $13.6 million. According to Treetop's website, "17-27 West 125th Street boasts large apartments, which will be renovated upon vacancy to include new wide plank hardwood flooring, modern and chic kitchens and bathrooms, and stainless steel appliances." After spending only $1.5 million on "signature" capital improvements, Treetop sold the building to Thor Equities for a whopping $30.6 million in August 2015 (a $17 million gross profit after 25 months of ownership).
Similarly in 2014, Treetop acquired a portfolio of six rent-stabilized buildings with a total of 139 rental and seven retail units in Washington Heights for $23 million. These properties, referred to as the "Columbia Audubon" portfolio due to their proximity to Columbia University Hospital and Audubon Avenue, were sold a little over a year later, in December 2015, for $36 million to a group of private investors.
In describing Treetop's strategy to purchase and flip a multi-family portfolio in Central Harlem, co-principal Adam Mermelstein explained, "This portfolio is the perfect example of how picking the neighborhoods, identifying underutilized properties, effective management and recognizing the right time to buy and sell can pay tremendous dividends." The portfolio purchased by Treetop for $22 million in 2013 was comprised of 12 five-story walk-up apartments and included rent-stabilized buildings on St. Nicholas Ave and Frederick Douglass Blvd. Two years later, Treetop sold the portfolio to a newly formed investment firm for $35 million, generating a profit equal to 59% of Treetop's original purchase price.
Treetop Development LLC was featured in Crain's New York Business for its enormous $138.8 million acquisition of eight rent-stabilized buildings in Queens representing the county's largest multi-family transaction in 2015. Seven of the rent-stabilized buildings (totaling 489 apartments) are clustered in a three-block area near downtown Flushing and one building is in Elmhurst. Treetop wasted no time in making cosmetic upgrades to common areas such as lobbies and hallways, and renovating vacated apartments. A recent visit and conversation with a long-time, rent-stabilized tenant in one of Treetop's Flushing buildings indicated that the common areas had already undergone capital improvements which permitted the prior landlord to increase rents.
Since Treetop's acquisition, tenants have reported construction-related disruption and dust, spotty heat and hot water, and a sudden increase in vacant apartments. City Council Member Koo's office has submitted a list of complaints pertaining to these buildings to 311.
This past year has been very busy for Treetop as it expands its extensive portfolio of rent-stabilized buildings in Harlem and Flushing, sold "select holdings at high profit margins," and refinanced some properties through mortgage consolidation, as in the case of four Brooklyn properties including 188 South 3rd St., a rent-stabilized building in Southside Williamsburg. Among its early acquisitions in New York City's multi-family market, Treetop paid a little over $5 million in August 2006 for the 41-unit building, intending to convert the apartments into upscale rentals. A few months later, various publications including the Metropolitan Council for Housing's newsletter detailed the reasons why Treetop's Mermelstein was named the city's "most abusive landlord" by a group of tenant advocacy organizations.
Treetop's 188 South 3rd St. was in the news again in July 2013 when a three-alarm fire erupted between the ceiling of the top floor and the roof. Over one hundred firefighters responded to the early morning blaze that took approximately two hours to extinguish. Several tenants were interviewed noting long-standing electrical problems and non-professional repairs. Charlin Ramos said to Brooklyn News 12, "I knew this was going to happen, I predicted it was going to happen." Jacqueline Jimenez claimed Treetop ignored numerous calls from tenants. Extensive damage required many tenants to vacate and according to the Department of Buildings, the current status of 188 South 3rd St. is that a partial vacate order remains in effect as well as civil penalties and an outstanding Class 1 violation defined as "immediately hazardous."
The same weekend that Mayor de Blasio's column was published by Huffington Post, the New York Times published an opinion piece titled, How to Force Out Rent-Controlled Tenants. The timing and message of these articles underscore the precarity of rent-regulated housing that has been affordable to working-class New Yorkers. Key forces destabilizing the city's neighborhoods, especially its communities of color, are the tactics deployed by predatory equity investors such as Treetop Development LLC. While the Flushing West rezoning study provided an opportunity to highlight the outstanding need for affordable housing, the current state of the neighborhood's rent-stabilized housing requires immediate action to protect long-time tenants, or as the mayor would describe them, the soul of Flushing.
In early May, the Flushing West Community Alliance (FRCA) released a comprehensive research report that includes anti-harassment and anti-displacement measures. Based on numerous discussions with rent-stabilized tenants, FRCA recommends that landlords with a history of tenant harassment should not be able to receive permits necessary for renovations that will enable them to increase rents. At minimum, the four bills introduced to the New York City Council earlier this year, including Brad Lander's "Certificate of No Harassment," should be acted on immediately. Although the Flushing West rezoning process is temporarily on hold, speculative real estate market conditions have not abated which means rent stabilized tenants need strengthened protections now.
***
Tarry Hum is a professor at the City University of New York and author of Making a Global Immigrant Neighborhood: Brooklyn's Sunset Park.
***
Have an op-ed idea or submission for Gotham Gazette? Email This email address is being protected from spambots. You need JavaScript enabled to view it.