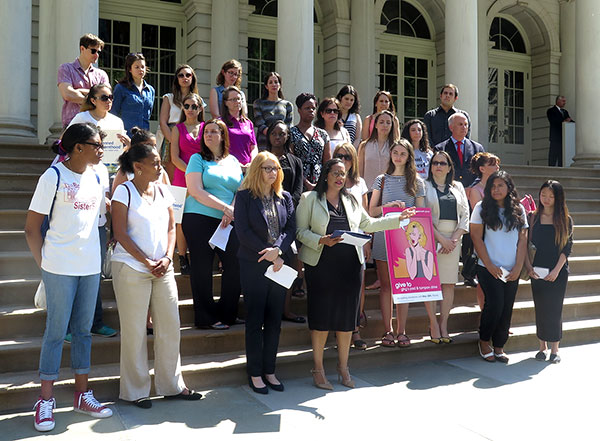 A City Hall rally in support of menstrual equity
---
My period got me suspended from school. That should not happen to anyone. Yet in New York City and elsewhere, people who have periods—including transgender and gender-nonconforming people—still struggle to access menstrual products and the resources they need. This can hurt their ability to succeed academically, personally, and professionally.
New York just made history when the City Council approved the nation's first bills of their kind to provide free tampons and pads in all public schools, homeless shelters, domestic violence shelters, and correctional facilities throughout the city. Making menstrual products accessible is a simple matter of dignity and respect.
No one should have to go through what I went through. I started my period on graduation day from 5th grade when I was only 11. There was no way I could tell any of my classmates; the culture of female shame at my school was overwhelming. In middle school, I had very painful menstruation and ended up fainting in class in 7th grade. Of course my best friend told the whole class why, and my school made me leave to go see my pediatrician immediately - not fun. During 9th and 10th grades I missed exams a few times because of my period. My mom wouldn't allow me to see a gynecologist because she was against birth control, and sexuality overall was a problematic subject in our household.
Since I didn't feel it was possible to talk to my mom and didn't grow up living with my dad, I had to sneak off campus when I was 16 to speak to a Planned Parenthood provider about using birth control to alleviate the pain from my periods. Planned Parenthood was the only safe space I felt I could talk about my body. The fear I felt even going to a health clinic made me feel silent and alone, and too fearful to ask for a doctor's note from the provider. I ended up getting suspended from school after the dean found out I left without parental consent.
This was an offense that would be reported and explained to every university I applied to—all because of period and reproductive health stigma!
Regardless of getting suspended and the aftermath, the experience was triumphant overall because it is why I am now interning for Planned Parenthood of New York City and passionate about menstrual equity. It's also why I supported Columbia's student council president on effective ways to push our administration to provide sanitary pads, rather than just tampons for students.
No one should get suspended or have to miss class because they don't have the resources to take care of their own health and body.
I'm thankful that City Council Member Julissa Ferreras-Copeland, Council Speaker Melissa Mark-Viverito, and others are working tirelessly to ensure that individuals in city schools, homeless shelters, domestic violence shelters, and jails can access tampons and pads when they need them. I am grateful that Mayor Bill de Blasio plans to soon sign this legislation into law. Periods—a natural bodily process we cannot control—should not be a financial impossibility or emotional burden for anyone!
Making menstrual products accessible will help normalize conversations about menstruation and sexual health. This will help reduce the shame and embarrassment all people who menstruate, especially youth, have felt about their periods.
Eliminating period stigma has the power to change people's lives. Everyone who has a period deserves access to the resources to meet their essential needs so that they can stay focused on their futures.
***
Elle Wisnicki is a Health Center Advocate intern in Public Affairs at Planned Parenthood of New York City and has been a campus representative for Planned Parenthood at Columbia University.
***
Have an op-ed idea or submission for Gotham Gazette? Email This email address is being protected from spambots. You need JavaScript enabled to view it.