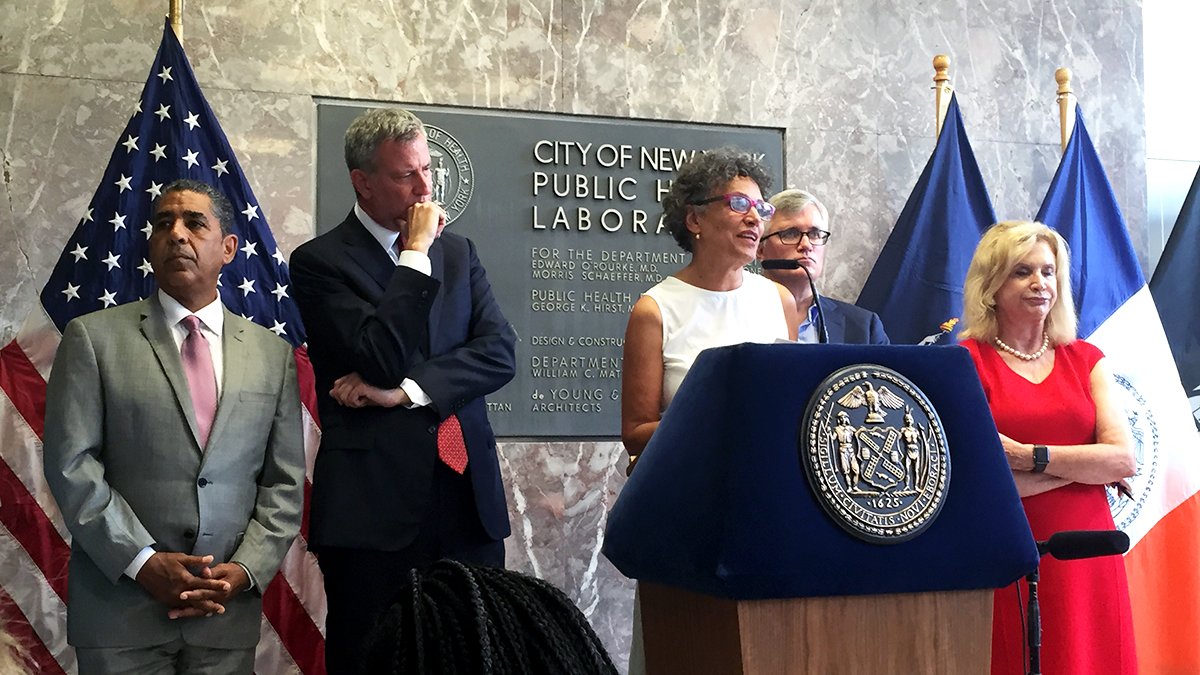 City's health commissioner, Dr. Mary Bassett, discusses Zika (photo: @nychealthy)
---
As the Zika virus continues to make headlines around the world, it is crucial that our city, state and federal governments do all that they can to prevent the spread of Zika. This is especially important in New York City, home to approximately 25% of the cases in the United States.
Our elected officials are doing just that. The Mayor's Office has unveiled a three-year plan focused on increasing clinical services, controlling mosquito populations, and raising public awareness through media campaigns and outreach to over 200 health care providers that serve New York City women. Additionally, just this week, New York City Public Advocate Letitia James put forth a list of recommendations to prevent the spread of Zika in our city, which among its many important proposals, calls for more education and increased access to sexual and reproductive health services to protect New Yorkers from exposure to Zika and its related health risks.
Zika is primarily spread by mosquito bites. However, we now understand that it can also be transmitted sexually. The CDC recommends that men with symptoms abstain from sex or use condoms for at least six months and that all people who travel to places where Zika is spreading abstain from sex for at least eight weeks or use barrier methods like condoms or dental dams, whether they have symptoms or not.
At Planned Parenthood of New York City, we have long recognized how integral it is to public health that all people have the services and information they need to decide if and when to have children, and to protect their sexual health. This is even more critical with the threat of the Zika virus and its effects on infant development.
As one of the city's leading provider of high-quality sexual and reproductive health care services, PPNYC delivers the care New Yorkers need to reduce the likelihood of sexual transmission of Zika through the provision of condoms and other forms of birth control that can prevent or delay pregnancy until the risk has passed.
Additionally, we understand that in the face of Zika, it is imperative that we continue to protect access to safe and legal abortion. As of August 2016, 49 pregnant women have tested positive for the Zika virus in New York City. PPNYC is committed to making sure that all people have the information and services necessary to make the best decision for them, whether that is to prevent unintended pregnancy, safely end a pregnancy, or carry a pregnancy to term and raise a child.
The importance of sexual and reproductive health services to public health cannot be overstated.
We applaud Mayor de Blasio and Public Advocate James for emphasizing the importance of stemming the spread of Zika, and for recognizing how PPNYC's services can help ensure that all New Yorkers have the resources and care they need to protect themselves and their families against Zika.
PPNYC is proud to be working alongside our city's other health care providers and elected officials to reduce the transmission of the Zika virus to keep New Yorkers healthy.
***
Joan Malin is President and CEO of Planned Parenthood of New York City.
***
Have an op-ed idea or submission for Gotham Gazette? Email This email address is being protected from spambots. You need JavaScript enabled to view it.