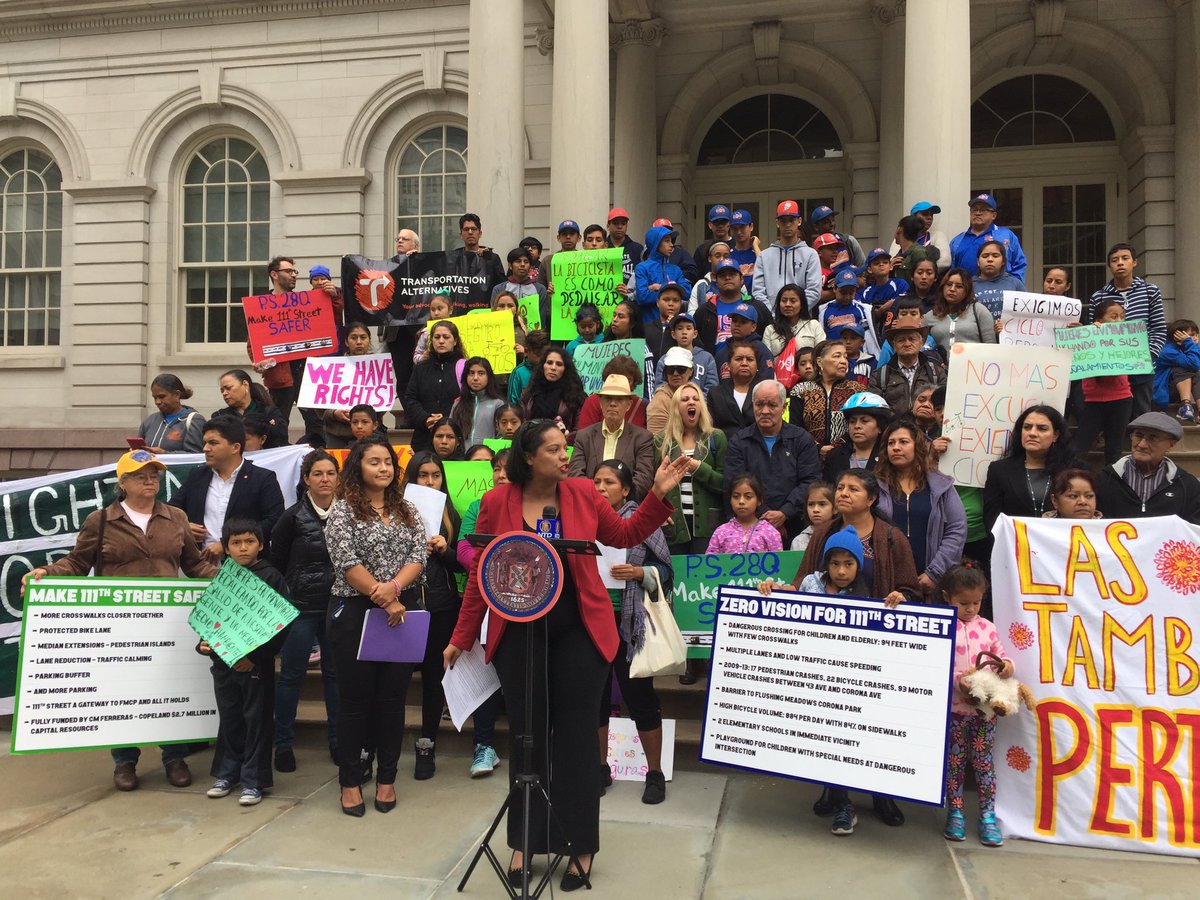 A rally for change on 111th Street (photo: @JulissaFerreras)
---
A few weeks ago, I joined over 100 parents and their children on the steps of City Hall to ask Mayor de Blasio to finally make 111th Street safer. After more than a year of waiting, and multiple rounds of community engagement, the Department of Transportation announced a new agreement Wednesday, and will move forward with the process to make these changes a reality.
For the tens of thousands of community members in Corona and the surrounding areas, safer days are finally in sight. And, this advocacy and progress are both a model for communities around the city where safety must be paramount.
For families in our neighborhoods, crossing 111th Street is too dangerous. Nearby 111th St are two elementary schools, an assisted living facility for seniors, and a playground for children with special needs. And, 111th Street will soon be the site of a large pre-K center near the Hall of Science. In addition, baseball and soccer leagues and other activities happen inside Flushing Meadows Corona Park every day.
In order to cross 111th, families must traverse 94 feet without a place to stop should they need to. They must cross five lanes, where cars routinely speed due to the wide road and general lack of traffic. This is unacceptable, especially given how important Flushing Meadows Corona Park is to our community. Tens of thousands of people use the park every week, and 111th Street has been a barrier to entry for too long. DOT has rightly designated the corridor as a Vision Zero priority.
Improving 111th Street has been a priority for this community for a long time as well, with proposals to change the street dating back decades. This issue comes as no surprise considering the street's history. Built during the first World's Fair by Robert Moses, the street was designed to be a grand entrance to the lavish festival, conceived with only cars in mind. Needless to say, the 111th Street of Robert Moses' time is long behind us and it is currently an obstacle to safely enjoying one of the city's largest green spaces. In the decades since the fair, it has served to draw a clear line between a community and its park. Today, people walk, push strollers, bike, and drive across and down 111th Street. The agreement will update it to the changes over times and create a safer future.
Specifically, DOT's recently released agreement will reduce pedestrian crossing distance by 50%. It will add 14 median extensions to give pedestrians a place to stand while crossing. It will create a parking protected bike lane. It will reduce traffic by one lane on each side. And, contrary to many other proposals of its type, it will add 20 parking spaces. These are substantial improvements that I have demanded alongside parents and residents of Corona and I hope will soon be in place. But they are not complete, and I will continue to work with the DOT to make 111th Street even safer, particularly by installing more crosswalks.
I call this an agreement because it is supported by a wide cross section of the community, including Congressman Crowley, Queens Borough President Katz, and Assemblyman Moya. We have done substantial community engagement to get input and DOT has updated the plan to reflect that feedback. There will be additional opportunities for engagement to learn why these changes are critical. But we should not wait to make them a reality. Families have waited too long.
***
City Council Member Julissa Ferreras-Copeland represents the 21st Council District in Queens, serving the neighborhoods of Corona, Elmhurst, East Elmhurst, LeFrak City and parts of Jackson Heights. On Twitter @JulissaFerreras.
***
Have an op-ed idea or submission for Gotham Gazette? Email This email address is being protected from spambots. You need JavaScript enabled to view it.