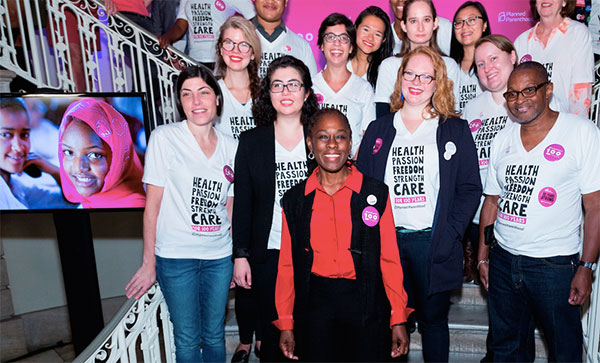 PPNYC celebrates 100 years with First Lady McCray
---
One hundred years ago, in 1916, Planned Parenthood of New York City (PPNYC) opened in Brownsville, Brooklyn as a small birth control clinic. Since then, PPNYC has grown to five health centers—one in each borough—and provides sexual and reproductive health care services and information to more than 64,000 New Yorkers each year, and reaches another 25,000 through our extensive sex education programs.
Incredible gains have been made over the past century. PPNYC has been at the forefront of increasing access to birth control, ensuring the availability of safe and legal abortion, and getting coverage for preventive care and birth control under the Affordable Care Act. Today, we continue to be a champion for access to sexual and reproductive health care, improving sexuality education, and advocating for policies that make the lives of New Yorkers better every day.
But even with all the progress we've made, we are only just getting started. As the city has grown, we've changed and adapted as the communities we serve have changed. Our goal is to expand our services to better meet the needs of all New Yorkers—including men, young adults, gender nonconforming people, and the LGBTQ community.
Today, PPNYC continues to serve Brownsville not as a stand-alone clinic, but through Project Street Beat, an innovative street-based outreach program that provides HIV prevention services and counseling. The Project Street Beat - Keith Haring Foundation Mobile Medical Unit delivers care to some of our city's most vulnerable individuals by meeting them right in their own community. This year, PPNYC is rolling out new services to provide more care to the communities we serve. In August, we began offering PrEP at our health centers, a daily pill that helps prevent HIV. By the end of 2016, we'll be offering vasectomies and transgender hormone therapy.
Providing welcoming and trans-affirming care is essential to meet our goal of providing the best possible health care to all New Yorkers. And as always, our services are offered to everyone who comes through our doors—regardless of immigration status or ability to pay.
Along with our new services, our Education Department is also expanding and developing innovative strategies to reach even more New Yorkers, including the launch of a new program called Sexuality Education for Adults. Additionally, Promotores de Salud, PPNYC's initiative that trains neighborhood residents to serve as peer health educators in the community, will partner with Project Street Beat to offer medical interpreting alongside sexual and reproductive health services.
PPNYC's work is grounded in the idea that reproductive health and rights are closely intertwined with social justice issues. Many of the communities that we serve experience systemic oppressions dictated by race, gender, ethnicity, income, immigration status, ability, and more. We work alongside community-based organizations and reproductive justice organizations in the fight for a world where access to health care and rights are a reality for all people.
We are determined to fight for this goal now and always, and we are committed to improving the lives of New Yorkers—no matter what. We are 100 years strong and getting stronger. Our vision has always been to work toward a world where people have full control of their bodies and destinies. As we commemorate the extraordinary achievements made over our first 100 years, we are proud to launch our second century with as much passion, courage and conviction as our first.
***
Joan Malin is President and CEO of Planned Parenthood of New York City.
***
Have an op-ed idea or submission for Gotham Gazette? Email This email address is being protected from spambots. You need JavaScript enabled to view it.