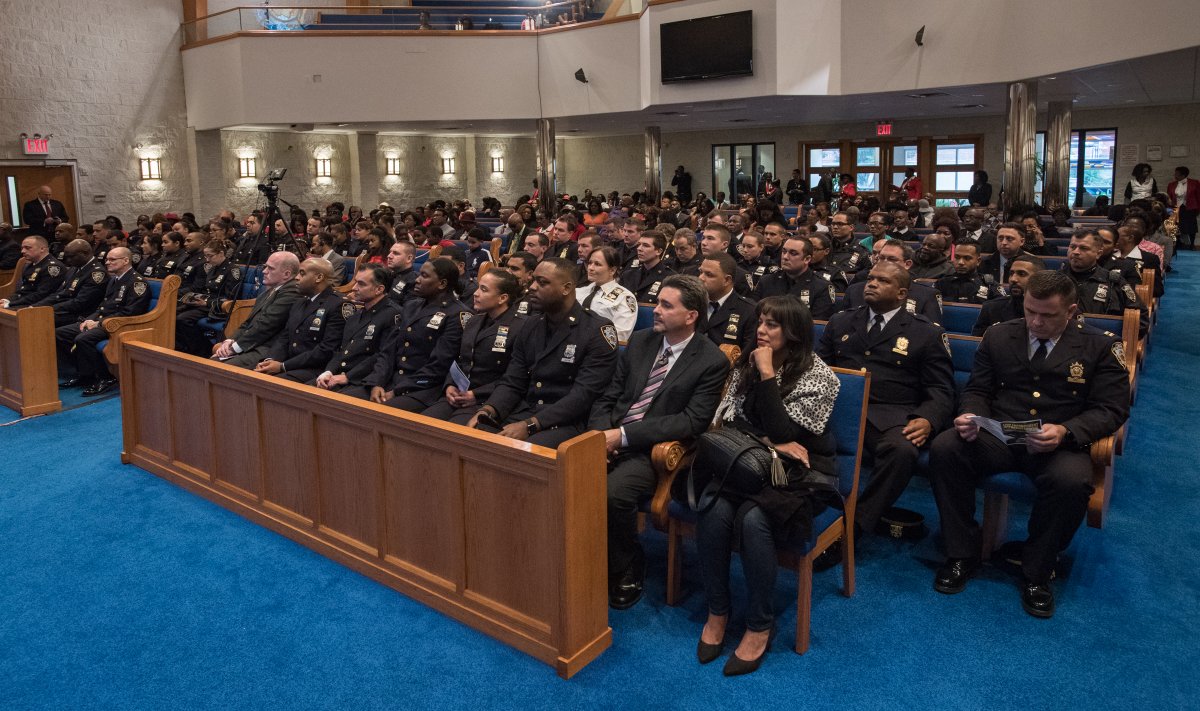 (photo via @NYPDnews)
---
Tyrone Tomlin was standing outside of a deli holding a soda and drinking straw when two police officers from Brooklyn North Narcotics arrested him for possession of drug paraphernalia. The officers asserted that, "based on their training and experience," Tomlin possessed an item commonly used to package heroin -- the drinking straw. An Assistant District Attorney took the officers at their word and recommended bail, which Judge Laura Johnson set at $1,500 cash. Tomlin didn't have the $1,500 and was sent to Rikers Island.
Junior Weems was arrested by two undercover officers who asserted that, "based on their training and experience," Weems had possessed cocaine and intended to sell it. A prosecutor requested bail, which Judge Jane Tully set at $2,000 insurance company bond or $1,000 cash; like Tomlin, Weems told the judge he didn't have funds to make bail and he too was sent to Rikers Island.
But neither Tomlin nor Weems (whose name has been changed) actually possessed any drugs, a fact that was only verified by the New York Police Department (NYPD) laboratory after each had spent days incarcerated at Rikers Island. Both cases were eventually dismissed, but considerable harm had already been done. Just one day in jail can mean the loss of job, housing, or even parental custody; plus exposure to the horrors and dangers of NYC jails, which have been well documented.
These stories are not unique, unfortunately. More than 20,000 people were arrested for misdemeanor drug possession (excluding marijuana, which is a separate offense) in New York City in 2015, making it the fourth most common arraignment charge citywide. In 2015 alone, Brooklyn Defender Services represented more than 2,000 people – three quarters of whom were black or Latino – whose most serious charge was possessing trace amounts of a drug other than marijuana. The difference between felony and misdemeanor drug possession is weight.
A deeper look into the data shows how fraught many of these low-level cases are, in part because they deal with amounts of substances, either illegal or not, that are so tiny that they are often difficult to identify. Meanwhile, although corroborating lab results are required shortly after arraignment for prosecutors to secure an indictment for a felony, similar due process protections for misdemeanors do not exist. The operating notion is that police officers' "training and experience" is good enough -- despite evidence that they get it wrong frequently -- and many cases resolve through plea deals before the evidence is even accurately tested.
Of the 2,091 Brooklyn Defender Services cases we reviewed, a full 25 percent -- 534 cases -- were eventually dismissed because the drug lab returned a result contradicting the officers' "training and experience;" or because they involved an illegal search; or due to other reasons.
Nearly 300 Brooklyn Defender Services clients accused of misdemeanor drug possession (non-marijuana) had bail set, nearly all of whom spent at least some time at Rikers Island. Another 741 defendants pled guilty at arraignments, sometimes to a lower charge. While we cannot say for certain how many people did so under coercion from the prospect of bail and jail, we know anecdotally that many people in cases like this plead guilty -- regardless of guilt or innocence -- simply to avoid more jail time. Everyone arrested and booked in New York City spends around 24 hours locked up in NYPD custody, before even seeing a judge.
At a time when public opinion nationwide favors treating drug use as a public health issue, we must stop and ask why these problematic arrests and incarcerations, which do not improve public safety, are happening in the first place. In some of these cases, people are arrested and incarcerated even when they do not actually possess illegal drugs. In cases when a person possesses drugs in an amount so small that it can't be identified properly, should we really be sending them to Rikers Island -- interrupting their life and introducing collateral consequences that can haunt them for years after?
Ultimately, the simple possession of all drugs, especially in amounts so small they are routinely misidentified, should be fully decriminalized in New York State, as Human Rights Watch eloquently argues in its recent report "Every 25 Seconds."
As an interim measure, the State Legislature should immediately take action to amend court procedural rules to include due process protections for people accused of possessing small amounts of drugs -- for example by requiring a lab report to hold anyone in custody longer than 24 hours and prohibiting District Attorneys from making recommendations about bail other than release when a lab report is absent. District Attorneys, with an ever-growing mandate to do justice, could resolve the issue immediately by declining to prosecute these cases.
The Mayor of New York City should require the police department to end its prioritization of these arrests, and to limit enforcement only to cases with a clear public safety justification. This aligns with the New York City Council's work under the 2015 Criminal Justice Reform Act.
The City Council should adopt legislation that would require District Attorneys and the NYPD to report on drug possession cases where an officer's "training and experience" was contradicted by lab results. These officers should, at minimum, be required to undergo retraining, and repeat offenders should be disqualified from making street-level arrests.
In this time of national reckoning over mass incarceration and the drug war, New York -- both City and State -- have an opportunity for leadership. It's time for a change.
***
Melissa Moore is the deputy state director of the New York policy office of the Drug Policy Alliance. Nick Malinowski is the Community Advocacy Coordinator at Brooklyn Defender Services. On Twitter @mooremeliss and @nwmalinowski.
***
Have an op-ed idea or submission for Gotham Gazette? Email This email address is being protected from spambots. You need JavaScript enabled to view it.