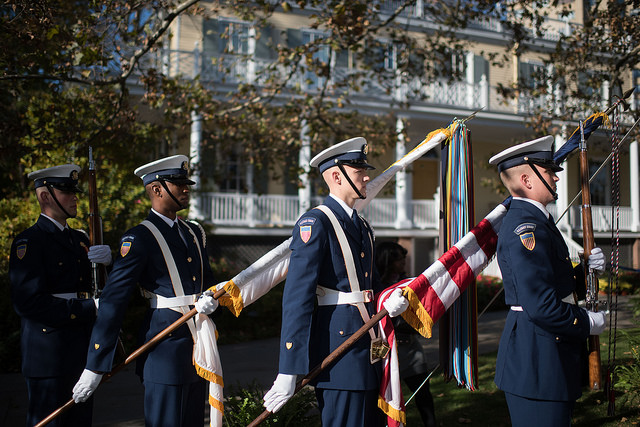 Veterans Day (photo: Michael Appleton/Mayor's Office)
---
Last month the New York City Council held a joint hearing of the veterans and higher education committees on services to military veterans at the City University of New York (CUNY). It was the first hearing regarding CUNY and veterans in several years. CUNY representatives touted the university as committed to making its campuses a first destination for veterans.
But, the hearing also helped expose gaps in the services that CUNY is providing to military veterans who are enrolled in its school system, and helps us understand the need for better support for student-veterans in New York City.
To help veterans transition from military service to college, in 2012 President Obama signed Executive Order 13607, which established principles of excellence for educational institutions serving veterans. Among its requirements, the order tasked institutions that receive funding for veteran education benefit programs to comply with a range of consumer protections pertinent to veterans, as well as provide veterans, before they use their benefits, the tools to compare institutions with respect to affordability and value.
Locally, in April 2013, then CUNY Chancellor Matthew Goldstein convened a task force to address the needs of student veterans and to develop recommendations to improve their experiences.
The task force created a report that focused on five areas for CUNY to better assist veterans. Those five areas included: "Establishing the Basics," "Fostering Military Cultural Competency Campus Wide," "Streamlining the Student Veteran's Introduction to the College," "Developing Services and Programming to Ensure a Successful Academic Journey," and "Ensuring the Veterans Continued Success Post Graduation."
The report also predicted that the number of military veterans applying to CUNY would grow as the conflicts in Iraq and Afghanistan drew down, which proved correct. In 2009 there were slightly more than 1,700 veterans enrolled at CUNY. Today, there are more than 3,100, putting CUNY in the top ten for student veteran enrollment among the country's higher education institutions.
The CUNY system is an essential resource for our returning veterans as they transition into civilian life, part of the system's larger role in offering opportunity to those seeking higher education.
But, if you've been following David W. Chen's reporting in The New York Times, you know that CUNY has major problems, including a morale and funding crisis, a federal investigation regarding the president of one college, and her resignation; as well as broader abuse and financial mismanagement. This has led Governor Cuomo to recently call for major reforms at CUNY, including a new inspector general.
It is indeed time to reform CUNY, and these reforms should include military veterans.
In the three years since the report of the CUNY task force on veterans was released, progress in the five areas the report focused on has been difficult to gauge. Campuses across the university seem to offer uneven services for veterans; with the key to success or failure seemingly based on how each college president regards veterans and their issues. Case in point: while every other campus currently has either a veterans coordinator or director, Baruch College does not.
This type of deficiency is the result of a troubling trend. Over the past six years, while the number of veterans attending CUNY has increased, the number of staff focused on supporting veterans at CUNY's central office has decreased to only one full-time person. The lack of personnel has hindered the university's ability to "look in" on campuses to make sure they are carrying out the policies and recommendations that the task force put forth.
The ongoing scandals and changing leadership at CUNY's central office and the various colleges have hurt transparency regarding how City Council and State Legislature grants are distributed to the campuses for veteran services. As a result, there appears to be no mechanism requiring the colleges to account for how those monies are spent on veteran services.
This makes the divide between CUNY's central office and the colleges even greater, which has invariability led to the uneven services across campuses.
So it's understandable why many student-veterans at the recent City Council hearing were surprised listening to officials from CUNY central office talk about the great things CUNY is doing for veterans. The testimony appeared disconnected from what many veterans are experiencing at their respective campuses. With insufficient staffing, the will to implement and enforce policies, and a veterans mental health program on only four campuses, CUNY has no way to baseline the services for veterans on each campus.
As a consequence, the more veterans in the community talk about those campuses that are not providing services, the more veterans will only consider those that are. The more veterans struggle on colleges with minimal services, the higher their attrition and transfer rates will be.
As the chair of the city's Veterans Advisory Board recently stated, the importance of a sound, accessible post-secondary education to New York City's veteran strategy cannot be understated. It is the engine for economic mobility. Therefore, it is strategically important for the Governor, the Board of Trustees, and the leadership at CUNY to "look in" and put the necessary resources into its veterans offices and programs, enforce its own recommendations and policies; and see where the money is going and how it's being spent at the colleges. CUNY can and must truly set the standard for success in veterans attending public colleges. That would be a win for New York City.
***
Joe Bello served 11 years in the U.S. Navy/Naval Reserve and has been a veterans advocate in New York City for two decades. He is the founder of NY MetroVets.
***
Have an op-ed idea or submission for Gotham Gazette? Email This email address is being protected from spambots. You need JavaScript enabled to view it.