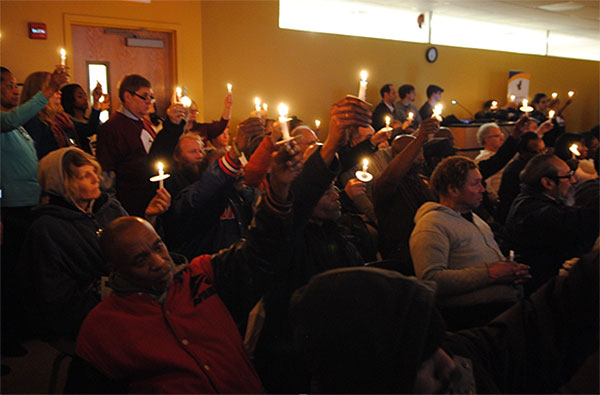 2015 Homeless Persons' Memorial (photo: Care for the Homeless)
---
Today, Wednesday December 21, advocacy and social justice organizations in cities across the country gather together to observe Homeless Persons' Memorial Day. This annual remembrance is held on winter solstice. It's fitting this solemn occasion is scheduled for the longest, darkest night of the year, because each night without housing is long, dark and cold.
In New York City, where the number of people experiencing homelessness is at its all-time high, there will be several observances. The NYC Providers of Health Care for the Homeless held one last week. Picture the Homeless will hold a program at Judson Memorial Church today, Wednesday, at 6 p.m.
Today at 5 p.m., our organizations -- Care for the Homeless and Urban Pathways -- will hold an observance at Drisha Institute for Jewish Education, on West 65 Street. The program, which is free and open to the public, will feature currently and formerly homeless clients reading the names of and eulogizing those who experienced homelessness who died in New York City this year. As each name is read a bell will toll, a candle will be lit, and information about the deceased will be projected on a screen.
Many that we remember during homeless persons' memorial programs would not be memorialized without such gatherings. But we know and remember that each individual, regardless of their housing situation, has value and dignity. People are more than the labels we assign them, including that of homeless. Homeless Persons' Memorial Day provides an opportunity to recommit to the value of all people, including those who have experienced or are experiencing homelessness, and to our fight to end homelessness.
Many that we memorialize have died prematurely. A crucial component of health and well-being is stable housing. Compared to the general population, people who experience homelessness are at greater risk of chronic and infectious illness, mental health challenges, and substance abuse. They are also more often victims of violence. According to the Center for Disease Control and Prevention, homeless persons' mortality rate is four to nine times higher than those not homeless.
It doesn't have to be like this. We can end homelessness by focusing on and implementing wise policies. In addition to remembering those who have died, often needlessly, Homeless Persons' Memorial Day serves to remind us that we have cost-effective solutions to homelessness. The key is supportive housing, which we need to develop now and allow nonprofit organizations to operate to the best of their abilities. We also should employ those experiencing homelessness in outreach programs, shelters, and supportive housing residences. Their lived experiences are valuable, and the opportunity for employment is invaluable.
The time is now to answer the prayer of each Homeless Persons' Memorial Day program in the 170 cities across North America. One winter solstice, there will be no need to observe Homeless Persons' Memorial Day.
***
Jeff Foreman is Policy Director at Care for the Homeless. Nicole Bramstedt is Policy Director at Urban Pathways. Both organizations serve homeless adults in New York City. On Twitter: @UrbanPathwaysNY & @CFHNYC.
***
Have an op-ed idea or submission for Gotham Gazette? Email This email address is being protected from spambots. You need JavaScript enabled to view it.