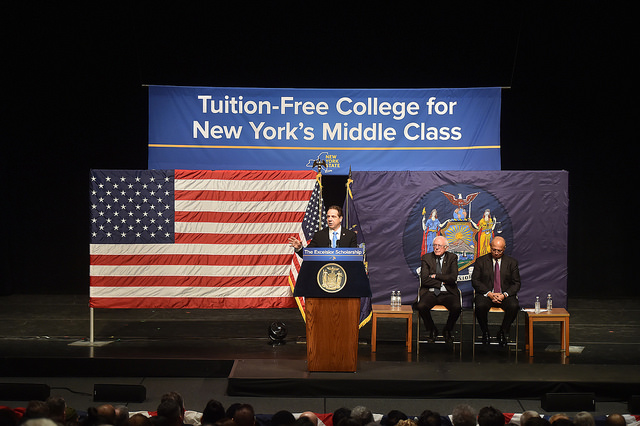 Gov. Cuomo (photo: Kevin P. Coughlin/Governor's Office)
---
Governor Cuomo's plan to make tuition free for many New York State residents who attend SUNY or CUNY two- or four-year schools would be an exciting step toward ensuring students across the state can access New York's prized public university systems. The newly-announced Excelsior Scholarship proposal could help 940,000 families who qualify for the state's Tuition Assistance Program (TAP) with annual incomes less than $125,000. The program is designed to fill the gaps in tuition aid after state and federal grants have been used.
This is a big deal that New Yorkers should celebrate.
Yet, only increasing tuition aid is not enough alone to ensure true financial access. The proposal is a "last dollar" award, backfilling aid after state and federal grants, and therefore the program does not help low-income students who already have the full costs of their tuition covered by Pell and TAP but struggle to afford other expenses associated with earning a degree, such as books, child care, housing, transportation, and more.
In fact, non-tuition expenses make up the majority of the full cost of attending four-year and two-year public institutions. The Excelsior Scholarship program must come with a commitment to help cover these additional costs to allow students who enroll to actually stay in school, access the resources they need, and finish their degrees.
In addition to potentially leaving out the most at-need students who require more support than tuition coverage, the Excelsior Scholarship proposal turns a blind eye to some of New York's neediest communities who would greatly benefit from a pathway to a free degree. Only students attending school full-time and who graduate on-time would be eligible to participate. This excludes part-time students, many of whom are balancing work and family responsibilities, requiring more than just free tuition to be able to attend college full-time. For the more than 84,000 undergraduate students at CUNY who attend part-time, representing almost 35 percent of undergraduate students, the Excelsior Scholarship falls short.
Another group excluded from this program are the more than 8,300 undocumented students currently attending SUNY or CUNY. The governor must hold true to his promises made to immigrant New Yorkers over the last few weeks by expanding the Excelsior Scholarship program to undocumented students and once and for all giving them access to state grants like the Tuition Assistance Program to access college.
The plan also claims it will increase on-time graduation rates by providing four years of tuition-free education, but we know being able to afford tuition doesn't guarantee completion. It's promising the governor is focused on improving graduation rates considering that less than 50 percent of four-year SUNY students and less than 30 percent of CUNY students graduate within four years. However, any plan to bolster timely completion must come with a commitment to significantly expanding opportunity programs that include academic and financial supports and services that support students while in school. This includes bringing to scale initiatives like CUNY's Accelerated Study in Associate Programs (ASAP) to ensure that disadvantaged students from underserved communities can equitably access and make the most of a free public higher education when given the opportunity.
Addressing the cost of tuition is a critical step toward getting more young New Yorkers to complete college, but tuition is not the only barrier to success. To meet the needs of New York's students, to make sure they get the skills and training needed to meet the demands of the economy and combat New York's high young adult unemployment crisis, Governor Cuomo and state legislators need to expand this burgeoning plan to include the most vulnerable students.
The governor's foundational investment and enthusiasm toward making college more accessible by making it more affordable is a promising step forward. However, we need to ensure this program is expanded to include those New Yorkers with the least access and with greatest challenges to earning a college degree.
***
Kevin Stump is the Northeast Director for Young Invincibles, an advocacy and policy organization working on higher education, health, and jobs issues impacting 18-34 year olds. YI is also a part of President Obama's College Promise Task Force. On Twitter @KevinStump and @YoungInvincible.
***
Have an op-ed idea or submission for Gotham Gazette? Email This email address is being protected from spambots. You need JavaScript enabled to view it.