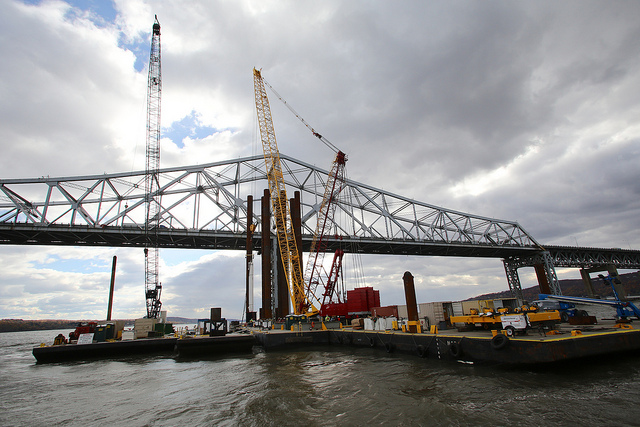 Bridge construction (photo: Gov. Cuomo's office)
---
As legislators return to Albany for the 2017 session, bolstering the state's infrastructure clearly ranks high on their "to-do" list. While Governor Cuomo and the Legislature made vital investments last session with passage of the $27.1 billion transportation multi-year capital plan, there was also unfinished business which must be addressed this year to ensure those dollars will deliver the cost-effective results taxpayers expect.
Despite bipartisan legislation allowing some New York City agencies to use design-build contracts, it was surprisingly left languishing in committee last session. City Department of Transportation Commissioner Polly Trottenberg says gaining design-build authority is a top legislative priority. "I still have to use traditional design-bid-build, which, frankly, will add years to the project and tens of millions, if not hundreds of millions, of dollars. It just makes no sense," Trottenberg recently said.
Design-build would be the single most effective step to update aging infrastructure and build new schools and public housing. Yet, despite bipartisan support, New York City is not allowed to capture the innovative and collaborative efficiencies design-build has delivered elsewhere in the state.
Design-build isn't new and it's not radical; however, it does require public owners (like cities, states and the federal government) to provide flexibility in the procurement process, allowing designers and builders to collaborate earlier in the process, creating projects which allocate risks more efficiently and improving delivery time and budget.
Even though New York lags behind many other states in approving design-build authority, the state's successes are impressive. The emergency reconstruction of State Route 42 in Greene County, after its damage from Hurricane Irene, was completed in just four months, ahead of schedule and approximately 10 percent under budget using design-build. The state Department of Transportation projects the $550 million replacement of the Kosciuszko Bridge will be completed 3.5 years earlier thanks to design-build.
The largest capital project in the state used design-build for the New NY Bridge (replacing the Tappan Zee) which is projected to cost $1.7 billion less than originally planned while delivering 18 months ahead of schedule. And even though the city's efforts at securing design-build have been futile in recent years, the state, led by Governor Cuomo, has been able to provide project specific authorization for the city. Specifically the billion-dollar expansion of the Jacob J. Javits Center and the Penn Station renovations will use design-build contracts.
Given the many New York design-build successes over just a few years, it's impossible to understand why the Legislature has not granted all state agencies permanent design-build authority. Instead, we face a seemingly never-ending cycle of budget re-authorizations to allow the design-build delivery method; leaving agencies, contractors, subcontractors, and the workers they employ in a biannual legislative limbo. It's even worse for New York City leaders who have no design-build authority even though they see the potential to save $2 billion over 10 years.
In these politically divisive days, it's no small feat to find legislative proposals on which virtually everyone can agree. Design-build should be one of those proposals. Allowing innovation and collaboration to flourish on design-build projects in New York has stretched limited public funds by consistently delivering time and cost benefits on the vital infrastructure projects citizens support. New York is making the investments, now it must deliver the most cost-effective results possible. Providing permanent design-build authority for all New York State agencies while removing barriers for the City of New York is a win-win for lawmakers and the taxpayers they represent.
***
Steven Ruether is Liberty Region President for the Design-Build Institute of America. On Twitter @DBIAnational.
***
Have an op-ed idea or submission for Gotham Gazette? Email This email address is being protected from spambots. You need JavaScript enabled to view it.