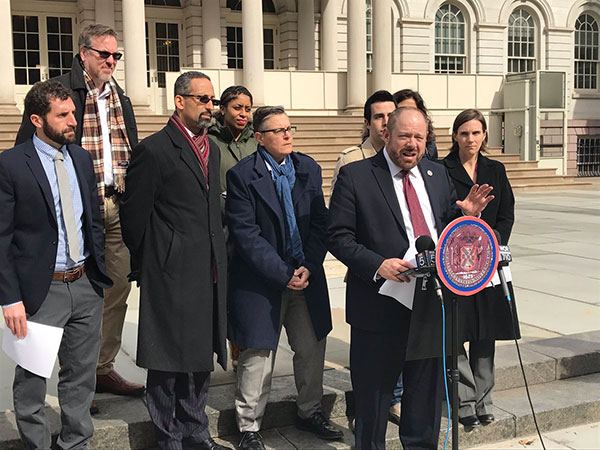 City Council Member Rory Lancman, the author (photo: @RoryLancman)
---
We're now more than 30 days into Donald Trump's presidency, and it is already crystal clear that the hostile and offensive rhetoric he used toward immigrants on the campaign trail will be put into practice by his administration.
It was just this week that Trump's Department of Homeland Security issued new rules that make clear Trump's plan to deport millions of immigrants from our country, while tearing apart families and communities in the process.
With thousands, if not tens of thousands, of immigrant New Yorkers now at risk of deportation, it is urgent that Mayor Bill de Blasio take real action to protect immigrant New Yorkers from possible deportation under Trump.
The mayor has had no problem in recent weeks talking about opposing Trump and his policies, but when it comes down to it, talk is cheap. Real leadership requires bold action, and immigrant New Yorkers deserve action.
But, here is the reality facing New York City today: Mayor de Blasio's broken windows policing will now be the fuel for Donald Trump's deportation machine.
Without important and necessary action from the mayor, New Yorkers who are arrested for minor, nonviolent offenses could now be subject to deportation. That is inhumane and completely contrary to our values.
Mayor de Blasio has the authority to take action immediately to protect immigrant New Yorkers -- without having to wait for the City Council, the State Legislature, or Congress. On his own, the mayor can direct the NYPD to stop arresting people, including immigrant New Yorkers, for low-level, nonviolent, quality-of-life crimes where a civil alternative is already readily available.
Take fare evasion, for example. In 2015, more than 100,000 New Yorkers were stopped by the NYPD for fare evasion. Nearly 30,000 New Yorkers were arrested for "theft of services," a misdemeanor under the state penal law. The remaining individuals were issued a civil summons for violating the MTA rule against fare evasion, which is not subject to any kind of criminal sanction.
The difference between an arrest and a civil violation for fare evasion is monumental. A conviction for fare evasion could result in jail time, appear on an individual's criminal record, and staggeringly enough, result in deportation for even documented immigrants like legal permanent residents of New York.
On the other hand, a civil violation is heard by the MTA's Transit Adjudication Bureau, not a criminal court, and cannot result in jail time or deportation.
As Mayor de Blasio's broken windows policing continues in this city, it is clear who is being targeted -- 92% of the arrests for fare evasion in 2015 were people of color. Oftentimes, too, if an individual cannot immediately produce an ID, the NYPD will choose to make an arrest, instead of issuing a civil violation.
All told the risk of arrest for immigrant New Yorkers for fare evasion is all too real. And for undocumented immigrants, any interaction with the criminal justice system, even for a minor offense like fare evasion, can result in deportation.
With the stakes so high for so many in our city, it is up to the mayor to determine if he is going to use his authority to protect people, or silently feed into Trump's deportation machine. Talking about standing up to Donald Trump is one thing, but actually taking action is far more important.
New Yorkers are counting on the mayor to do what's right and take a real, actionable stand for our values against Trump.
***
City Council Member Rory Lancman represents parts of Queens and chairs the Council's Committee on Courts and Legal Services. On Twitter @RoryLancman.
***
Have an op-ed idea or submission for Gotham Gazette? Email This email address is being protected from spambots. You need JavaScript enabled to view it.