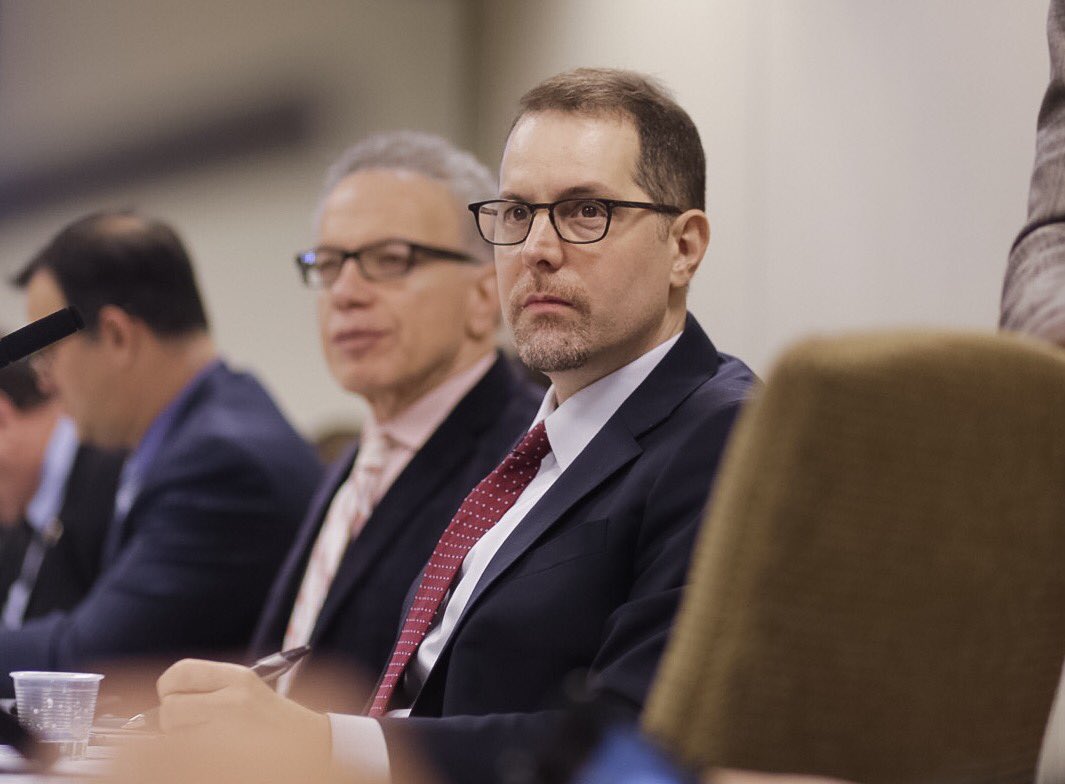 Council Member Levine, the author (photo: William Alatriste)
---
The numbers are startling: 42 million visitors per year in Central Park -- double the number of visitors to Disney World. Over 7 million people visit the High Line annually and 5 million visit Bryant Park. On a peak summer weekend 127,000 visit Brooklyn Bridge Park.
Park use in New York City is surging. And with the population in the five boroughs continuing to grow and tourism booming, this trend will surely continue.
But the story is not the same everywhere in our city. The marquee parks that are increasingly overwhelmed with visitors fortunately have the benefit of millions of dollars in private contributions to help them manage the onslaught. These funds enable them to provide the extra staffing needed to keep their parks looking beautiful despite the record levels of trampling.
Meanwhile, hundreds of parks in the city's low- and moderate-income neighborhoods must survive on public funds alone. And those funds are often not enough to keep up with maintenance in the face of rising usage.
In the 1960s, New York City's Parks Department had full-time staff of over 7,500. Since then the city's population has grown by 1 million, but today the full-time headcount is just over 4,000. Over the decades the share of our city's total budget devoted to parks has fallen from 1.7% to under 0.6% today. We now spend less per capita on our parks than San Francisco, Minneapolis, Seattle, and Washington, D.C.
We need to reverse this trend. The Parks Department budget must increase to meet swelling demand, and to ensure that low- and moderate-income neighborhoods have the great parks they deserve.
But we also need to grow our park system to serve a rising population.
This is especially true in neighborhoods being upzoned for greater residential density, including East New York, East Harlem, and the Jerome Avenue corridor in the Bronx. If those areas are to remain livable as they gain thousands of additional residents, they will require not just new schools and expanded transit capacity, but more open space as well.
Many neighborhoods throughout the five boroughs face a shortage of park space even without population growth: one-quarter of New Yorkers today have no park within a ten-minute walk from their home. We need new parks to fill in these gaps, most of which are in the outer boroughs.
Inspiring, transformative park projects are waiting for funding all over the city.
The Queensway would convert an abandoned rail line in central Queens into a 3.5-mile linear park. The BQ Green would deck-over part of the BQE, creating green space in park-starved Bushwick. The Lowline, on the Lower East Side, would turn an abandoned trolley terminal into the world's first underground park, in an area where open space is being gobbled up by a building boom.
We also must pick up the pace of restoration of our city's natural areas -- 10,000 acres of forest, wetlands, and grasslands in the five boroughs which many New Yorkers don't even know exists. Modernized and better mapped trails will allow more people to discover these marvelous natural places which are often just a subway ride away.
And let's find an environmentally sensitive way to open up parts of our park system that are now off-limits to the public, like the spellbinding North Brother Island -- a Lost City off the coast of the South Bronx, long ago overtaken by the forest. Let's find a way to open up nearby Hart Island, whose 120 scenic acres are home to our city's potter's field and a century-and-a-half of history.
Mayor de Blasio's preliminary budget for the coming fiscal year does little to reverse the trend of inadequate funding for our parks system. It leaves staffing flat and holds the Parks Department to less than 0.6% of the total city budget. It is critical that these numbers improve during negotiations with the City Council in the months leading up to the budget's final passage in June.
A thriving park system isn't just a luxury in a dense city of 8.5 million people. It's essential to livability. Let's invest now to ensure that every corner of the five boroughs remains livable for the years and decades to come.
***
City Council Member Mark Levine represents parts of Upper Manhattan and is chair of the Council's parks committee. On Twitter @MarkLevineNYC.
***
Have an op-ed idea or submission for Gotham Gazette? Email This email address is being protected from spambots. You need JavaScript enabled to view it.