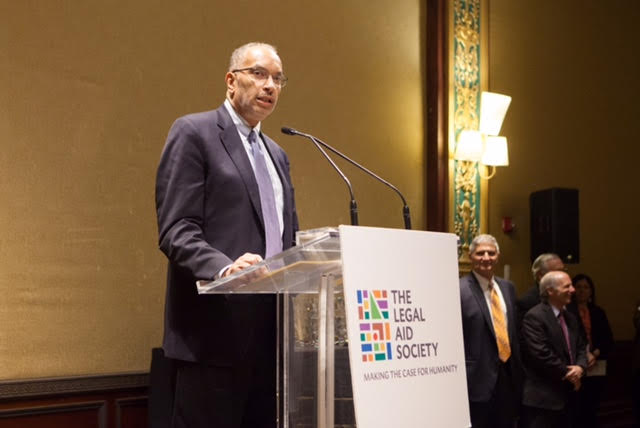 Seymour W. James Jr., the author
---
It's budget season at City Hall. Since early March and for the next few weeks, the City Council will hold a gamut of hearings reviewing the financial needs of each city agency for the upcoming fiscal year. Press conferences are held, commissioners are grilled, and community based organizations try to make the case to Council members for more funding to serve their constituents.
The Legal Aid Society testified last Tuesday before the Committee on Courts and Legal Services, and we too urged for increased dollars to handle growing demand for the services we provide.
But this time it's different. It's different because our clients and other low-income New Yorkers are dealing with a growing number of unprecedented external threats like no other time in recent memory. Immigrants, LGBTQ, and black and brown communities have all felt this change in the wind. If New York is truly going to be a sanctuary, truly going to be a place of gender inclusivity and acceptance, and truly going defend the ground we've made reforming the criminal justice system and protecting civil rights, we need a budget that reflects these priorities and reflects these values.
By now, there's no hiding President Trump's prejudice against immigrants. His slapdash executive orders and homeland security memorandums - building on the vitriolic diatribes from his campaign – have made this crystal clear. What we've seen from the White House over the last 60 days is just the beginning and New York City needs to fortify local organizations working in the trenches to protect immigrant and other vulnerable families.
One way the city can step up is to baseline funding guaranteeing legal representation for those in deportation proceedings – a right unfortunately not provided by the constitution. The New York City Council, under the leadership of Speaker Melissa Mark-Viverito, has increased funding tremendously to support this exact effort through the New York Immigrant Family Unity Project (NYIFUP). The results are staggering, and NYIFUP has kept many local families together. Mayor de Blasio must work with the Council to ensure NYIFUP's network of direct providers has the tools to fight today, tomorrow, and well into the future.
Another specific concern relating to immigration that needs funding priority is legal protection for unaccompanied minors. Violence is the leading factor forcing unaccompanied children from Central America to the United States. No law or program shields these minors from being sent back to their home countries – almost every child who arrives in the United States is put into deportation proceedings. The City Council's Unaccompanied Minors and Adults with Children initiatives provide legal representation, but the current funding allocation doesn't meet the need. Given Trump's crusade against all undocumented, only a significant enhancement of this initiative will close the service gap for children newly coming before New York immigration court.
Last, but equally important, is Legal Aid's continued work on Rikers Island and in other correctional facilities through our Prisoners' Rights Project (PRP). For nearly 40 years, PRP has worked through litigation, advocacy, and monitoring to change policies and practices which have created unjust and abusive treatment of locally incarcerated men and women.
The Council understands this plight and created an initiative to exclusively support PRP's work in the city's jails, but the conditions in state prisons are also deplorable and raising PRP's Council allotment to $1 million will broaden our capacity to represent New York City residents imprisoned in the state system.
So in the spirit of Gideon vs Wainwright, a precedent-setting court case that turns 54 this week, and one that guaranteed representation to defendants in criminal court, the city must step up in these tough times. We are mindful of the financial challenges posed by the Trump administration but these programs should be strengthened; low-income New Yorkers need counsel now more than ever.
***
Seymour W. James Jr. is Attorney-In-Chief of The Legal Aid Society. On Twitter @LegalAidNYC.
***
Have an op-ed idea or submission for Gotham Gazette? Email This email address is being protected from spambots. You need JavaScript enabled to view it.