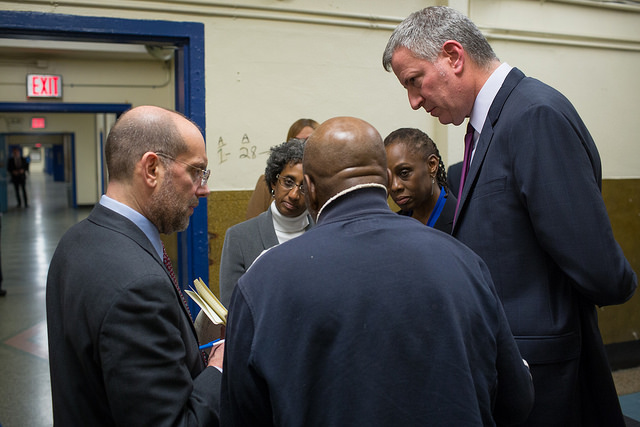 Mayor de Blasio visits Bellevue Men's Shelter (photo: Michael Appleton)
---
Residents of Manhattan's Kips Bay neighborhood have been plagued in recent years by crimes attributed to clients of the 800 bed men's shelter on East 30th Street and First Avenue.
Shelter clients have reportedly defecated in front of buildings, publicly masturbated, and exposed themselves to children in windows of classrooms. Since the shelter does not prohibit violent parolees or other criminals, neighborhood residents, as well as proprietors and customers of nearby businesses, have reported being raped, robbed, assaulted and stabbed by shelter clients. Fugitives and child sexual predators have hidden among shelter clients and, just recently, a man was arrested outside the shelter for alleged heroin sales.
Neighborhood residents are mindful of the homelessness crisis, and have willingly carried their share of the city's burden for decades. But they also desire to preserve their quality of life and the safety of their community. They have long requested that the 30th Street shelter be re-purposed as a shelter for homeless families instead of single men.
A recent confluence of events should inspire the de Blasio administration, the city's Economic Development Corporation (EDC), and Governor Cuomo to consider their proposal. It makes good sense for homeless families, city taxpayers, and the city's budget watchdogs. As the mayor continues to roll out his new shelter plan, he should incorporate these ideas.
Consider these three developments:
1. Covenant House, the sanctuary for homeless youth, and the EDC have proposed development of the block containing its West Side headquarters, between West 40th and 41st Streets, Ninth and Tenth Avenues.
2. Governor Cuomo's proposed budget released January 17 called for the sale of the Hunter College Masters of Fine Arts building on the Covenant House block so that "up to $60 million of the proceeds" can be used to fund the budget of the City University of New York.
3. City Comptroller Scott Stringer reported that New York City spent nearly $73 million on hotels for homeless families in the twelve months ending last October 31, sometimes paying as much as $600 per night for a room.
Housing homeless men in new or existing buildings on the Covenant House block on the West Side would free up the 30th Street men's shelter for homeless families now housed at expensive Manhattan and outer-borough hotels. It would also offer an array of other benefits.
Any vacationer who has had to spend a night or two stuck at an airport hotel with young children knows how desolate they can be for youngsters. There is no play space, inside or out; no entertainment besides TV; and no real stimulation. Meals are limited to room service, the hotel restaurant, or take-out or delivery from a poor array of choices. Children are understandably "bouncing off the walls" within a few hours.
But New York's homeless families can be left in hotel settings for weeks and months at a time. On average, the city's homeless families spend over 400 days in shelter before being moved to permanent homes.
A family-oriented homeless shelter at East 30th Street would allow homeless children access to common play and study space, nutritious institutional dining with other families, and parks, schools, churches, libraries, and the healthcare facilities of Kips Bay. They could be spared the social isolation that comes with living in a hotel and, instead, be integrated into a community of similarly situated children, as well as those of the neighborhood. Moreover, their parents could have ready, free, day-care in the shelter while getting help or finding a job.
Temporarily housing homeless men on the Covenant House block would place them in a largely commercial district near hotels and other transients. The city could consolidate social services for Covenant House clients, men's shelter clients, and out-of-shelter homeless people who congregate near Port Authority Bus Terminal. Locating the men's shelter near the NYPD stronghold of Times Square and near the borders of three police precincts would better deter criminal activity.
The Covenant House/EDC proposes their development include some affordable housing. But the site lays near the Lincoln Tunnel entrance and adjoins the PATH bus terminal ramp. It's desolate and mostly unsuited to permanent housing; EDC should look elsewhere for affordable permanent residences. But it is a much better locale for temporarily housing homeless men than the bustling residential neighborhood of Kips Bay.
While it will certainly be necessary to renovate both the 30th Street shelter and the Hunter College building (or to build a new building, as Covenant House proposes), the savings from placing 200 to 300 homeless families in a community shelter instead of costly Manhattan hotels would recover those costs in just a few years and generate tens of millions in cost savings prospectively.
The de Blasio administration, Governor Cuomo, and the EDC should move thoughtfully and creatively on the Covenant House site. They have a rare chance to do good for homeless families and the residents of Kips Bay, and to do well for the taxpayers of New York.
***
Lauren Pohl, an attorney, is the founder of Kidz Central Station. Thandi Gordon Stein-Sapir is a fashion industry executive. Both are leaders of Third and 33rd, a group that advocates for neighborhood safety and improvement.
***
Have an op-ed idea or submission for Gotham Gazette? Email This email address is being protected from spambots. You need JavaScript enabled to view it.