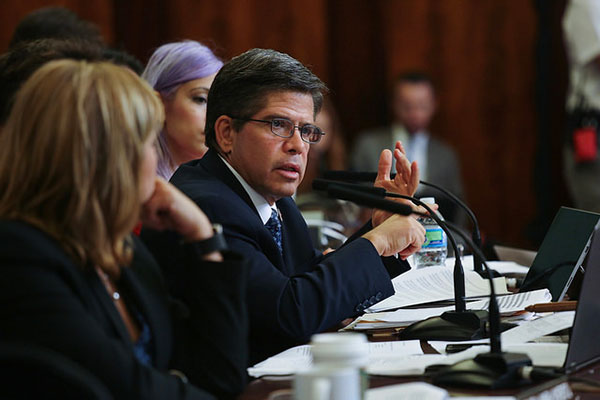 City Council Member Gentile, the author (photo: William Alatriste/City Council)
---
Over two years ago I stood with Brooklyn Borough President Eric Adams and City Council Member Jumaane Williams on Flatbush Avenue by the ravaged remains of a building consumed by a fatal two-alarm fire. A 23 year-old security guard was killed and 15 others were injured.The cause? Illegal residential conversions.
Partitioning one and two family homes with shoddy construction, faulty wiring, and compromised gas work has become a common practice by predatory landlords. Maximizing profit at the expense of the safety of inhabitants has led to today's proliferation of illegal home conversions. Just last summer in the Dyker Heights portion of my Brooklyn district, 18 adults and 13 children were vacated from an illegally subdivided home riddled with hazardous conditions such as insufficient egress and extreme overcrowding.
The dominoes of peril continue to fall from there. Our city's first responders encounter immediate danger and confusion when entering these premises during emergencies. Heightening the already threatening situation, firefighters must navigate their way through a disjointed maze of subdivided units losing people in need of rescue along the way.
Considering the deterioration to a neighborhood's quality of life is important to qualify in assessing the effects of illegal conversions. There is direct correlation between 311 complaints of illegal conversions to overcrowded elementary schools as evidence by this cross-section map from Brooklyn Daily. In addition to severely overcrowded schools, public transportation systems are overburdened, sewage systems overflow, and other essential city services are drained thin.
Very few neighborhoods across the five boroughs are spared from the inhumane predatory scheme of illegally subdividing homes. In 2016, there were 18,049 complaints of illegal residential conversions, an average of almost 50 per day. To put this in perspective, there have been more complaints of illegal conversions than of graffiti, smoking, and illegal fireworks combined!
My "Aggravated Illegal Conversions" bill, Intro. 1218-A, introduced jointly with Borough President Adams, Council Member Williams, and Council Member Grodenchik, will make this unethical practice an unlawful one. We will codify a year's long rallying cry, "substandard housing is not affordable housing." Setting this precedent is vitally important as our city rids itself of modern day tenement housing for stable affordable housing.
Focusing on the most egregious purveyors of illegal conversions, my bill establishes a $15,000 penalty strictly on the unscrupulous owner for each illegally partitioned dwelling unit that is three or more units above the Certificate of Occupancy. So if a two family home is found to have been illegally converted to five illegal residences, a $45,000 fine will be imposed on the person or persons responsible for victimizing tenants and endangering human life. To ensure rectification and payment of the violation, the fine constitutes a lien on the property. If unpaid for one year, the lien can be sold by the city.
Let me be clear, penalizing aggravated illegal conversions will not impede the efforts to legalize and standardize basement apartments, grandma's basement, or granny flats. Instead Intro. 1218-A will root out those profiteering landlords who gut and partition entire buildings for maximum profit with no concern for health or safety.
The conditions inside these Aggravated Illegal Conversions may be life threatening and possibly immediately hazardous. If the circumstances force the Department of Buildings (DOB) to issue a vacate order, residents can apply for transitional housing services that are facilitated by the city's Department of Housing Preservation and Development (HPD) and the American Red Cross. My office has been in discussion with the Mayor's Office to establish a Memorandum of Understanding so these fines would be purposed towards assisting the residents' relocation from a modern day tenement to safer living arrangements.
Finally, in the Dyker Heights case, DOB was fortunately able to gain entry to the partitioned home and prevent a catastrophe. However, obtaining access is a tall hurdle to jump over and often an impediment for building inspectors. Intro. 1218-A will institutionalize the process of obtaining an access warrant to an alleged illegal subdivision. After two unsuccessful attempts to gain entry, DOB will request the Law Department apply for an access warrant. Once granted by a judge, inspectors will finally be equipped with the necessary tools to inspect a property and act accordingly based on the violations.
All in all, this bill will serve as strong deterrents on the front end, and if needed, strong enforcement tools on the back end to combat aggravated illegal residential conversions. Almost half of my colleagues in the City Council have already attached their names to Intro. 1218-A and I look forward to guiding it into law.
***
Vincent Gentile is a New York City Council Member representing the neighborhoods of Bay Ridge, Dyker Heights, Bensonhurst, and Bath Beach in the 43rd District in Brooklyn.
***
Have an op-ed idea or submission for Gotham Gazette? Email This email address is being protected from spambots. You need JavaScript enabled to view it.