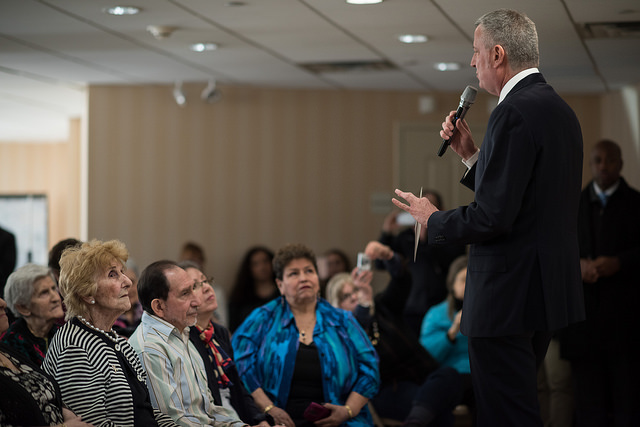 Mayor de Blasio speaks with seniors (photo: Michael Appleton/Mayor's Office)
---
As we age, we build momentum that is powering the economy, communities, and politics. Older people across the five boroughs are supporting local businesses, caring for their grandchildren, and participating in local politics. And yet we still find that many people aging into their later years cannot access this energy due to poverty, disability, and the lack of access to vital community services. We know almost one in three older New Yorkers struggles to make ends meet – living with painful, daily choices among food, medicine, and rent.
Over 40% report levels of disability and many older people struggle with social isolation, which research now tells us is a greater predictor of early death than obesity. Further, thanks to stagnant and antiquated city funding levels, over 800 are waiting since August for home care, while upwards of 2,000 are waiting for case management services that help people remain in their homes with modest assistance.
At first glance the issues seem overwhelming and unsolvable. But in fact, we already know what works and thankfully have an infrastructure here in New York to build upon. LiveOn NY represents a network of 100 member non-profit organizations that run roughly 800 programs in the five boroughs, including senior centers, meals on wheels, caregiver support, and case management. These programs provide critical community-based supports that together represent the foundation of an age-friendly city.
And this network of services is as diverse as our great city – providing assistance, classes, and programming that reflect every language, culture, nationality, and identity. Furthermore, we know that these services are not only culturally relevant and locally based but also efficient and effective. A recent New York City Department for the Aging study reports that seven in ten seniors attend their local senior center to avoid social isolation and over 20% found improved mental health through attendance. One out of four reported their physical health improved. These are important results and have incredible potential as people age into their seventies, eighties, and nineties.
So given the importance of these services in helping us age well and in our beloved communities, why is this network completely left out of the mayor's budget priorities? Once again, we have an executive budget proposal from the mayor that shows a refusal to add any new funds to solve wait-lists or add capacity for future demand.
If Mayor de Blasio supports social justice and believes in progressivism, why does he leave out the later years of life? Are older New Yorkers exempt from social justice across the lifespan? And what about the daughter caring for her aging mother and her own children? She can count on universal pre-kindergarten for her young children yet nothing but waiting lists for her aging mother.
Mayor de Blasio ran on ending the tale of two cities. He recognized that the conditions in our wealthiest zip codes were only half of the story and that a truly progressive New York must create equitable opportunity for all. The chapters in that tale cannot end at age 60. We must ensure social justice across the lifespan. In addition to funding for the youngest and healthiest among us, the city budget must also include a robust plan that will support all of us as we age.
LiveOn NY, together with other advocates, has presented a $60 million budget plan to appropriately fund the city's Department for the Aging. This needed support would begin to make the kind of investment in aging services that are needed. And beyond the budget, all of us must get involved in advocating for this inclusion. The foundation of aging services exists but needs serious additional investment in order to remain in place today and into the future.
Mayor de Blasio and the City Council have a choice - harness the momentum of later life by ensuring an equitable city budget or contribute to the tale of two cities. As New Yorkers, we pride ourselves on our ingenuity to develop solutions to challenging problems. We've often thought that the hidden secret of this city is the heart and willingness to work hard on behalf of our vulnerable neighbors. As we live longer, New Yorkers are seeking solutions to the challenges of aging and to the strong desire to remain engaged, involved citizens. Let's lean in and move the momentum of older New Yorkers forward. Opportunities abound. But not without budgetary commitments to aging services.
***
Allison Nickerson is executive director and Bobbie Sackman is associate executive director of public policy for LiveOn NY. On Twitter @LiveOnNY.
***
Have an op-ed idea or submission for Gotham Gazette? Email This email address is being protected from spambots. You need JavaScript enabled to view it.