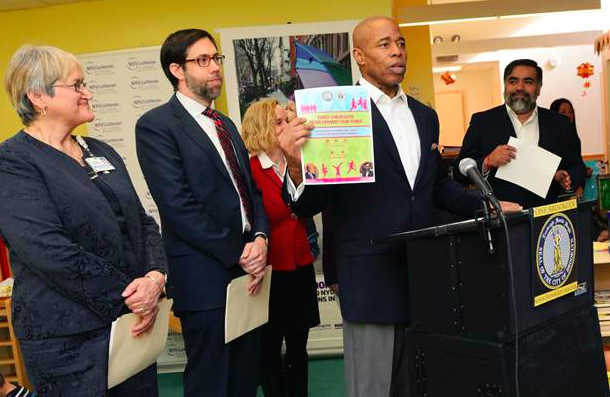 the authors: Eric Adams, at podium, & Daniel Squadron, to his right (Erica Sherman/Brooklyn BP's Office)
---
In April, Mayor de Blasio announced a new initiative aimed at closing the gap in early childhood education, 3-K for All. The rollout, beginning in historically under-resourced communities like Brownsville and the South Bronx, is projected to provide a seat for every three-year-old living in those parts of the city by fall 2018 – some 1,800 kids. This big step on the road to expanding early childhood development programming across the city is a culmination of years of research and advocacy from civic organizations, community leaders, and think tanks.
Our city is and always has been a place of immense opportunities for academic enrichment, personal fulfillment, and prosperity. But for too long, and for too many, those possibilities have remained out of reach. Unfortunately, disparities begin early in life – and often even before birth.
Research has shown that 90 percent of physical brain development occurs in the first three years of life, and cognitive studies demonstrate the lasting impact of sustained investment in infants' emotional, mental, and social development. There is also strong evidence that children in home visiting and early childhood programs have decreased criminal justice system involvement, teenage pregnancy rates, special education needs, and social safety net service utilization; with increased high school success and college attendance, as well as maternal employment rates and income. Not only can early childhood investments lead to decreased public expenditure on social services -- they can actually result in increased tax revenues later in life too.
In 2015, we jointly launched the Early Childhood Development Task Force. The Task Force comprised a broad coalition of advocates, community stakeholders, and local hospitals, with an aim to promote the healthy growth of Brooklyn's youngest, along with their families, as well as help expand existing evidence-based development programs. Partners such as Healthy Families New York (HFNY), Nurse-Family Partnership (NFP), Parents-as-Teachers (PAT), and the Parent-Child Home Program (PCHP) shared crucial information, including difficulties in sharing service information and increasing utilization, especially in many target neighborhoods.
Our findings, released in February of this year, demonstrate the impact of early life interventions on school readiness, emotional and social development, family health, economic growth, and public safety. The evidence is clear: engaging mothers before they give birth through the most formative years results in positive impacts on children's lives. But to realize the litany of benefits, increased investment and information sharing is critical.
It is crucial that all parents receive information on the availability of resources in their own communities. A multilingual campaign to empower communities with increased information, including resource guides of early childhood services available for parents and guardians and online maps and tools to provide data on nursery and pre-K seat availability in communities where there are an abundance of seats but low participation rates would all be important steps.
In addition, targeted workshops for community leaders including local clergy can help engage and inform hard-to-reach communities about resources available to parents. And, the truth is, this is one area where increased investment should be an easy sell -- since it will more than pay for itself, in lives improved and dollars saved.
3-K for All moves us in the right direction, but we must be even more ambitious about delivering comprehensive early childhood development. We must offer universal services to eligible families before a child is born -- and then continue them from birth to 3-K and onward. This is how we will make the biggest difference for families, not just in their first years of school, but all the way to college, career and beyond.
***
Eric Adams currently serves as Brooklyn's Borough President. Daniel Squadron currently serves as State Senator for the 26th District covering the Brooklyn Waterfront and Lower Manhattan. On Twitter @BPEricAdams and @DanielSquadron.
***
Have an op-ed idea or submission for Gotham Gazette? Email This email address is being protected from spambots. You need JavaScript enabled to view it.