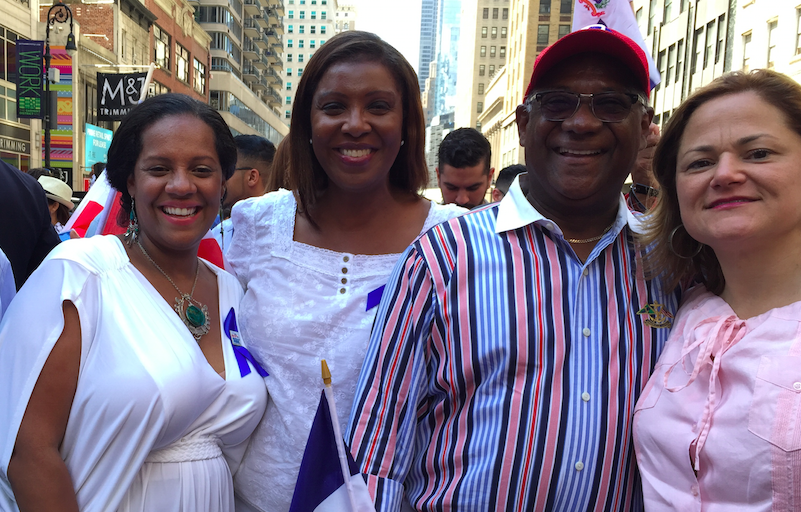 Julissa Ferreras-Copeland, left, & Tish James, the author, center-left
---
New York City's political scene is reeling from the shocking news that one of its brightest stars is calling it quits. City Council Member Julissa Ferreras-Copeland announced that she won't run for re-election so she can spend more time to with her family, which includes her young son.
As the city's Public Advocate, I've worked closely with Julissa as she's fought with unrelenting passion for the communities she represents. I've also watched her closely as she's balanced the challenges of motherhood and political office.
As her friend and ally, I wholeheartedly support Julissa's choice to forego re-election, and chance to be the next City Council Speaker. But I'm troubled by the fact that once again, it's the woman who has to make impossible choices and deep sacrifices in a society engineered to give working men a pass on these matters.
Julissa's struggle is emblematic of the challenges working women endure as they juggle personal and professional obligations.
While Julissa faced an unusual set of formidable personal circumstances because she and her spouse have been living in different states, her job offered a level of flexibility few women enjoy. The City affords its employees important benefits and Julissa's powerful position allowed her some autonomy. One might argue Julissa has it better than most working women. But that's precisely the point – if a gifted politician like Julissa Ferreras-Copeland – chair of the powerful City Council Finance Committee that shapes New York City's $85 billion budget – has to drop her professional pursuits and make impossible choices, what does that say about other women struggling with even more challenging situations?
Society praises strong, ambitious women and encourages them to "lean in" and lead. But it does so without providing the foundation for their long-term success: adequate family leave, flexible work schedules, and equal pay.
As an elected official, I have pushed for measures and proposed legislation for mandatory paid family leave and banning salary history to close the gender wealth divide, aimed at easing the burden of the balancing act for New York women. However, our national policies and priorities must shift to ensure that women have the support to excel at the highest echelons without sacrificing their personal lives for professional success.
According to the Pew Research Center, when it comes to government supported family leave, the United States ranks dead last, offering no mandatory paid time off. Experts say that parental leave bolsters women's employment and helps boost future earnings, based on evidence from countries and states with paid leave policies. It increases the likelihood that women will return to their jobs after giving birth, allowing the country to retain some of its best, most industrious talent in the workforce.
There are also clear benefits for generous paid sick leave policies, which ultimately add to companies' bottom lines by reducing employee absences and departures and improving productivity. Generous gender neutral policies that give working parents and family caretakers paid leave and subsidized childcare aren't just good for families, they're also good for business.
Beyond these public policy approaches, as a nation we must reset our collective mindset to imagine a paradigm where women alone don't have to make gut-wrenching choices between career and family.
Of course, that cannot happen if our leaders don't reflect the makeup of the
electorate.
With Julissa not returning to the City Council and four female lawmakers term-limited, we could be down to just eight women in the 51-member City Council -- potentially fewer based on the outcomes for some incumbents seeking re-election. This is on top of the fact that only 20% of the U.S. Congress and 25% of our State Legislature is made up of women.
This isn't a numbers game. And it's not even about our government. It's about how our society values working women and what steps we're willing to take to make it possible for today's working women to thrive.
As I continue to tackle this issue, I'll be inspired by Julissa Ferreras-Copeland and the countless other Julissas out there contributing to our workplaces, our families, and our communities with devotion and passion that our society simply cannot afford to overlook.
***
Letitia James is the Public Advocate of New York City. On Twitter @TishJames.
***
Have an op-ed idea or submission for Gotham Gazette? Email This email address is being protected from spambots. You need JavaScript enabled to view it.