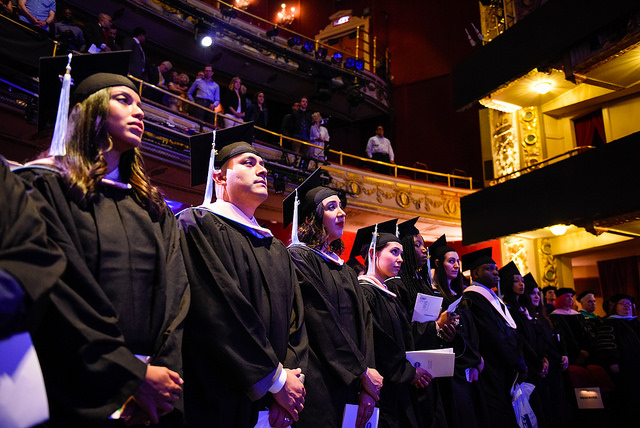 (photo: Edwin J. Torres/Mayor's Office)
---
Make no mistake, our great city has a racial caste system that continues to plague us. It is time that we craft and execute a comprehensive and coherent progressive urban agenda.
I have not been able to find such an agenda from any leader or institution, not from Barack Obama or even Bernie Sanders. It's as if an urban agenda, since the long ago days of JFK and LBJ and our nation's anti-poverty programs and civil rights movement, has gone out of political fashion.
In the current vacuum, my team and I have begun crafting an urban agenda, with the immediate purpose of promoting racial, social, and economic justice for all New Yorkers.
A work in progress, it consists for now of these fundamental policy reforms:
*Ending, not tweaking or adjusting, the blatantly racist and deeply inhumane quota-driven "broken windows" policing practices that target poor New Yorkers of color -- sometimes via false arrests or bogus summonses -- for engaging in infractions that officers virtually ignore in white communities.
*As recently proposed by the blue-ribbon Lippmann Commission (and rejected publicly by Mayor de Blasio), decriminalizing four minor offenses: marijuana possession; sex work; fare evasion; and gravity knife possession.
*Closing the jails on Rikers Island by the end of 2018 and housing the city's reduced inmate population in existing borough facilities.
*Instituting small classes and integrated student bodies for the 1.1 million children attending our city public schools.
*Providing homes, not just shelters, for 60,000 homeless New Yorkers, over one-third of whom are children.
*Providing truly affordable housing units for low-income households so they can live in their neighborhoods or a neighborhood of their choosing. Work primarily with experienced and proven community-based housing groups to achieve this, including creating suitable entities like community land trusts and removing big real estate from the equation.
*Instead of arresting New Yorkers for fare evasion as is the NYPD's frequent practice -- at the rate of over 70 such arrests per day -- providing free fares for low-income people who need to use public transportation to get to work, job interviews, school, medical appointments, child care providers, and elsewhere.
*Taking a chapter from our nation's New Deal history book, institute at the city's Parks Department, its housing agencies, and other appropriate entities a public works project program that provides living wage jobs and valuable work experience to unemployed New Yorkers, whose assigned tasks will focus on repairing the city's decaying infrastructure.
*Providing free tuition at CUNY colleges for New Yorkers from low- and middle-income families.
Skeptics may call this urban agenda impractical or too far-reaching, but it is animated by the spirit behind the saying that Robert Kennedy borrowed from George Bernard Shaw and used often in his 1968 presidential bid: "Some men see things as they are and ask why. Others see things that never were and ask why not."
While recognizing the good that these reforms would achieve, other doubters may question where we'd find the money to pay for them. For starters, we point to these potential savings: the $275 million and the $1.1 billion that Mayor de Blasio has included in his recent budget proposals to build a new police academy and to design new jails. Plus, our police and criminal justice reforms would lead to significant reductions in the approximately $10 billion per year that the the city spends on its law enforcement system.
This new urban agenda, which we'll continue to develop, would enrich the quality of life for all New Yorkers, especially the most vulnerable and heretofore discriminated groups. Given how much progress it would make toward creating a truly just, safe, inclusive, and affordable city for all New Yorkers, the question is not 'how can you do it', but 'how can you not?'
***
Bob Gangi is a Democratic candidate for Mayor and former executive director of the Police Reform Organizing Project (PROP).
***
Have an op-ed idea or submission for Gotham Gazette? Email This email address is being protected from spambots. You need JavaScript enabled to view it.