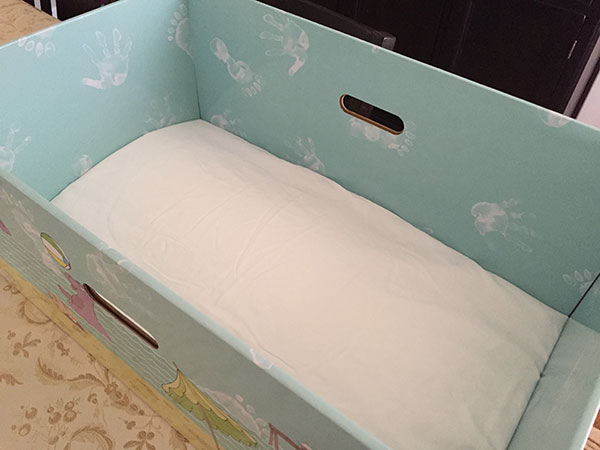 a "baby box"
---
As sponsors of legislation to establish a Newborn Health and Safe Sleep Pilot Program, we call on the Legislature to combat infant mortality in New York and pass the bill.
This measure is an important step forward in our state's ongoing efforts to support new parents and provide all children with the best possible start to life.
According to the Department of Health, over 90 infants in New York die every year as a result of unsafe sleep practices and Sudden Infant Death Syndrome (SIDS). While there are many factors involved in improving infant health, research clearly demonstrates that promoting safe sleep is a key component in reducing preventable injury and death.
The Newborn Health and Safe Sleep Pilot Program would distribute "baby boxes" or other approved products, like play-yards or bassinets, to provide parents in the areas of greatest need or regions with high rates of infant mortality with a safe sleep option. In addition to providing a safe sleeping environment for newborns, the "baby box" or similar product distributed through the program would also include essential baby care items, educational materials, and provide an opportunity for new families and health care providers to discuss safe and healthy practices aimed at reducing SIDS.
"Baby boxes," a concept originated in Finland, have been used across the world with proven success. In the United States, several states and a number of cities and health care systems have already implemented "baby box" programs as a persuasive way to reach new families. The statewide program would offer critical resources, educate new families and enable them to engage in safe practices.
While distribution of "baby boxes" alone will not completely solve the problem of infant mortality, this program would be just one piece of a much larger puzzle in New York. Our state has already made great strides to improve health outcomes. In 2015, we worked together to pass legislation which made New York the first state in the nation to designate pregnancy as a qualifying life event for health insurance enrollment, guaranteeing all families the opportunity to access vital prenatal care to prevent pre-term births and pregnancy complications. New York has worked to establish paid family leave benefits for working parents and provide maternal, infant, and early childhood home-visiting services in our most vulnerable communities. The Newborn Health and Safe Sleep Program would further our efforts to reduce health disparities and ensure all parents receive the support they need to raise healthy children.
In an ideal world, every family would be aware of and adhere to the American Academy of Pediatrics Safe Sleep Recommendations and have a crib or bassinet meeting their guidelines. In reality, new families are often sleep deprived, exhausted, and struggling to adjust, or simply can't afford a crib. The Newborn Health and Safe Sleep Program will help new parents avoid unsafe behavior and will encourage and increase healthy sleep practices.
New York has demonstrated a long-standing commitment to enacting comprehensive policies to support healthy parenting, these measures will allow New York to continue to serve as a national leader in protecting the health and wellbeing of babies, children and families.
***
Aravella Simotas is a Democratic Assembly member representing AD 36, Astoria, Queens, and Kemp Hannon is a Republican representing SD6, in Nassau County. They sponsor bills S3867 and A/A6044-A.
***
Have an op-ed idea or submission for Gotham Gazette? Email This email address is being protected from spambots. You need JavaScript enabled to view it.