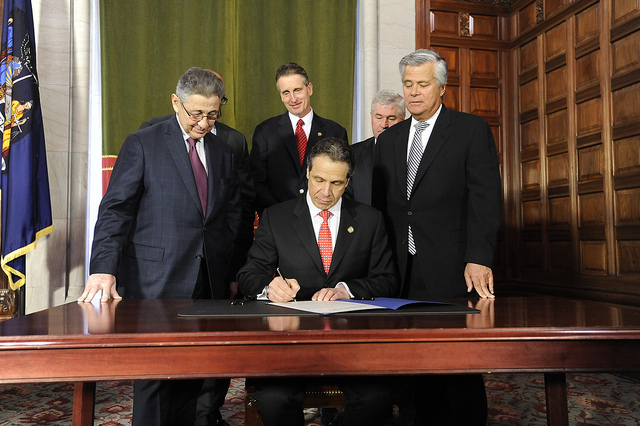 (photo: The Governor's Office)
---
Albany ended the legislative session without any government ethics reform and without any voting reform. Although there have been fewer arrests for corruption this session than last, no legislator should take this as a sign of improvement. And New York State voters should accept the truth that the Legislature itself will never seriously vote against its members' self-interest to make progress on ethics or electoral reform.
The only opportunity for New Yorkers for real reform is on the ballot on November 7, 2017, where we will be able to vote "yes" for a State Constitutional Convention.
This year, some state legislators talked about passing voting reforms in our archaic, closed system, such as early voting, reducing the time required to switch parties, and same-day registration, but none happened. This legislative session we heard calls for closing the LLC loophole, fixing pay-to-play allowances, and eliminating "lulus" -- stipends that go to legislators, sometimes for work they don't actually do.
The response to the news that almost all State Senators receive these lulus, or extra committee or conference leadership stipends, regardless of whether they are actually leading any committee, has been lackluster. The State Senate, for the first time in eight years, convened its ethics committee on June 15, less than a week before the end of the legislative session. It decided to table the lulu issue, who knows until when.
There will be a chance to make constitutional reform on the ballot this year aside from the Con Con. The one reform voters have the opportunity to enact is to revoke the pensions of legislators convicted of a crime, and that's only because it was the singular outcome of legislators responding to the anger of voters over the corruption scandals that took down two legislative leaders in one year and have plagued the capital for decades.
One worthwhile result with a slew of problems brewing should not be taken as sufficient for voters in the state. Voters should enact the pension-stripping measure and also vote for a Constitutional Convention.
To be sure, a Constitutional Convention should not be a second way to legislate. Many different interest groups will try to use the Constitutional Convention to effect their legislative goals, such as the legalization of recreational marijuana, banning abortion, or creating a road to upstate secession. However, the one problem that a majority of constitutional delegates and eventually New York voters can agree on is that the years of legislative sclerosis are a systemic problem that the State Constitution could fix. Moreover, legislators themselves will not legislate their way into solving those problems, even if there is a switch in partisan power.
Saying yes to a Constitutional Convention is worth the fight. The delegates could draft a new and improved version of the state's democratic system, which would then be put to the voters. New York voters are smart enough to reject changes that merely reinforce the status quo or do damage to our civil rights. The opportunity to vote yes for a Constitutional Convention every 20 years is a deliberate acknowledgment from the state Constitutional framers that politics will sometimes overwhelm the legislative process. The lawmakers will not fix the problems on their own, the people must do it.
On November 7, vote "yes" for a Constitutional Convention.
***
Richard Semegram is tenant lawyer based in Brooklyn. On Twitter at @richagram.
***
Have an op-ed idea or submission for Gotham Gazette? Email This email address is being protected from spambots. You need JavaScript enabled to view it.