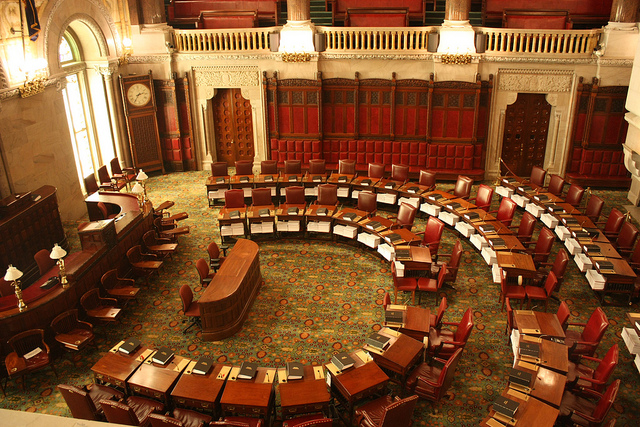 ---
My union member father recently asked me how New Yorkers on the left can possibly want a state constitutional convention, for which a referendum will be on the ballot this November. After all, the roster of opponents includes organized labor, environmental groups, the executive director of the New York Civil Liberties Union, and the vast majority of New York's elected Democrats.
These progressives have reasonable arguments against a constitutional convention, or "con con," which will only happen if a majority of voters votes for the referendum in November. They worry about constitutional pension protections and the "forever wild" language that safeguards New York's forest preserves from development. They cite the obstacles the left would face during delegate elections in November 2018, which would determine who drafts constitutional amendments: first, dark money from wealthy interests could crush good candidates, and second, delegates would be elected by state Senate districts, which are gerrymandered to favor Republicans. A skeptical policy wonk friend of mine has also pointed out that the most recent state con con that produced a progressive victory was Montana's -- in 1972.
These concerns are valid, yet now is the moment to take this risk. If voters across the state favor a con con this November, then delegate elections would be on the same ballot as the federal congressional midterm elections in 2018. We cannot pass up this serendipitous timing.
The left's first lucky draw is that 36 of the past 39 midterm elections have resulted in losses for the party that holds the White House, currently the Republican Party. Second, while we're still a long way from November 2018, I wouldn't bet on this likely Democratic win being small. Donald Trump is uniquely unpopular for a President at this point in his term, Republicans – independently of the president – are rallying around a health care bill that, in the last version scored by the nonpartisan Congressional Budget Office, will result in 15 million fewer people having health insurance, and the left's grassroots are ready to storm the figurative Bastille.
To reinforce this point, con con delegates would be elected on the very same ballot people will use for the November 2018 congressional midterms. The left is going to swamp the polls. When Long Islanders just swung a state Assembly seat nearly 20 points away from November's Republican vote, we can have some faith that progressives will show up in force for federal elections.
Heightened voter turnout can overcome many of the fears progressive con con opponents have, but there are other reasons to be optimistic regarding the structural disadvantages the left will face. True, if the con con referendum passes this November, three delegates would be elected per gerrymandered state Senate district. But Hillary Clinton managed to win 40 of 63 of these districts and there will be 15 more at-large delegates elected by statewide vote. This slate would likely have a leftward tilt from the aforementioned Democratic surge.
Albany is broken. It would be wonderful to have progressive policies enacted through normal legislative channels, but New Yorkers know that won't happen. Even when corruption scandals aren't rocking our Legislature, decisions are made by three – or four, thanks to the Independent Democratic Conference – men in a room who refuse to advance many progressive priorities.
The amendments con con advocates are pushing vary. Some supporters want "good government" changes that will make it easier to vote and improve campaign financing and redistricting rules. After enacting these reforms, progressive change could happen organically through a more representative and better functioning Legislature. The theory goes that constitutional amendments in this vein would be nonpartisan and Republicans who care about small-d democracy will get behind them.
Other con con proponents want to embed policies in the state constitution itself, whether on reproductive rights, enhanced civil rights for nonwhite and LGBTQ people, marijuana legalization, or an environmental bill of rights that will prevent a future disaster like what befell Hoosick Falls. They note that those pension and state forest protections opponents fret over were themselves enshrined in a constitutional convention. There are solid arguments in favor of either strategy.
I have heard con con believers describe this as a once-in-a-generation chance to systematically change the way state government works, but they're wrong. They're actually overstating the odds that we'll see another opportunity like this in two or four decades when the next con con referendums roll around. We have a historically unpopular Republican government in Washington and an extraordinarily animated grassroots. Take advantage of this rare convergence. This November 7th, vote "yes" for the constitutional convention.
***
Daniel Edelman is a government consultant and a member of the New Kings Democrats and Citizens Union, two civic groups in favor of the Constitutional Convention. The views expressed are his own.
***
Have an op-ed idea or submission for Gotham Gazette? Email This email address is being protected from spambots. You need JavaScript enabled to view it.
Note: Gotham Gazette is an independent publication of Citizens Union Foundation, sister organization of Citizens Union.