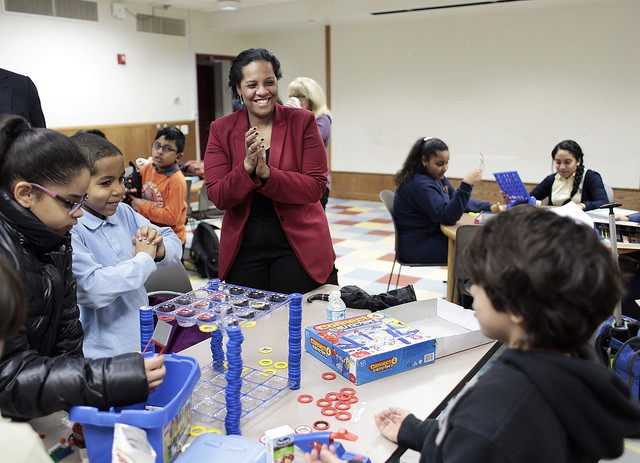 Council Member Ferreras-Copeland tours Inwood library (photo: William Alatriste/New York City Council)
---
Last month, City Council Member Julissa Ferreras-Copeland announced that she would not seek re-election. Much ink has been, and will continue to be, spilled on the political implications of her decision. But when such an important leader decides to depart, we owe it to her and our city to consider the legacy she leaves behind.
Our city owes Council Member Ferreras-Copeland our sincere appreciation. In her years in the City Council, and leading the finance committee, she has consistently delivered for working-class New Yorkers, immigrants, and the communities across this city in greatest need.
Time and again, she has played a leadership role in the battles that matter most for our communities. She has fought to ensure that marginalized and under-resourced communities get the attention they need in the budget, and she has helped ensure the passage of progressive legislation to ensure equal opportunities and protections for all.
We have worked closely with the council member on dozens of issues over the years, but several bear mention.
In her native Queens, immigrant communities have faced overwhelming school overcrowding for years, with some children forced to study in closets or eat lunch at 10 a.m. because of insufficient facilities. She worked closely with community members and advocates and made this issue a top priority for the budget, ultimately securing billions of dollars in new capital funds for school construction.
She demonstrated a similarly strong commitment to Queens through her leadership in creating the Flushing Meadows-Corona Park Alliance, which has helped protect the beloved park and ensure a bright future for the borough's most important green lung.
Council Member Ferreras-Copeland was also one of the first elected officials to lead the charge for paid sick days for all New Yorkers. Her support throughout the campaign helped make this path-breaking legislation a reality.
She also demonstrated a clear and consistent understanding of the need for resources for adult literacy. She worked closely with Council Member Carlos Menchaca and fought hard to ensure that these programs, which serve the dual goals of immigrant integration and workforce development, be expanded. Their work together yielded millions of dollars in additional funding.
Always a strong champion for opportunities for young people, she also recognized the importance of confronting the school-to-prison pipeline by investing in alternatives to the criminalization of young people of color. Under her leadership in the finance committee, the Council created a new restorative justice initiative to implement alternatives to punitive discipline that promote healing, understanding, and accountability.
On issue after issue, she has stood with us and amplified the voices and needs of her communities.
Council Member Ferreras-Copeland has achieved all of this as a strong woman of color facing a political landscape that remains dominated by white men. She has faced down obstacles on a daily basis, and she has overcome them with the poise, wisdom and wit that have endeared her to so many of her colleagues across the five boroughs.
Julissa Ferreras-Copeland has been a pioneer and a tremendous leader for her district and our City. We thank her deeply for her service to our communities, and we know that her work will serve as a powerful example for the next generation of progressive leaders across New York.
***
Javier H. Valdés and Deborah Axt are the Co-Executive Directors of Make the Road New York, the largest grassroots community organization in New York offering services and organizing the immigrant community. On Twitter @maketheroadny @javierhvaldes @daxt.
***
Have an op-ed idea or submission for Gotham Gazette? Email This email address is being protected from spambots. You need JavaScript enabled to view it.