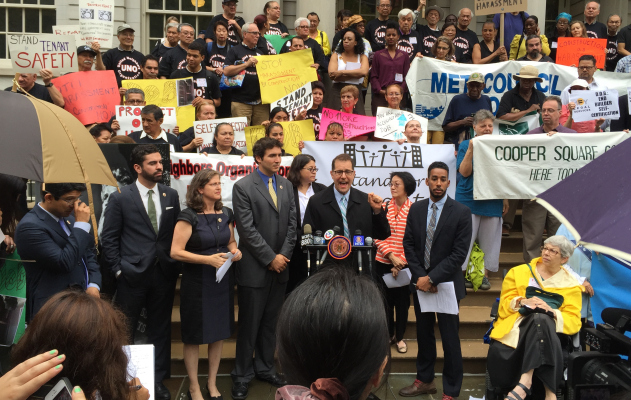 photo, including three of the authors, via the Progressive Caucus
---
We've seen it in our districts. A new landlord takes ownership of a building and starts a construction project that never finishes in order to evict long-term residents. They may turn off the cooking gas indefinitely; they may even knock out the boiler with no explanation.
For too many New Yorkers, this nightmare is their reality. The stories are plentiful: heat and gas shutoffs in the middle of winter, jackhammering causing cracks in apartment walls, loss of power, and lead dust in the air lasting for months on end. For years, city and borough officials and community advocates have encountered a critical mass of stories like these, detailing the unscrupulous conduct of landlords as well as the insufficient response from the City of New York.
We, as members of the City Council members and its Progressive Caucus, see the writing on the walls: our city needs more protections in place for tenants facing construction harassment.
Understanding the need to strengthen the ability of the Department of Buildings (DOB) to protect tenants from construction as harassment, the grassroots Stand for Tenant Safety Coalition (STS) has partnered with the Progressive Caucus to put forth a package of legislation aimed at achieving just that.
These 12 STS bills, most of which are sponsored by members of the Progressive Caucus, with strong support in the Council, will put in place much tougher penalties against abusive landlords for illegal construction practices and enact preventative measures to help tenants protect their homes.
The goal is to change the way DOB handles construction harassment so that the agency is empowered to become more proactive with regard to issuing construction permits and facilitating communication among tenants, landlords, and city agencies. Such renewed tenant protections are intended to quicken and fortify the City's response to construction harassment so vulnerable residents in rapidly changing neighborhoods are able to stay in their homes and communities.
As policymakers, we know that construction harassment by unscrupulous landlords only exacerbates the affordable housing crisis already facing residents of New York City. In recent years, the average rents in some city neighborhoods have risen by 20%; in such neighborhoods especially, unethical landlords can use construction as a way of cashing in on rising rents instead of protecting the existing tenants. Calls the City has been receiving from New Yorkers reflect this; construction-related complaints number in the thousands each year.
Even as preserving and creating affordable housing has remained a focus of both the City Council and Mayor Bill de Blasio's administration, the myriad loopholes landlords use in existing laws allow the number of rent-regulated apartments to dwindle. With both the cost of living in the city and rent continuing to rise, protecting the health and safety of tenants through legislation is the minimum of what can be done, the least of how this city can maintain a fair and just society. With the city losing affordable housing every year, we cannot afford to ignore any way in which tenants are threatened by eviction from their homes.
As the clock ticks toward the end of the current City Council session, we need the Council to pass this Stand for Tenant Safety package of legislation as soon as possible. The New York City Council just made history by passing the city's first ever Right to Counsel legislation, which will provide legal assistance to tenants facing eviction in housing court. We urgently need to continue making progress on tenant rights in New York City by strengthening preventative measures that will help keep tenants from facing eviction in the first place.
It is time that the City renew its commitment, through strengthening the enforcement power of the Department of Buildings, to standing up for residents living under adverse conditions and protect our communities from abusive, unethical landlords. As long as economic inequality and hazardous building conditions threaten health and safety, the City must continue to strengthen every person's opportunity for a livable and affordable place to call home. As progressive City Council members, we hope our colleagues and the de Blasio administration will work together with us to ensure that our city's most vulnerable tenants are protected.
***
Antonio Reynoso, Donovan Richards, Helen Rosenthal & Ben Kallos are all members of the City Council and leaders of its Progressive Caucus. On Twitter @CMReynoso34 & @DRichards13 & @HelenRosenthal & @BenKallos, & @NYCProgressives.
***
Have an op-ed idea or submission for Gotham Gazette? Email This email address is being protected from spambots. You need JavaScript enabled to view it.