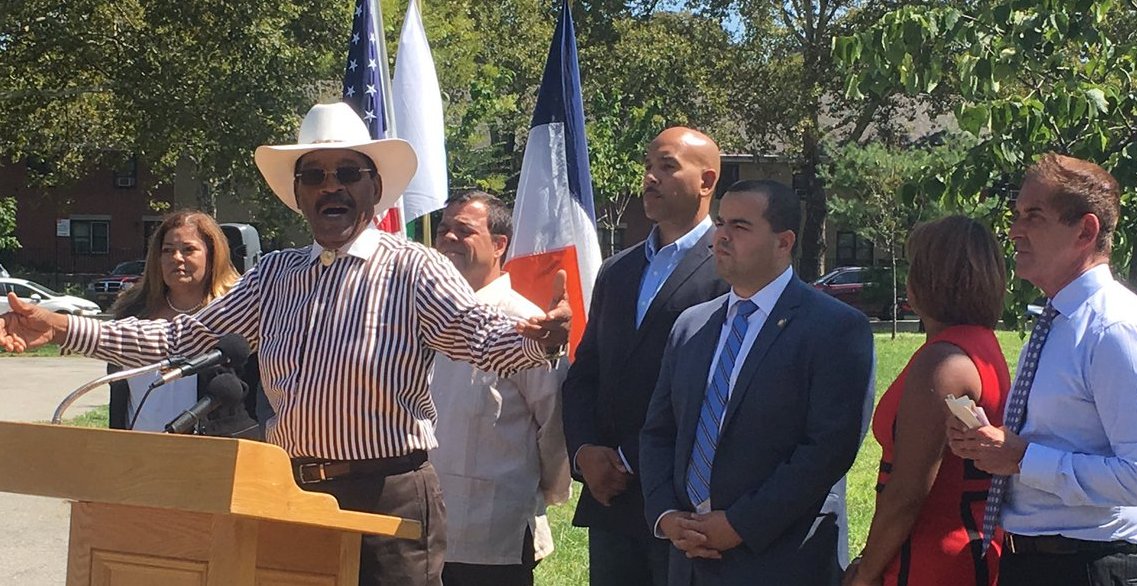 State Senator and City Council candidate Ruben Diaz Sr. (photo: @RevRubenDiaz)
---
The New York City Council is under threat. There is a force exerting immense pressure to dangerously influence the session beginning in January. That threat goes by one name: Albany. And it is bearing down on the city this week.
We need to take stock of what is happening, and vote accordingly on Tuesday, September 12, or the 2018 City Council class will be far less progressive than the current.
What do I mean by the Albany threat? State legislators who represent people from New York City who are eager to get out of working in Albany and are running for the City Council. They have experience in campaigns with far fewer restrictions to keep them accountable to voters. Their experience as policy-makers is one where they are completely constrained by the leaders at the top and far less serious about the work of an elected official with legislative, oversight, and constituent service responsibilities.
These Assembly members and Senators have mostly accepted an unethical and unacceptable state government as it is, sought to bring some funding back to their districts, and cast blame around for the lack of beneficial policy results. Seeking easier commutes and a substantial pay raise, several state legislators are seeking seats in the City Council this year, with Tuesday's primary elections set to determine the overall winners and losers given the city's Democratic advantage. In order to run this year, these legislators don't have to risk their seats, and with the power of name recognition and fundraising that accompanies being an elected official already, they have distinct advantages, no matter how good their opponents may be.
The worst case scenario is an eventual takeover, given the handful of potential migrants this year and the floodgates that could open in 2021, when many more Council seats will be open due to term limits. Voters must take a stand this year. And while it should be done on a candidate by candidate basis, overall, the threat of Albany must be beat back.
A quick survey of some of the contested Council seats confirms this Albany threat is real. In Brooklyn, City Council Member Carlos Menchaca is threatened by Assemblymember Felix Ortiz, whose main accusation is that Menchaca isn't good at constituent services. In Queens, two Albany people are fighting for City Council Member Ferraras-Copeland's seat, and the progressive city is quivering that a former Albany gargoyle, Hiram Monserrate, will be defeated by a current state legislator who is hopefully not anywhere near as bad.
In both City Council District 13 in the Bronx and District 8, which includes parts of East Harlem and the South Bronx, the competition pits a male Assembly member against a strong female candidate with positive community experience and a bright future.
In the Bronx, State Senator and Reverend Ruben Diaz Sr. announced that he is entitled to run for the City Council and that he eschews calls for separating religious and government work because, "I am the Church and the State." He's sucked up all the air in the room with a slew of major endorsement and his name recognition, and he'll likely shut the door of opportunity on qualified candidates seeking their first elected office.
Also worth noting, then-State Senator Bill Perkins already nabbed the Harlem City Council seat in a special election earlier this year, and will likely ride the incumbency power to a victory this fall, despite other candidates ready to serve.
Not all of these Albany legislators are terrible as individuals. Some state legislators go to the capital to fight for and deliver change. But voters should wonder why each one attempting to leave is ready to jump ship and carefully consider the options on the ballot.
Is this current exodus from Albany representative of a strategic effort to tamp down the policy-driven New York City Council? That Council has moved a great deal of progressive policy over the last four years. Continuing in that direction is under threat.
Do these legislators just want a pay raise? It's a question worth asking.
Most Albany legislators' City Council campaigns echo themes of "I provide good constituent services so you should vote for me," regardless of whether they have a record to stand on. They prioritize their constituent services to ingratiate themselves to their voters without actively seeking out ways to fix broken systems. While the Council's current members are full of imperfections, the last four years have been full of real efforts to make government better for New Yorkers.
"Elections have consequences" was one of the themes that finally landed after the 2016 presidential. The consequences in New York City of the Albany influx will be many—number one, as new members they could block the victory of a potential progressive Speaker of the Council, which could then very easily halt real and important policy changes. They could defer to Albany's typical priorities of promoting the interests of real estate developers and coming up with excuses for failing to fix healthcare, support immigrants, and achieve ethics reform.
If Albany sees a way in this year, we can be assured that in four years when most of the Council races will not have incumbents, many more state legislators will attempt to get out of Albany, intensifying this threat.
Elections do indeed have consequences. One could be a lot more Albany status-quo do-nothings elected in New York City; another could be a risk-taking, people-oriented Council for the next four years.
***
Richard Semegram is a tenant attorney in Manhattan. On Twitter @richagram.
***
Have an op-ed idea or submission for Gotham Gazette? Email This email address is being protected from spambots. You need JavaScript enabled to view it.