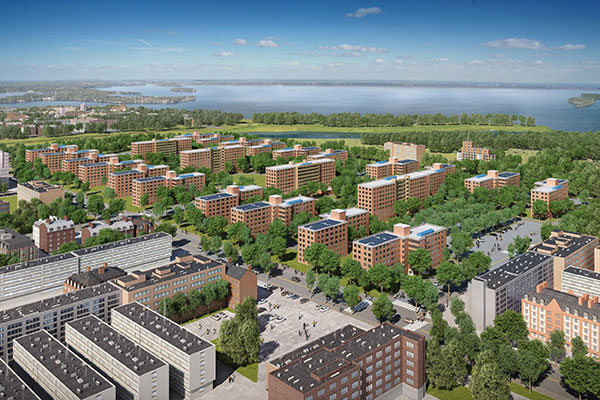 ---
This is the second in a two-part series on transformations and experiments happening at NYCHA. Read part one: At NYCHA, A Small Project-High Concept Reset.
The conversion of the Ocean Bay (Bayside) project, housing 4,000 Rockaways residents, to private management through the federal Housing and Urban Development's Residence Assistance Demonstration (RAD) program is far advanced. Ocean Bay flooded badly during Superstorm Sandy and has been on temporary boilers since the floods. While the damage was most severe to the mechanical systems rather than apartments, lobbies, elevators, or interior hallways, post-Sandy the complex continued to decline with problems of trash, leaking ceilings, and more.
Ocean Bay is also isolated: close to the beach and other housing projects but not much else. There isn't a decent grocery store, or much of any stores or community services, within walking distance. But there are assets, if you know where to look.
The first major asset is the 1,395 apartments in 24 towers, nearly all still occupied by now former NYCHA families. Livable apartments in hot-market New York City are attractive opportunities, particularly if they are, as is the case here, delivered without an underlying mortgage. To simply develop the equivalent number of housing units might costs as much as $750 million (1,400 units at $400,000 each), take years of permits, incur many delays, etc.
Similar dilapidated public housing units would be less valuable in other cities, and many towers of similar scale and style have been destroyed across the country, but New York is different because of the demand for all housing, public or private.
The second major asset is the multiple set of government subsidies available to the developer. RDC Development, a joint venture between MDG Design + Construction and Wavecrest Management Team, has borrowed money in private markets that might not be available in less desirable housing markets. Most of the $560 million in renovation funding, including private loans, is also secured by the government including a future role for Section 8 (for operating support), FEMA (resiliency for future storms), federal Low Income Housing Tax Credits (attracting private-sector lending), New York State's Housing Finance Agency (state-secured financing), and NYSERDA (energy conservation).
When you put all the layered subsidies on top of mortgage free units, you start to understand private-sector interest in these conversions. The developer expects to collect developer fees and some construction profits; the management company, Wavecrest, will also be able to collect management fees in the long term if all goes well.
It would be wrong, however, to view this conversion as easy money. The developer is taking a major risk on the current tenants as the future rent returns plus government subsidies will have to be sufficient to operate the buildings, maintain them, pay management fees, and cover the debt service. The developer/management will also have to keep NYCHA management happy in the long term, including using NYCHA waiting lists for future tenants, despite whatever shifting political winds may come along. And no one knows what will happen to federal housing subsidy programs in the coming years.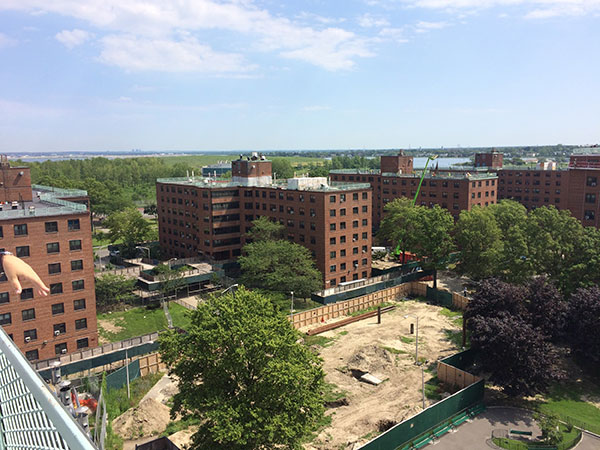 Redesigning What Matters First
The layout of the complex is moderately attractive by NYCHA standards. The four central towers are just nine stories tall each, so most of the apartments at Ocean Bay are located in the 20 six-story buildings flanking the central high rises. The grounds, despite having flooded, boast mature London Plane trees. The complex was moderately updated during the Hope VI process two decades ago including some cosmetic improvements to the grounds, elevator lobbies, and apartments.
The apartments are decent size by NYCHA standards and quite a few are very large (five bedrooms). The developer has a solid eye to what matters for resident satisfaction. Some of the original apartments were in very poor shape, with severe water damage, but most apartments have required upgrades and moderate renovation rather than gutting. The developer is thus switching out cabinets, laying down new vinyl strip floors, updating bathrooms, patching ceilings, and so forth. Current apartment configurations will remain as is. The apartments turn out respectable as a result of these modernizations; costs and complexity remain within the parameters of a renovation project.
| | |
| --- | --- |
| | |
Big-ticket, long-term quality of life repairs are the focus of building-wide renovation. The developer is adding a more reliable and efficient heating system (on the roof to avoid future floods), new roofs, new windows, lintel brick repointing, lobby renovations, solar panels, and a protective berm and water retention swales. The developer is deferring cosmetic exterior additions and extensive landscape plans, which are still planned, until the site has been stabilized and any unexpected problems are addressed.
Delivering quality basics today means steam-cleaning and shining up existing floors and glazed brick halls inherited from NYCHA, widening the trash chutes that often overflowed, and running an expensive, and more efficient, heating system along those hallways. It means new windows that are similar in look to the old ones, but open more easily to help aid air circulation. It means new cabinets that provide an immediate sense of improvement. It means a protective berm for future floods and resilient electrical system. It is these investments that will distinguish the project in terms of livability from other postwar NYCHA projects in the years to come.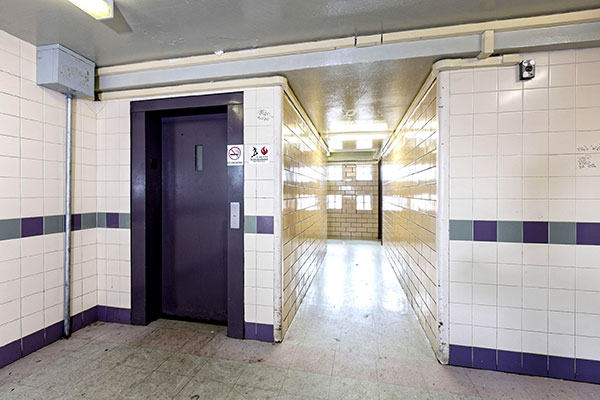 | | |
| --- | --- |
| | |
The private management has also dispensed with NYCHA's expensive labor system. This change has financial implications (lower operating costs) in the long term. Wavecrest, an experienced property management company, is now in charge of the entire complex—from rent collection to general maintenance. NYCHA employees opted to be moved to other NYCHA properties rather than transition to Wavecrest which would have meant more modest benefits, looser work rules (under a new union), and higher expectations.
The aim of the renovation and new management is to reset the tenant-management relationship and collect rent more consistently than NYCHA by being a better property manager. Wavecrest's management fees, and the financial security of the property, is dependent upon steady rent collection. If Wavecrest can maintain higher standards in the long term, the project can enter a new era of stability. So far, says the developer, the rental collection under private management has been meeting expectations. It should be noted that the developer cannot, like Mitchell Lama conversions, rent empty apartments at market rents. This project thus retains its deep affordability for the foreseeable future.
Families accustomed to NYCHA's de facto tolerance for late or no payment, and significant amounts of problematic behavior in courtyards and hallways, will need to adjust to private sector standards. The signs are encouraging that the new environment is already improving the quality of life. The developer reports reductions in the level of graffiti and other costly damage.
The developer is not, however, relying on resident satisfaction alone. Ocean Bay is massive, at 33 acres, with many entrances, stairwells, hallways, etc. It is also isolated and the neighborhood retains an air of disinvestment. The developer, per consultant advice, plans to install an electronic fob system for entry and movement through lobbies and other building private spaces, typical of market-rate buildings. In addition, 400 cameras will be installed across the site. These will be actively monitored by a private security company out-of-state. Security staff observing project activities will not only be able to report problems to the police, but will be able to speak directly to people caught on camera through a broadcast system. The aim of this "voice of god" is to help tenants feel the management presence -- in a good way, we hope.
There are plenty of additional opportunities for upgrades. NYCHA and the developer decided to delay but not rule out infill development of large open spaces within the project. Ocean Bay could benefit from additional housing or commercial operations that would enliven the area. Additional affordable housing units would also be welcome. In Europe, for instance, large and isolated public housing projects have been infilled with a mix of subsidized, market, and retail buildings to reduce the isolation and create more lively communities. Yet Ocean Bay has so many upfront issues that stabilizing the project as a living space came first. Infill is also politically controversial and can be a distraction. Without any additions, Ocean Bay already offers tenants a higher standard of living, but will also remain both geographically and socially isolated for the time being. The beach is, however, just a few blocks away.
This is the second in a two-part series on transformations and experiments happening at NYCHA. Read part one: At NYCHA, A Small Project-High Concept Reset.
***
Nicholas Dagen Bloom is an Associate Professor at NYIT and author of "Public Housing That Worked." Matthias Altwicker, AIA, is an associate professor of architecture at NYIT and principal and founder of Studio A+H.
***
Have an op-ed idea or submission for Gotham Gazette? Email This email address is being protected from spambots. You need JavaScript enabled to view it.