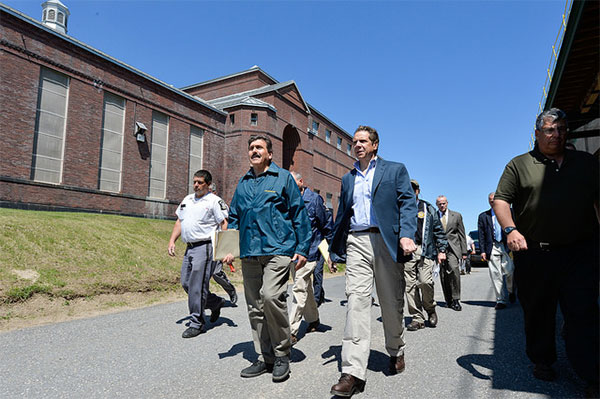 Gov. Cuomo at an update prison (Governor's Office)
---
Anyone following New York City politics knows about JustLeadershipUSA's mission to close the jails at Rikers Island. In less than a year, the #CLOSErikers campaign successfully pressured Mayor Bill de Blasio to commit to shuttering the jail complex. It is no longer a question of if Rikers will close, but when. But the campaign has always known that closing Rikers would require reforms at the state level as well. An overhaul of our statewide bail, speedy trial, and discovery statutes is necessary to reduce the population at Rikers so that it can finally and expeditiously close its doors.
Even if Rikers were closed tomorrow, these reforms would still be necessary. While New York City has successfully reduced its jail population over the past few years, county jail populations across the state are growing. Today, 63% of people held in jail in New York State are held in jails outside New York City. Of those 25,000 husbands, fathers, brothers, sisters, children, and loved ones who are sitting in jails across our state, 70% have not been convicted but remain unjustifiably caged while they await the outcome of their cases.
This reality is a consequence of punitive and discriminatory criminal justice policies that have decimated communities, primarily poor communities and communities of color, for decades.
To end this human rights crisis, we need bold action from Governor Andrew Cuomo and our state Legislature. That is why JustLeadershipUSA launched #FREEnewyork, a campaign focused on empowering those who have been most harmed by our jails and prisons to hold Governor Cuomo and our elected leaders in Albany accountable and unapologetically demand real solutions to these self-inflicted problems.
Governor Cuomo said that Rikers should be closed in three years. Now he must deliver around the state he leads. He and his colleagues in Albany have both the power and the responsibility to drive us toward that Rikers goal while also addressing the failings of our statewide criminal justice system.
They can start with overhauling our broken bail system. We need reform that eliminates money bail, protects the presumption of innocence and the right to freedom, limits when and how any pretrial conditions are instituted, and prohibits biased risk assessment tools. Bail reform must focus on ending the devastating repercussions that even initial involvement with the criminal justice system can have on people, especially on low-income families who too often must choose between paying bills or paying for their loved one's freedom. People who can afford bail achieve better outcomes in their cases, and everyone deserves access to these outcomes.
Albany must also enact comprehensive statewide speedy trial and discovery reform. Today, no other state in the country comes close to matching the appalling unfairness of New York's readiness rule approach to 'protecting' one's right to a fair and expedient process.
We need a true speedy trial law that sets concrete limits on when a defendant must actually be brought to trial. As it stands now, prosecutors can cause unforeseeable and unending delays in the trial process without significant repercussions. Combined with the current state of our bail laws, this leads to human beings trapped in cages while they await their hearing before a judge or jury.
What is already a bad situation is only made worse by New York's current discovery laws, which are widely regarded as some of the most regressive in the country. We need a new discovery law that requires open, early, automatic, and mandatory discovery, guaranteeing defendants and their lawyers access to vital information about their cases. Without this, defendants and their attorneys have little to no access to information about the charges they face.
These reforms are vital for New Yorkers most affected by mass incarceration, and countless studies have shown that criminal justice reforms like these increase public safety, improve relations between communities and law enforcement, and create better outcomes for victims and taxpayers. Yet, while each of these reforms and each of their respective components are important, none are sufficient on their own if we truly want to end the plague of mass incarceration that grips New York State. Comprehensive, connected reforms are necessary for the real, lasting, and positive change in our criminal justice system that New Yorkers deserve.
Without this action at the state level, New York will continue to commit human rights abuses on a daily basis. The atrocities of our criminal justice system will linger, and New Yorkers will suffer unimaginable harm as a result. To fight for reform, close Rikers, and decarcerate county jails throughout New York State, directly impacted individuals and communities across the state must raise their voice, and, together, bring a simple message to Governor Cuomo and our legislators in Albany: we are watching you, we demand real and bold reform, and the time to act is now.
***
Glenn E. Martin is founder and President of JustLeadershipUSA. On Twitter @GlennEMartin and @JustLeadersUSA.
***
Have an op-ed idea or submission for Gotham Gazette? Email This email address is being protected from spambots. You need JavaScript enabled to view it.