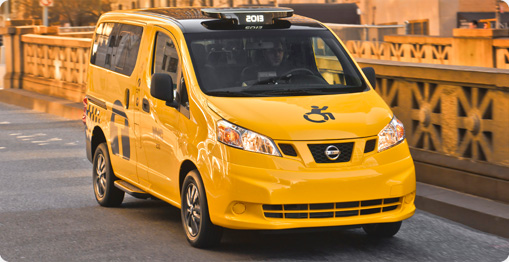 (photo via nyc.gov)
---
The hustle and bustle of New York is a part of its identity: we New Yorkers are always on the move. Our officials must fight for equal access to transportation, but as those of us with disabilities know, accessible methods of travel are shamefully limited. This is why the Taxi and Limousine Commission (TLC) has apparently been negotiating with private for-hire car companies like Uber and Lyft on the issue of wheelchair accessible taxis for several months.
This could have been an encouraging sign, but last week, it became clear that TLC is more interested in cutting a backroom deal with Uber and Lyft than it is with seriously listening to wheelchair users. The TLC has even gone so far as to ignore sensible calls for action in favor of a proposal initiated by the very same companies who created this crisis.
It has been clear that the city's yellow taxi accessibility program is on the ropes – mainly because accessible taxis cost much more to operate and maintain than regular taxis. The TLC created the Taxi Improvement Fund (TIF), which takes 30 cents from each yellow cab ride to support drivers with accessible vehicles. But it has become increasingly clear to disabled riders that the current TIF program is not enough. Drivers are struggling to make ends meet, and the program is in danger of complete collapse.
That is why I have called upon the TLC to mandate that ride-hail companies, including multi-billion dollar giants like Uber and Lyft, contribute to the TIF. Since these companies have proven to less than friendly to disabled riders, they should have to pay a higher fee.
This plan is simple and effective. The TIF is a city fund overseen by the city, rather than a state tax, so this tweak wouldn't require any changes to state law or any approval from state officials. (For some reason, the TLC recently tried to convince me that it would require state approval, but that is just not true.) Not only is it easy to implement, but this proposal would provide critical support for the drivers who need it most and help wheelchair users navigate the city.
It is a win for all stakeholders. Elected officials get an easy fix to a critical problem, cab drivers already doing the right thing get support they need, and New Yorkers with disabilities get greater transportation access.
Not so fast, though.
The TLC is considering a proposal – one that originated with Uber, Lyft and other for-hire vehicle providers themselves – that would create a two-year pilot program allowing companies who opt in "to provide accessible service via a central dispatch system."
The currently-negotiated plan is that companies would provide accessible vehicles to riders who request them in under 15 minutes, 60 percent of the time in the first year and 80 percent in the second.
I know that this proposal will not result in any meaningfully positive changes for wheelchair users like myself.
Despite from the fact that these companies have a track record of promoting falsehoods when it comes to accessibility and have frequently avoided actually putting accessible vehicles on the road, there is nothing in this proposal to hold them accountable.
In fact, it looks like this so-called pilot program would amount to little more than words.
This potential compromise also does nothing to solve the TIF crisis and would likely lead to the end of the city's accessible taxi program. This outcome would leave the many riders who depend on wheelchair-accessible vehicles in the hands of private companies, who, at the very best, would only promise to provide a car within 15 minutes 60 percent of the time.
In a city with a terrible track record on wheelchair accessibility – have a look around any subway station – ceding this ground is an unacceptable outcome that will leave New Yorkers with disabilities without a reliable method of transportation.
That is an outrage. Fortunately, a sensible solution is out there – but it is up to the TLC to do the right thing, and the time is now.
***
Dustin Jones is president and founder of United for Equal Access New York, a disability advocacy group.
***
Have an op-ed idea or submission for Gotham Gazette? Email This email address is being protected from spambots. You need JavaScript enabled to view it.