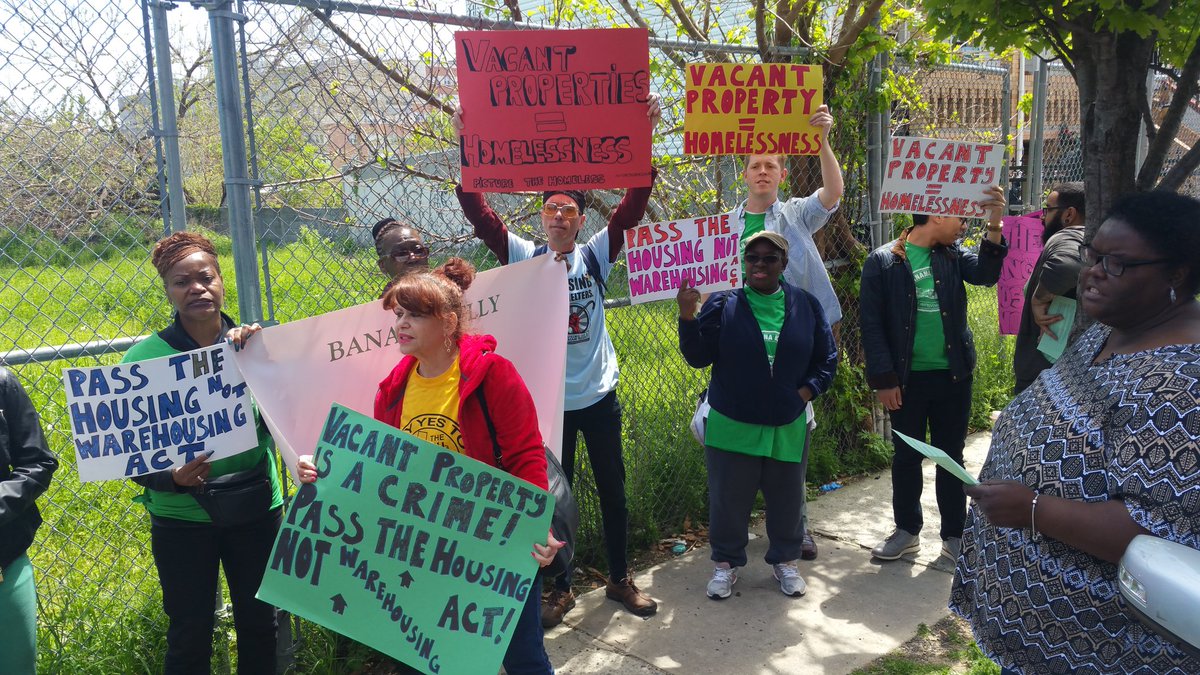 protesting unused vacant property (via @pthny)
---
In New York City, the demand for affordable housing far exceeds supply. Seventy percent of the city's homeless shelter residents are families. Families who should be in homes.
Now, as the United States House of Representatives and Senate look to the conference committee to reconcile their respective tax reform bills, the housing crisis that began in the 1980s will become a catastrophe unless we, the people, intervene.
On paper, both the House and Senate plans retain the Low Income Housing Tax Credit (LIHTC) — which funds 90 percent of the nation's affordable housing developments. However, the House tax bill eliminates tax-exempt private activity bonds (PABs) that fund half of all LIHTC projects.
Although the Senate bill retains PABs, both bills cut the corporate tax rate from 35 percent to 20 percent, dramatically reducing the value of tax credits that fund the remainder of LIHTC projects.
Also included in the Senate bill is an amendment that imposes what amounts to an international alternative minimum tax on any corporation with significant foreign operations. As a result, some large corporate investors might be deterred from claiming the LIHTC.
No matter how the reconciliation pans out, it is clear that, if passed, federal tax reform will devastate more than a million low-income New Yorkers searching for homes. And this isn't the first federal policy to squeeze out affordable housing.
Under President Reagan, government spending on subsidized housing was slashed from $26 billion to $8 billion, contributing to a dramatic spike in homelessness. As a private sector solution, Reagan signed the LIHTC into law in 1986 to counterbalance the cuts to direct federal spending.
LIHTC's market-based answer to affordable housing was successful enough that subsequent administrations maintained the program while continuing to whittle away at Housing and Urban Development (HUD) funds. LIHTC became the best — or rather, only — hope for Americans in need. But in cities like New York, LIHTC wasn't enough to mitigate the surge and suffering of homelessness.
Although LIHTC helped develop or preserve approximately 122,000 affordable properties in New York City from 1994 to 2014, the city still endured a net loss of 150,000 rent stabilized apartments, leaving tens of thousands of New Yorkers with nowhere to go but the street or a shelter.
Mayor Bill de Blasio responded to this crisis with a pledge to add 100,000 affordable units by 2020. But experts at Novogradac & Company estimate that, if the House tax bill passes, that number could fall by two thirds.
Even if PABs are retained in the reconciled bill, the corporate tax rate reduction alone will result in the loss of around 300,000 affordable units nationally.
By squeezing the funding pipeline for affordable housing tighter than ever before, both bills crush the supply of affordable housing and the low-income families that rely on it.
This cannot happen — not on our watch, not in our city, and not in our country. This isn't a partisan issue, it's a moral one. We have a duty, to our city and our neighbors, to speak out against any provision that would threaten the supply of affordable housing at this most critical time in our country's history.
Although the House and Senate have approved their respective bills, the final version has yet to be agreed upon. Now is the time to urge our representatives to reject any final bill that removes the tax-exempt status of PABs and cuts the corporate tax rate.
***
George McDonald is founder and president of The Doe Fund. On Twitter at @GeorgeTMcDonald and @TheDoeFund.
***
Have an op-ed idea or submission for Gotham Gazette? Email This email address is being protected from spambots. You need JavaScript enabled to view it.