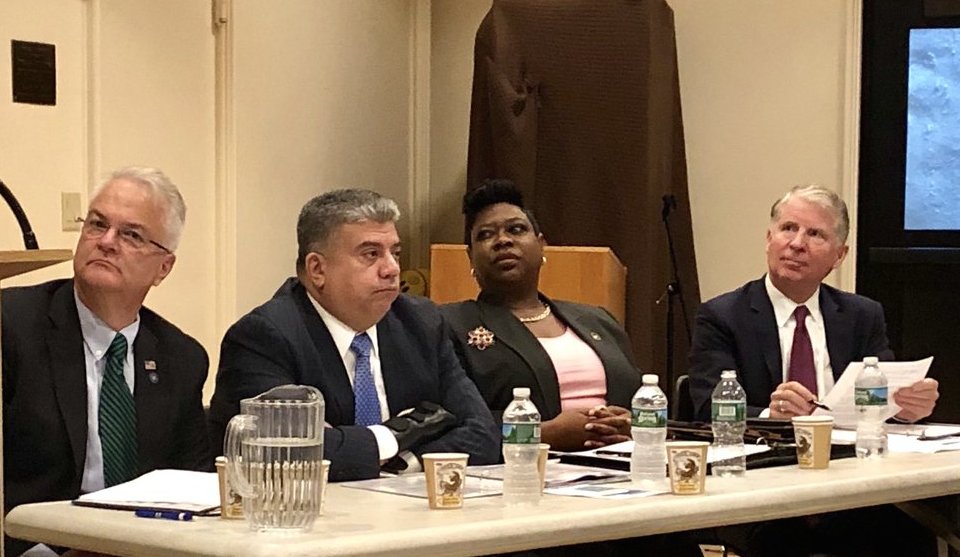 Four NYC DAs (photo: @ManhattanDA)
---
For the past four months, the people of Manhattan have grappled with accusations of their District Attorney cultivating a pay-to-play culture in which the rich and powerful skate by serious criminal charges -- if their lawyers contribute sizable donations to DA Vance's campaign. In a public display of penance for allowing the appearance of corruption to permeate, Vance requested The Center for the Advancement of Public Integrity at Columbia Law School to investigate ways to better insulate our elected prosecutors from the influence of donors. The CAPI recommendations make for a good headline after months of bad PR for the DA, but will not change the status quo.
Following the report, Vance said he will adopt the 'blind' practice used for judicial candidates who are raising money for their campaigns. Unfortunately the failings of this model are widely known, and are surely no secret to Vance himself. It follows a legal fiction that removing the DA from the fundraising eliminates the potential conflict. That is absurd.
It is pure fantasy to suggest a candidate will have no knowledge of who is donating to their campaign. Full transparency is an ideal all elected officials should be striving for in our electoral system, especially when it comes to the funding of campaigns. That is why the records of who has donated to candidates are fully public, easily obtained by the click of a button. There's no 'blind' approach to raising money when the names, addresses and amount of money donated are so easily accessed by the public, press, campaign, and candidates. Especially for a DA like Cy Vance who has been in office for almost a decade and has built a donor list based on strong relationships with certain criminal defense lawyers and law firms.
Then we come to the donor cap recommendations -- riddled with far too many loopholes. By restricting the $320 donation cap to only attorneys appearing before the DA office, the policy is extremely limited, allowing many other non-appearing attorneys from the same law firm to donate individually up to $3,850. Undoubtedly, high-profile wins for firms are good for business. Perhaps that's why Marc Kasowitz, Trump's personal lawyer, had his coworkers raise over $18,000 for Vance just a few months after the DA chose not to prosecute the Trump children. Under the CAPI recommendations, this could continue to happen. In fact, under Vance's new self-imposed fundraising rules, he would only have to wait six months after a case is resolved to accept donations from the exact lawyers who appeared before his office.
Even with the cap from partners and some lawyers, there are a multitude of ways that law firms with an attorney or attorneys who appear before the DA office can donate significant amounts of money to the DA. It will just take some creativity. This permits the existence of the conflict that CAPI admits exists -- attorneys donate to create "positive relationships" with the DA's office, "which, could, in theory inspire some of them to become contributors to the DA's campaign." An understatement to say the least.
The CAPI recommendations represent an incomplete addition to the conversation of reforming the way we fund our DA races, something the report acknowledges. This report should not signal the tidy conclusion of how the rich and powerful were seemingly able to curry favorable treatment through campaign donations by their lawyers. We need true comprehensive reform to make our system one New Yorkers can confidently rely on. I have legislation that will bring us one step closer to this by forbidding large donations to DAs from criminal defense lawyers or their law firms. Let's get this passed and move toward a fairer system for all.
***
Dan Quart is a member of the New York State Assembly representing Manhattan's East Side. On Twitter @AMDanQuart.
***
Have an op-ed idea or submission for Gotham Gazette? Email This email address is being protected from spambots. You need JavaScript enabled to view it.