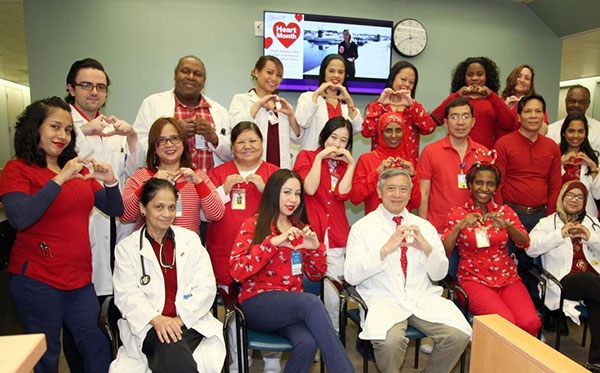 Doctors and nurses (photo via @NYCHealthSystem)
---
It is no secret that a war is here – a war on immigrants, on LGBTQ people, and communities of color, on the 99%, and more. Health, a part of politics that affects all facets of life, has suffered a brutal onslaught. While some of 2017's greatest grassroots successes were in defeating Affordable Care Act repeal efforts, recent federal tax overhauls and budget proposals threaten to further strain a healthcare system millions have come to rely on.
Lost in the conversation have been critical federal health programs like the Community Health Center Fund. Introduced as part of the original Affordable Care Act legislation in 2010, the Community Health Center Fund has come to represent 70% of federal grant funding for the nation's community health centers.
Community health centers reaffirm the fundamental right to health for all. They provide health care for low costs regardless of age, ability to pay, insurance access, or immigration status. Community health centers are culturally responsive neighborhood clinics families rely on, not just for primary care but also for specialized services like dental, vision, and behavioral health. Without the full funding they and the communities they serve have come to depend upon, these centers may not be able to serve their patients to their full ability.
The Community Health Center Fund was renewed for two years in 2015 as part of the funding renewal for the Children's Health Insurance Program (CHIP) – and in September, these programs and others expired. The last continuing resolution to address this issue, signed by President Trump on December 22, included short-term renewal funding of CHIP, community health centers, and other vital health programs. However, this resolution provided only a portion of the funds these programs need to operate at full strength, and only through March, thus jeopardizing their long-term sustainability.
While the latest continuing resolution reopening the federal government through this Thursday, February 8, included a six- year renewal of CHIP, community health centers were one of several health initiatives that were surprisingly left once again without any updates. Thus, thanks to Congressional inaction, anywhere between 10 and 50 percent of revenue dollars for over 400 New York City and over 700 New York State community health centers serving 2.2 million residents across the state, is now at risk.
FPWA counts community health centers among its member agencies and coalition partners across New York City – and these organizations are alarmed at this political failure.
Community Healthcare Network (CHN), which includes 14 community health centers and a fleet of mobiles operating across four boroughs, says that while CHN centers are not at risk of cutting services or staff, cuts to funding will force many centers in New York to curtail care. Care for the Homeless, a social and health services provider that includes substance abuse among its treatment focuses, believes that without federal funding, health centers may have to consider cutting less financially-sustainable services like Medication Assisted Treatment, a tactic critical to combating the opioid epidemic.
Without the Community Health Center Fund, New York City will lose over $88 million in 2018, affecting more than a million patients. In addition, Medicaid and CHIP patients make up 50% of patients served at health centers - and threats to these programs also threaten these centers. While losing this money doesn't necessarily mean these centers will close, it does impact what services they're able to provide, how many hours they are able to put in, how many people they can staff, which puts more pressure on the resources they have left. It also limits patients' other options – and taxes those other options significantly by forcing these other health providers, such as New York City's fiscally-challenged public hospitals, to provide potentially uncompensated care. This isn't responsible, nor is it healthy.
Recent Capitol Hill rumors indicate that community health center funding would be addressed in the next round of budget negotiations in the coming weeks. But these centers, and the communities they serve, have been waiting long enough.
For many Americans, health care is anything but routine. When you're forced to make the choice between your family's dinner or your dentist co-pay, between your MetroCard for the week or your prescription glasses, what might you choose? Health shouldn't be a privilege – it should be a norm. Community health centers validate that right every single day.
Congressional legislative efforts and comments over the past few months have made it clear – the Trump administration wants tax cuts for the wealthy now at the expense of programs that help everyday Americans access affordable care while still making ends meet.
Renewing federal funding for community health centers and other health programs is absolutely a priority and it should have happened by now. It must happen immediately.
Tuesday, February 6, is a nationwide Day of Demonstration for America's Health Centers. Centers have been waiting for over four months to get their federal funding renewed and we need to do everything in our power to get this prioritized in the next piece of budget legislation.
It was a battle to keep CHIP and the Affordable Care Act alive – but the war on health isn't over. As an umbrella organization for New York social services agencies with strong ties to community health centers, FPWA urges all New Yorkers to not let our health care fall victim to politics.
Call your senators and representatives – tell them to demand legislation that fully funds the Community Health Center Fund and other crucial health programs now without jeopardizing the health of millions.
***
Winn Periyasamy is a health policy analyst at FPWA, an advocacy and anti-poverty nonprofit based in New York. On Twitter @FPWA.
***
Have an op-ed idea or submission for Gotham Gazette? Email This email address is being protected from spambots. You need JavaScript enabled to view it.