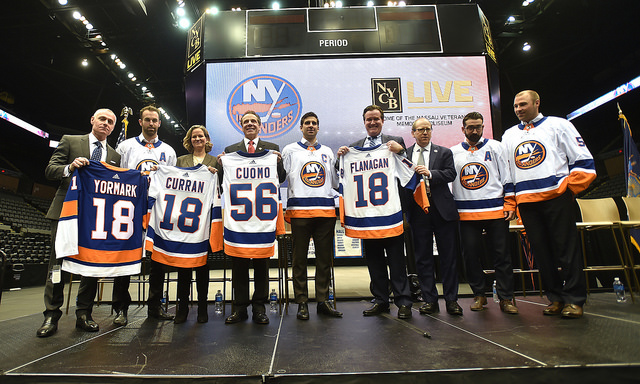 (photo: Kevin P. Coughlin/Governor's Office)
---
A more transparent administration would reveal rival bid, economic estimates.
When Gov. Andrew Cuomo held a triumphant press conference on Dec. 20 to announce that the New York Islanders would return home to Long Island, building a new arena and ancillary retail, office, hotel space at Belmont Park, his economic development chief, Howard Zemsky, called the new project an "engine for economic growth."
Yes, as backers stress, underutilized parking lots would become sites for major activity, the Islanders would return home from an awkward stint in Brooklyn, and the $1 billion project would be "privately funded" (as Newsday bannered on its cover).
But unanswered economic questions loom.
Consider: the Islanders' expected 49-year lease (with renewal options), is valued at $40 million upfront. For a 43-acre site and $1 billion in investment, that price seems remarkably cheap. (For example, a half-acre commercial site in Garden City South is on sale for $2.5 million.)
To assess the bid by New York Arena Partners, the Islanders' consortium, we might compare it to that of the only rival, New York City Football Club (NYCFC), which sought to build a soccer stadium within a mixed-use development.
So I filed a Freedom of Information Law (FOIL) request with Empire State Development (ESD), the New York State economic development authority that oversaw the bids, to see them. My request was denied; the information "if disclosed would impair present or imminent contract awards," I was told.
Wait a second. What's wrong with transparency? Why wouldn't it enhance legitimacy in this public process?
Even if the soccer team bid more, well, the ESD's Selection Committee scored base rent at just 20% of the overall evaluation. The hockey project could still be more deserving.
More importantly, what about the state's overall estimate of economic benefits? My FOIL request met the same roadblock.
Such economic benefits -- along with the extent to which the proposed project "strengthens Belmont as a premier destination for entertainment, sports, recreation, retail and hospitality" -- made up only 30% of the overall score. The Isles' bid might again be a defensible choice, even if it scored lower on this metric.
But I doubt it scored lower. After all, over the regular season, the hockey team plays 41 home games, while the soccer team plays just 17.
Then again, what if the state's economic analysis ignored two elephants in the room, beyond the base rent and expected new jobs and taxes. "[T]he Long Island Railroad," Cuomo's press release stated vaguely, "is committed to developing a plan to expand LIRR service to Belmont Park Station for events year-round."
That commitment could be costly. Metropolitan Transportation Authority Chair Joe Lhota recently expressed concern, as Newsday noted, about the LIRR's capacity to add weeknight rush-hour trains.
He had no price tag for the service upgrade needed to accommodate westbound trains, something the Village Voice suggests would be extremely difficult. Shouldn't that overall cost, and the expected public share, have been part of the initial bid evaluation?
Moreover, Empire State Development has acknowledged that it conducted no market study to assess the Belmont arena's prospects. The new venue, especially if enhanced by LIRR service, likely would be successful -- but at the cost of luring events otherwise destined for the revamped, downsized Nassau Coliseum.
However, by announcing on Jan. 29 a part-time, short-term move by the Islanders to Nassau, Cuomo distracts from a decision his administration made that threatens the county-owned Coliseum. This twist comes with a $6 million state subsidy to upgrade Coliseum broadcast facilities and ice-making capacity, which also should be factored into the Belmont deal.
Cuomo seems to be rewarding not just Island hockey fans but also Brooklyn Sports & Entertainment (BS&E), which operates both Barclays and the Coliseum and seeks to shift Islanders' games from a money-losing environment in Brooklyn to an arena that could host more big events. (BS&E's not paying anything. Why shouldn't the arena operator and team shoulder the Coliseum costs, as Newsday suggested, or even ticket buyers and the NHL?)
These announcements may get Cuomo on TV. But successor elected officials likely will have to reckon with the ultimate public costs and untoward impacts of a new arena.
***
Brooklyn journalist Norman Oder writes the daily blog Atlantic Yards/Pacific Park Report and is working on a book about the project. On Twitter @AYReport.
***
Have an op-ed idea or submission for Gotham Gazette? Email This email address is being protected from spambots. You need JavaScript enabled to view it.