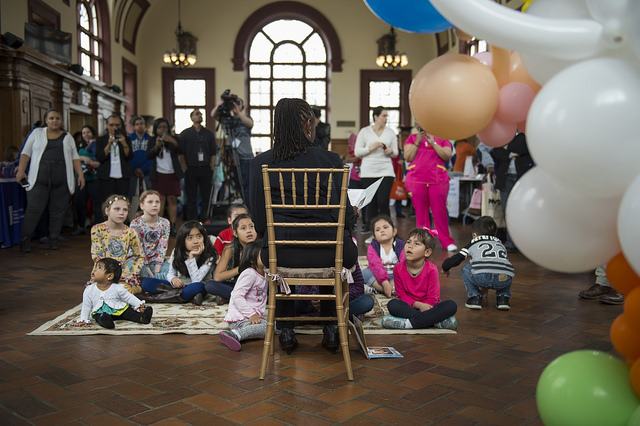 (photo: Ed Reed/Mayor's Office)
---
This past October my mom passed the United States citizenship exam. On November 7, she became a U.S. citizen. And this past December my dad passed the United States citizenship exam. On January 31, he became a U.S. citizen. Soon, my sisters and I will become U.S. citizens as well. None of this was guaranteed to us, and it almost didn't happen.
My family is from Bangladesh. We moved to the United States in July 2011 through the Diversity Visa process, which is currently being called into question at the federal level, especially after a recent terrorist attack in New York City. The experience of my family -- me, my parents, and my two younger sisters -- is a testament to what the Diversity Visa program can do for people, and for the United States, a country we are proud to call home.
Simply put, the Diversity Visa changed our lives. It gave us a second chance. It allowed me to be where I am today: 15 years old and a tenth-grader in a New York City high school.
In Bangladesh, my dad was a businessman, running a company called Nicos Digital Color Lab. Armed with a bachelor's degree, he was also a self-taught photographer, and sometimes taught computer lessons to high school students. My mom has a master's degree, and helped to support our home.
Back in Bangladesh, there was a lot of pressure on my parents: my grandparents, two cousins, two uncles, and an aunt all lived with us in the same house. My dad paid all of our family's expenses, and my mom cooked and took care of everyone. The entire family depended on my parents, and it put an obvious strain on their marriage. Things began to fall apart between my mom and my dad. Since they were the caretakers, though, no one much noticed.
One day, when my dad was in his Color Lab staring at his computer screen, one of his friends stopped by and asked for a cigarette. He told my dad to apply for the Diversity Visa to the U.S.
My dad laughed at first, "A common person like me, with no extraordinary talents, living in a small town in a country named Bangladesh, will get a visa to go to the United States?"
My dad's friend smiled and told him to ask my mom to apply. "Your wife is your lucky charm. Her application will get accepted." My parents quickly filled out an application under my mom's name.
Soon after, we received a first letter notifying us that we had been selected, and then a second letter notifying us that we would be interviewed. After an extensive vetting process, we were approved. My mom, my sisters, and I were given a visa. A month later, my dad's visa was approved as well. While the process may seem easy, it was not. It took time, preparation for the interviews, and anxiety until the visas were in hand.
As we looked up airline tickets to go to the U.S., we realized we didn't have enough money to get there. But, we soon found, miraculously, that our family was surrounded by supportive guardian angels. All my dad's childhood best friends came to our rescue. They all contributed, not only helping to pay for our plane tickets, but providing extra money to survive in the U.S. as we started our new lives.
After moving to the U.S. and gaining employment, my dad paid all their money back. But we will never be able to give back the generosity, kindness, and opportunity they gave us. I am forever grateful to my dad's friends for helping to change our lives.
In the years since, we have established our lives in the U.S. It has not been easy. My father, a former businessman, works as a taxi driver. My mother, with her master's degree, takes care of my sisters and me. We all go to school, studying for a better future for our family. But we feel so lucky to be living in the United States. It has changed our lives immeasurably.
If we were still in Bangladesh, I'm confident that my family would have fallen apart, and my parents might have separated. My sisters and I wouldn't have been able to receive a proper education because education in Bangladesh costs so much. I wouldn't be independent, navigating the subways of New York City on my own. I wouldn't have my parents as close to me as they are to me right now, and they probably wouldn't be able to give much time to my sisters and me as they do right now. My parents wouldn't be able to financially support my grandparents and all their siblings as they do now.
Getting settled here in the United States was not easy; it still isn't. Adjusting to the new environment around us, being away from our extended family, hearing threats because we are Muslims and people see us as foreigners. But life is better. And there is the possibility of an even better future. A future I work toward every day at school.
That is what the Diversity Visa has meant to me. A ticket to a better life.
The United States is my home. It always has been. I may not be born here, but I am an American. I love this country so much. The Diversity Visa changed my family's life forever. For that for so many Americans to come, I pray we do not get rid of it.
***
Laila Dola is a high school student in Queens and a former member of the Generation Citizen Student Leadership Board.
***
Have an op-ed idea or submission for Gotham Gazette? Email This email address is being protected from spambots. You need JavaScript enabled to view it.