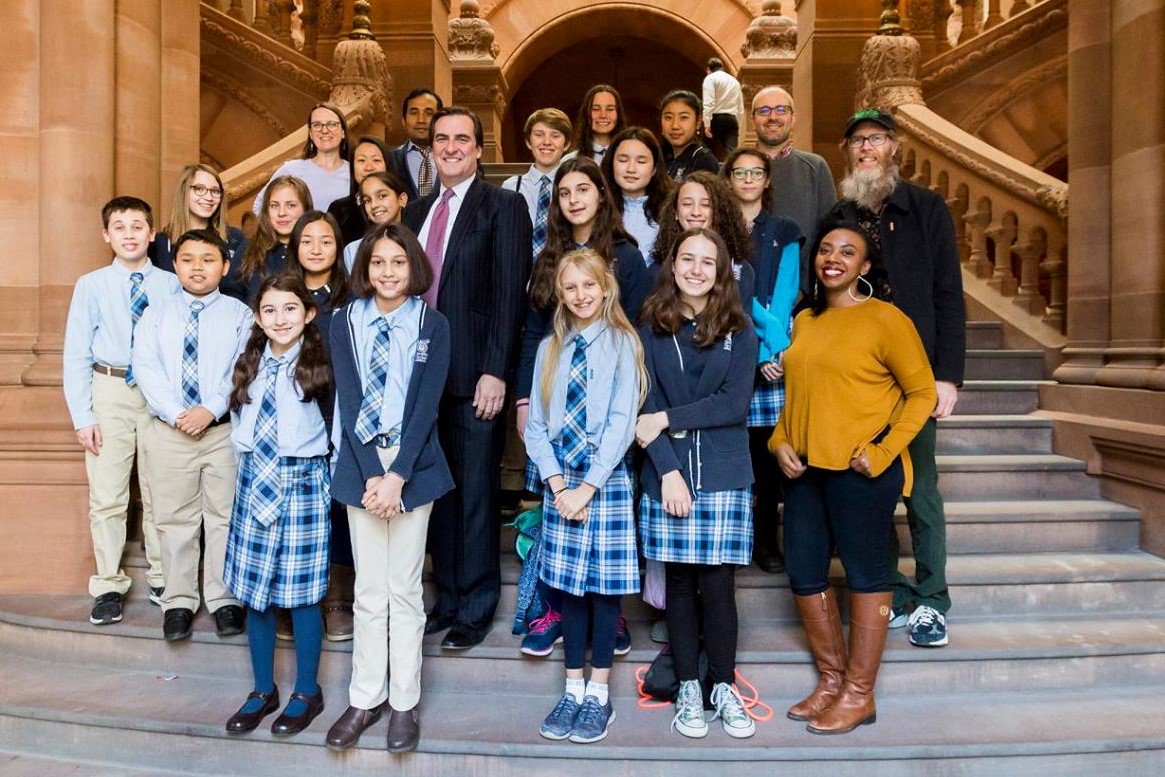 Senator Gianaris, the author, with young people (photo via @SenGianaris)
---
72 hours.
That is how long one needs to wait for a background check before buying a high-capacity gun capable of mass slaughter. Three days is all it took for Dylann Roof to purchase his .45 caliber Glock and kill nine people who sat praying in Emanuel AME Zion Church in Charleston, South Carolina. Roof bought his gun without completing a background check because current law authorizes a gun purchase after three days, regardless of whether or not a background check has been completed. Roof, with his prior convictions, would have failed a background check and should not have been able to acquire his firearm. The victims should still be with their families today.
Right here in New York, Jiverly Wong purchased a handgun in Binghamton in 2009 after three days, even though a background check – which may have prevented the purchase due to a history of mental health issues – was not completed. Just a month later, he walked into a naturalization class at a local community center and killed 13 people.
As the nation reels from another horrifying tragedy, this time in Parkland, Florida, thoughts and prayers are insufficient to stop future calamities. The time for action is at hand. Grieving teenagers mourning their classmates should not shoulder the burden of a nation; state and federal leaders must do something to prevent even more parents from burying their children.
In 2016, the federal government authorized more than 300,000 prospective gun purchases before background checks were completed. This means thousands of weapons in the hands of potentially dangerous people – those with criminal histories and mental illnesses, as well as domestic abusers.
In New York State, we can lead the way on avoiding these preventable tragedies: I introduced the Effective Background Check Act, legislation lengthening the waiting period for a background check from the current three days to a full 10, giving more time for checks to be completed and keeping weapons out of the hands of potential killers.
This effort is even more important now as the Trump administration seeks to reduce funding for the National Instant Criminal Background Check System (NICS), which would further slow the ability of the FBI to perform timely background checks. As Parkland parents buy caskets for their children instead of graduation gowns, Donald Trump needs to recognize this is the worst possible time to abdicate his responsibilities.
Leaders on all sides of the aisle must rally around the crisis our nation is facing: too many people are dying of preventable gun deaths. On average, 96 people die each day from guns. Because of background checks, we have stopped more than 3 million gun sales to prohibited people, saving countless lives. With a longer waiting period, we could save even more.
Could a few days' time have made a difference in these tragedies? Could one of those more than 300,000 gun purchases in 2016 be the next mass shooting? Could one of those be the perpetrator of domestic violence against his or her partner or child? Are those extra hours worth saving the lives of innocent men, women, and children who may be gunned down in movie theaters, on street corners, or in their schools?
240 hours. That is how long a gun purchaser would need to wait to complete a background check if New York enacts my Effective Background Check Act. For all those whose lives were cut short by years, we owe them this extra time.
***
Michael Gianaris is a state senator representing the 12th Senate District, in Queens. On Twitter @SenGianaris.
***
Have an op-ed idea or submission for Gotham Gazette? Email This email address is being protected from spambots. You need JavaScript enabled to view it.