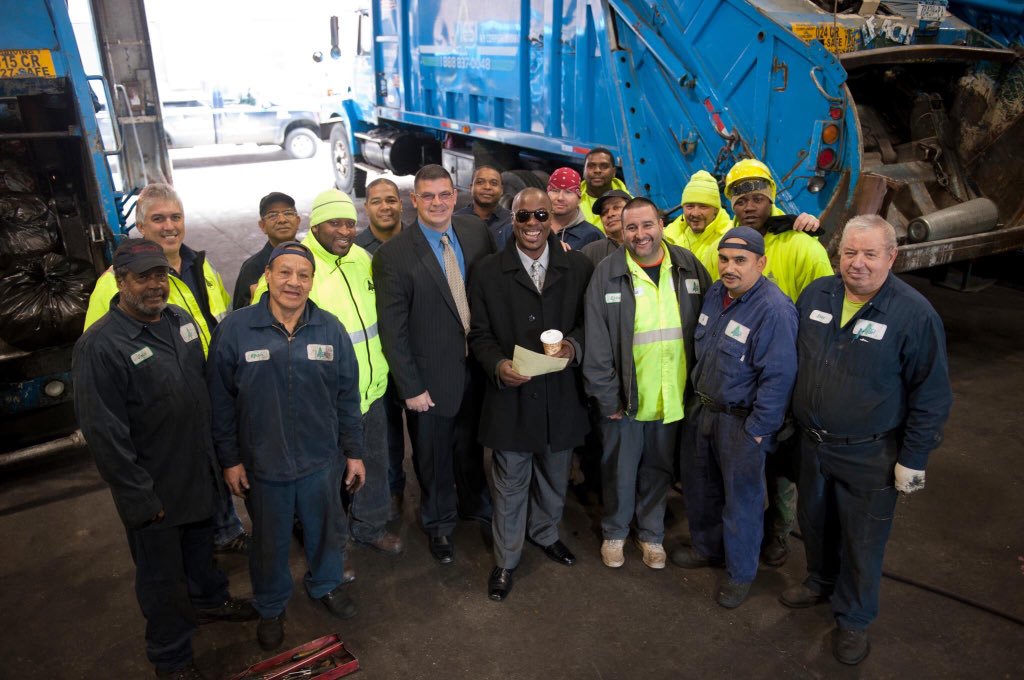 (photo: @laborers108)
---
A quiet announcement recently by the Business Integrity Commission - the watchdog agency that regulates the city's food and fish wholesale markets, commercial waste services, and shipboard gambling - is unlikely to be etched in the history books or remembered for decades to come.
But it marked a significant turning point in an unnecessarily contentious dialogue between city officials and the companies that daily manage 12,000 tons of waste, recyclables, and organics generated by the city's businesses and institutions – as well as labor leaders, and environmental and transportation safety advocates.
The announcement – a new safety manual for the city's trade waste sector – is the result of an unprecedented collaboration.
Traditionally, commercial waste is an industry that everyone loves to hate – its big, loud trucks; its late-night collections; and its odors make it an easy target for vilification. It's easier to blame others for the garbage all of us generate and we wish to forget, and to take for granted what's required every night, 365 days a year, to keep our city clean, productive, and ready for the next day.
This new manual pulls together best practices for every step of the process from putting a truck on the road through its safe return every morning with its driver and helper aboard, without damage to people or property with which it might interact while on the streets.
That's no easy job. In fact, waste-related jobs are among the top five most dangerous in the nation.
The just-published manual arose from the creation of an advisory board to guide the city's controversial intention to replace the open-market system that promotes efficiency, choice, competition, and innovation with a system of geographic zones and exclusive franchise rights.
While we strongly disagree with the zone-based initiative, the effort led by BIC Commissioner Brownell proved that other approaches are possible – with actual results sooner, better and cheaper than waiting five years or more for a system with city government-initiated contracts to be designed, adopted, and implemented. In that same period, multiple safety initiatives could be implemented – all trucks soon will have cleaner engines, most new trucks will have cameras and all with have sideguards, and more frequent safety training could be initiated, with active engagement with the industry's leading unions.
All that is necessary is commitment, and good-faith efforts by all concerned. If nothing else, safety is a "safe space" for those who chose to be adversaries on other matters.
This joint effort provides two takeaways:
First, the commercial waste industry – nationally and locally – makes safety a high priority.
Local efforts include semi-annual industry-city symposiums focused on safety (the fourth is scheduled for April); installation of protective side-guards; and renewed commitments to employee training, proper management, and personal protective equipment.
Second, safety requires "continuous improvement," it's never "over." To be successful, the effort must be maintained by all concerned.
We know that safety is not an event, achieved through a single action. To that end, the new safety manual isn't the first safety-focused effort and it won't be the last.
We share commitment to the de Blasio administration's Vision Zero goals and new solutions to street-design, traffic control, and street-sharing, which are impressive in their results to make the city a safer place to walk, bike, and drive.
But we also recognize the daily challenges of operating safely with heavy equipment, picking up bags, moving containers, and at night, in all kinds of weather, and under less than ideal conditions.
Unfortunately, safety is the only working group formed. Perhaps others now will be initiated with good-faith efforts by all concerned to improve licensing, operations, and labor standards, as well as effective zero waste initiatives.
Beyond safety, we hope the collaborative effort that created this manual will serve as a model for how disparate stakeholders can find effective ways to work together to address a compelling public issue.
***
Fritz Schneider is business manager of Laborers Local 108. Jose Maldonado is principal of Maldonado Associates, LLC and senior advisor to New Yorkers for Responsible Waste Management, and previously served as commissioner of the city's Business Integrity Commission. On Twitter @laborers108.
***
Have an op-ed idea or submission for Gotham Gazette? Email This email address is being protected from spambots. You need JavaScript enabled to view it.