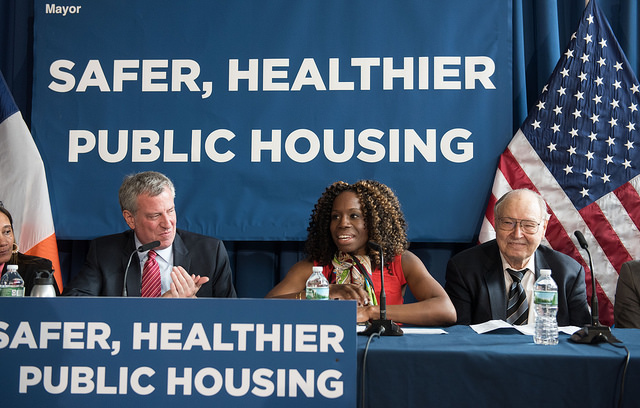 Outgoing NYCHA Chair Olatoye, center (photo: Michael Appleton/Mayor's Office)
---
As faith leaders in communities with large populations of NYCHA residents, we have witnessed the results of chronic disinvestment in public housing first-hand. NYCHA's aging buildings are crumbling and many residents are worried about the health and safety of their children, elders, and neighbors.
Since 2001, NYCHA has been shortchanged $3 billion in federal operating and capital funding. NYCHA has been struggling to maintain and repair its aging housing stock for decades. And this is larger than New York City, public housing authorities all over the country are set up to fail, facing gutted budgets and regulatory barriers.
When she took her post as Chair and CEO of NYCHA, Shola Olatoye knew she needed to address these problems, so she worked with communities to make a plan. Under her leadership, we developed NextGeneration NYCHA, a 10-year plan to preserve and protect public housing for current residents as well as the next generation of New Yorkers and beyond. That plan became the road forward to safe, healthy, connected homes and communities for NYCHA residents.
Four years later, as NYCHA has strived to meet the NextGen goals, we have begun to see positive changes for the lives NYCHA residents. Under NextGen NYCHA, about 8,000 residents have been placed in jobs and 18,000 have been connected with services. NYCHA launched 14 new Youth Leadership Councils to give young people the tools they need to work with NYCHA leadership to help make policy decisions that impact the quality of life of NYCHA residents, and empower them to bring their perspective to the table.
We have also seen repair response times reduced from an average of 13 days down to four days and new "FlexOps" schedules that make frontline staff available for longer service hours. NYCHA has achieved more than $313 million in savings from NextGen initiatives and NYCHA has built up nearly 3 months of operating reserves. We are proud to have served on NYCHA's Faith Leaders Committee and are grateful for Chair Olatoye's leadership over the last four years.
To be clear, NYCHA's problems didn't come with the Chair and they certainly aren't leaving with her. It is also now up to all of us to continue to fight for the 400,000 New Yorkers who call NYCHA home. We all bear some of the burden to fix this.
We are heartened to hear the commitment of Mayor de Blasio to the NextGeneration NYCHA plan, and hope the new Chair will continue to build upon this progress. We look forward to continuing to serve on NYCHA's Faith Leaders Committee, supporting the incoming leadership, and working together for a brighter future.
***
Rev. Marc Rivera leads Primitive Christian Church and Rev. Al Cockfield leads God's Battalion of Prayer Church.
***
Have an op-ed idea or submission for Gotham Gazette? Email This email address is being protected from spambots. You need JavaScript enabled to view it.